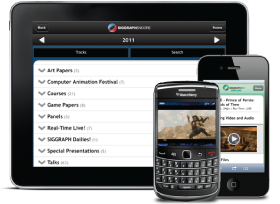 Wish you could have seen one more presentation at a recent SIGGRAPH or SIGGRAPH Asia Conference? ACM SIGGRAPH provides a variety of opportunities from SIGGRAPH Encore to the SIGGRAPH Video Review. We also provide current and past Conference Podcasts from the SIGGRAPH Art Gallery and Emerging Technologies venues.
---
Recorded Technical Sessions
Many of the conference talks are recorded and distributed through the ACM Digital Library. Presentations include recorded video of the presenters and their slides and videos.
Presentation content is available from the works' article page in the Digital Library.
---
SVR
SIGGRAPH Video Review is the world's most widely circulated video-based computer graphics publication. Nearly 180 programs document the annual SIGGRAPH Computer Animation Festival (CAF). Selections from the Computer Animation Festival are available from the ACM Digital Library.
---
Audio Guides of Emerging Technologies and Art Gallery
SIGGRAPH audio guides offer in-depth reviews of the installations in Emerging Technologies and the Art Gallery. Special thanks to the International Committee for taking the time to translate and produce these podcasts in support of our membership around the world.