Members from far and near create, inspire and enjoy the vibrant SIGGRAPH community.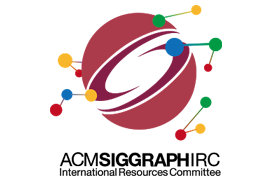 ACM SIGGRAPH is an international organization, with members creating and discovering computer graphics/interactivity at companies, studios and research centers around the world.
Through the International Center at the annual SIGGRAPH conference and year-round strategies that promote ACM SIGGRAPH, we support the growth of and connect our global community with useful services.
Year-Round Activities
The International Resources Committee facilitates worldwide collaboration in the SIGGRAPH community and encourages participation in all of the programs and events that are part of ACM SIGGRAPH.
Multilingual Audio Guides
Every year, the International Resources Committee produces audio guides (audio files and text documents in PDF format) that highlight the work displayed in the Art Gallery and the demos in Emerging Technologies (and other areas, from year to year). The podcasts are available in multiple languages, including: English, Arabic, Chinese, Japanese, Korean, Polish, Portuguese, French, Russian, Spanish and Turkish.
International Center & ACM SIGGRAPH Theater
The International Center features a visitor-services booth, a lounge, and the ACM SIGGRAPH Theater at the SIGGRAPH conference. Meet peers, relax during the conference, and get to know more about what is happening in CG around the world. At the SIGGRAPH Asia conferences, we host a visitor-services booth and organize regional sessions for attendees.
English Review Service
We offer expertise that could greatly improve the material you submit to the SIGGRAPH conference. A team of native English-speaking volunteers will read your submission and provide suggestions to improve the legibility of the text in English. If you think your submission might benefit from this service, please contact the International Resources Committee.
Travel Services
Contact us to make the most of your experience. With answers to common travel questions, we can help you navigate travel visas, currency exchange, hotel bookings or finding other events in town during the conference.
Calling all planetary citizens!
Get involved with the International Resources Committee!
Our committee is staffed by volunteers around the world and forward international culture and global computer graphics interests. From conferences to year-round activities, we want to hear from you!