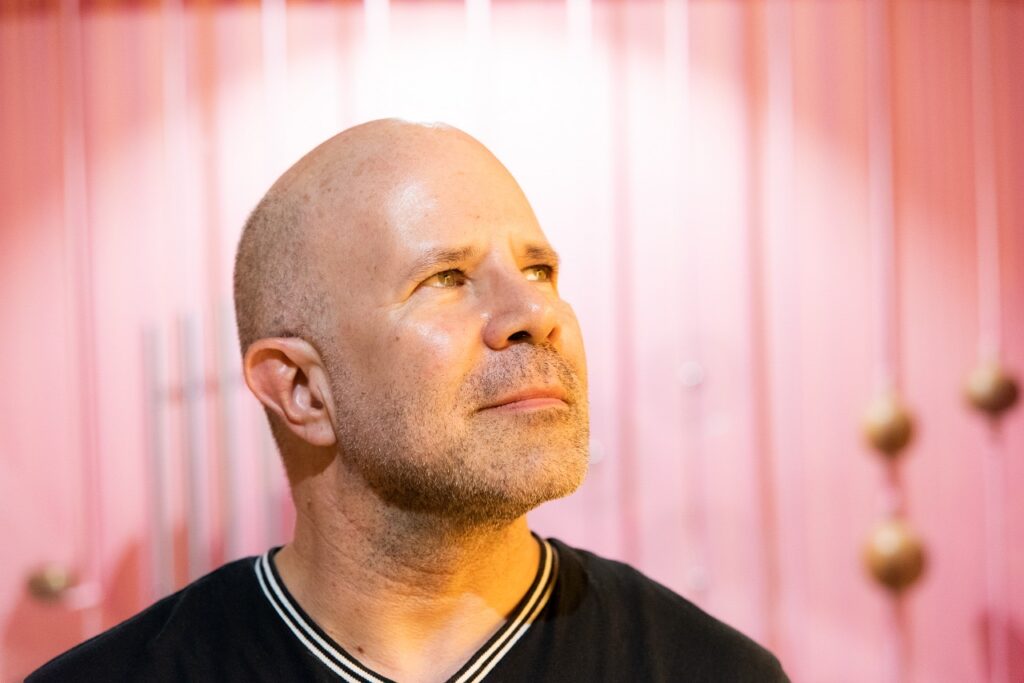 Member Profile:

Santiago Echeverry
1. What do you do, and how long have you been doing it?
I have two lives: I consider myself a Video Artist, and I started producing my pieces back in 1988. I am also a professor, I started teaching in 1993, when I was 23 years old. Currently I am an Associate Professor in the Film, Animation and New Media Department at the University of Tampa, and I have been exploring low res, low budget, volumetric imaging and video since 2012. All of my work is on my sitesanti.tv
2. What was your first job?
In 1989 I was hired by the French Embassy in Bogota, Colombia, to direct and produce their weekly cultural program that aired on public television. This show became the only one on TV to present regularly experimental video from France and Latin America on a regular basis. I worked there until 1995, when I moved to New York.
3. Where did you complete your formal education?
After spending 14 years in the French school in Bogota, I entered the first promotion of the first Film and Television school at the Universidad Nacional de Colombia. After I graduated, I did a workshop in Digital animation using the Graphic Palette in Paris, France. I received the Fulbright Grant in 1995, and I was accepted in the Interactive Telecommunications Program at NYU, graduating in 1997.
4. How did you first get involved with ACM SIGGRAPH?
I started working at USA Networks in the Summer of 1996, as an Online Producer. Our boss, Sharleen Smith, sent the entire development team to SIGGRAPH 1997 in Los Angeles. It was my first SIGGRAPH experience, and my first time in L.A. Two unforgettable experiences. I had to wait almost 20 years to finally get involved with SIGGRAPH as a volunteer in the International Resources Committee in 2017, and in a smaller role, in the Diversity and Inclusion Committee in 2018.
5. What is your favorite memory of a SIGGRAPH conference?
In 2014, I attended SIGGRAPH in Vancouver. I had the chance to experience BIRDLY, the interactive VR installation where the user becomes a bird and flies over San Francisco. The experience was so powerful that I still dream about it. Especially the moment I discovered I could guide my wings and fly up to the clouds. I could have spent hours in the installation, but there was a very long line of people who wanted to try it too, and the experience was cut short for me :-(
6. Describe a project that you would like to share with the ACM SIGGRAPH community.
Oasis (2014) by Yunsil Heo and Hyunwoo Bang, fantastic South Korean New Media creators, is an interactive table that is covered by black sand. Moving the sand reveals aquatic life, small guppies that grow into fish and other crazy aquatic creatures. The tactile experience and the aquatic critters' reveal is almost magical. It does not require a projector, it just uses an HD TV lying flat on a table covered with the black aquarium sand, allowing the user to experience the installation from any perspective.
7. If you could have dinner with one living or non-living person, who would it be and why?
More than dinner, I would love to travel back in time to the 70s and do my first LSD trip with Steve Jobs, and see how and why it was a positive life changing experience for him.
8. What is something most people don't know about you?
My father is a Psychiatrist, my mother is a Psychic, and I am a Queen (oh wait, everyone knows that!)
9. From which single individual have you learned the most in your life? What did they teach you?
Gilles Charalambos is a pioneer in Video and Media Art in Colombia. I still teach my experimental media classes using the same principles and examples he offered me more than 30 years ago. He was able to connect so many ideas and concepts, with an incredibly sharp and daring mind. Without Gilles, I would not be the same person I am today.
10. Is there someone in particular who has influenced your decision to work with ACM SIGGRAPH?
YES: Diana Arellano and June Kim! Diana is the person who invited me to join the IRC Committee, when she was its chair. With June my goals of participation in SIGGRAPH have been multiplied. When my personal life settles down, I hope I will be able to contribute even more to the organization!
11. What can you point to in your career as your proudest moment?
In 2007, my interactive video online project WORLD (santi.tv/world) was selected in SIGGRAPH's Art Gallery. This was my first experience behind the scenes of SIGGRAPH, and a life-changing moment in my career. I also have to add that traveling to Macau, China, and Brisbane, Australia to present my work in SIGGRAPH Asia, are some fascinating experiences.