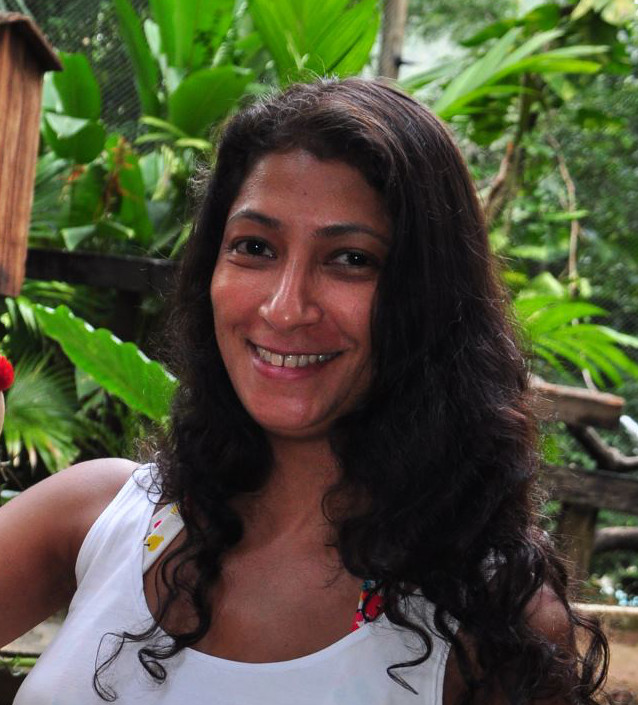 Member Profile:

Aruquia Peixoto
1. What do you do, and how long have you been doing it?
I'm a professor of Computer and Mathematics, and I have been teaching for about 15 years. In SIGGRAPH I'm a happy member of ACM SIGGRAPH International Resources, and for SIGGRAPH Asia 2016 I was also a member of the Symposium on Education.
2. What was your first job?
When I was an undergraduate student I was an assistant to the professor, explaining some topics and questions when students had doubts.
My dream was always to be a researcher. Later, I realized that in Brazil, my country, in order to be a researcher, I must also teach. So, I decided to be a good professor. It was an important step in my career to work as an assistant to the professor. I learned how to explain the topics to the students.
3. Where did you complete your formal education?
I have always studied in Brazil, at some of the best universities of my country, UFRJ and PUC-Rio, that are in Rio de Janeiro. My city is known for the wonderful beaches and nature, but is also a place with great universities and research centers.
I was lucky to have great advisors, some of them were: Jaime Rivera, in my undergraduate studies where I worked in Partial Differential Equations, and had my first contact with research, Luiz Velho in my masters studies and Carlos de Moura in my PhD. studies.
4. How did you first get involved with ACM SIGGRAPH?
My first SIGGRAPH Conference was in Los Angeles in 2010, and I was impressed with the Convention Center. I had never seen such a big, great, amazing and passionate conference as SIGGRAPH. In my first SIGGRAPH I meet Jacky Bibliowicz, that was my first friend at SIGGRAPH. The next year, he introduced me Diana Arellano, an amazing friend. Diana and I have worked for several years, organizing the events pertaining to Latin America at the ACM SIGGRAPH International Resources Committee.,
5. What is your favorite memory of a SIGGRAPH conference?
Definitively my first SIGGRAPH in Los Angeles Convention Center was something that I will never forget. I will always remember seeing the building and being dazzled.
I have many other favorite memories. The regional meetings organized by the ACM SIGGRAPH International Resources Committee that I'm involved: CG in Africa & Middle East, CG in Latin America and my beloved CG in Brazil: Brazilian Meeting – Encontro dos Brasileiros.There was also the Women in CG meeting, where I was a panelist in 2015. It was really an amazing moment at SIGGRAPH for me. During this meeting I saw in front of me how important it is to support other groups of people so they feel part of SIGGRAPH community.
6. Describe a project that you would like to share with the ACM SIGGRAPH community.
I am a researcher in Computer Graphics, in the technical field, working now in mesh generation. Currently, I am working more and more in research connected to education, that is my second research field. It is s challenging to use new technologies to improve and expand the learning process.
7. If you could have dinner with one living or non-living person, who would it be and why?
When of having dinner with some pioneer on a field, I recall two amazing talks like this that I have had.
One was with Carlos de Moura who is a Brazilian research that worked on the implementation of the National Laboratory of Scientific Computation (LNCC), in Brazil, and the Brazilian National Conference on Computational and Applied Mathematics (CNMAC). It was great when he told me about the beginning of the conference and the research center.
The other talk was at SIGGRAPH Asia with Alain Chesnais, who needs no introduction. I was amazed when he shared with me, at SIGGRAPH Asia 2015, how he changed from his original research to Computer Graphics.
8. What is something most people don't know about you?
I like to design clothes. I don't know how to sew so I send my designs to another person for final production. I love to imagine a cloth, understand the fabrics and think how I can get the final result. Is a great hobby to express my creativity, since my work is totally technical. Maybe no one notices my original designs because they are mostly summer clothes, to use in Rio de Janeiro or in my summer vacations. I like to design comfortable and relaxed clothes.
9. From which single individual have you learned the most in your life? What did they teach you?
My ex-husband Paulo Rogerio Sabini and I worked together advising undergraduate students at UERJ, and with him I learn to see the life thought the eyes of another person. I did not always agree, but I came understand that different people have different ways to see life. It was a great partnership at work and in marriage until his last day.
10. Is there someone in particular who has influenced your decision to work with ACM SIGGRAPH?
There are some special people that influenced my decision. Jacky Bibliowicz was my first friend at SIGGRAPH and I meet him during my first SIGGRAPH. With him I came to understand that SIGGRAPH was not just about research and presentations but also friendship and community.
With Diana Arellano, I worked on the organization of the Latin America meetings of ACM SIGGRAPH International Resources Committee. She had more experience than me and she was a great friend/co-worker who taught me a lot.
And also, the great team of our ACM SIGGRAPH International Resources Committee. It is amazing to work with friends, and also be spoiled with small gifts and many hugs every SIGGRAPH.
11. What can you point to in your career as your proudest moment?
Many… when my former students become professors, encouraging Brazilian students to be part of SIGGRAPH Conferences, being a panelist in the Women in CG at SIGGRAPH 2015, when I finish a research project … and I know that in the future I will have many other moments in my career that will make me feel proud.