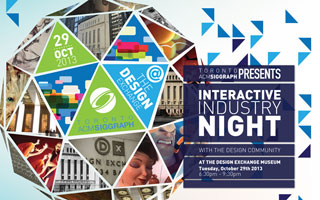 On Tuesday, October 29, the Toronto ACM SIGGRAPH Chapter will host a stimulating night of presentations and discourse on the Toronto computer graphics industry. With the historic Design Exchange on Bay Street as a backdrop, the evening will be filled with the exchange of ideas and professional contact information.
Modeled after the "Technical Papers Fast Forward" presentation session at the annual SIGGRAPH conference, the event will consist of 30 three-minute talks from leading companies in Toronto's computer graphics industry. Each company will be allowed just 180 seconds to provide an overview of their business, and entice attendees to speak with them after the presentation.
In addition to meeting leaders in the local computer graphics industry, attendees will have the opprtunity to chat and mingle with fellow Torontonians who share the same passion for CG.
Tickets for the event are $35 for general admission, and $20 for members of the Toronto ACM SIGGRAPH Chapter. They may be purchased through the Interactive Industry Night eventbrite page. To obtain the member discount, click "Enter Promotional Code" and key in your membership number. Membership numbers are available upon logging into your ACM account.
For more information, or to purchase tickets, visit the Interactive Industry Night page of the Toronto ACM SIGGRAPH website.
Call for Speakers
To secure a spot for a three-minute talk, contact the Toronto ACM SIGGRAPH Chapter at toronto-chapter@siggraph.org by October 22.
Each speaker has a total of three minutes to impress the audience with a summary of their business. Demo reels or other engaging videos are welcome. After the presentation, there will be time to socialize and speak in detail with attendees. Promotional giveaway items are also welcome.
Each company participating will be issued one complimentary admittance ticket for their speaker.