By Kristy Barkan
Technology, as it turns out, is more than just a tool to advance our understanding and simplify our daily lives. It is a gift, waiting to be given. It can mean the difference between isolation and inclusion. It can move the human heart from desolation to joy. For the recipients of such a gift, the world is forever shifted.
In his SIGGRAPH 2014 keynote speech (full video below), Elliot Kotek, co-founder of Not Impossible Labs, painted this captivating portrait of his company's mission, which is "technology for the sake of humanity." As many in the audience were moved to tears, Kotek demonstrated how his company and numerous compassionate volunteers have created and adapted technology specifically to aid the physically disadvantaged, and help them lead fuller lives.
In November 2010, Not Impossible Labs invented an innovative eyepiece that enabled a paralyzed artist to draw using his eyes. In doing so, they gave him back his art — something he thought he'd lost forever. In late 2013, they used cutting-edge 3D printing techniques to craft a remarkable prosthetic arm for a 16-year-old Sudanese refugee. The arm made it possible for the boy to feed himself for the first time in two years.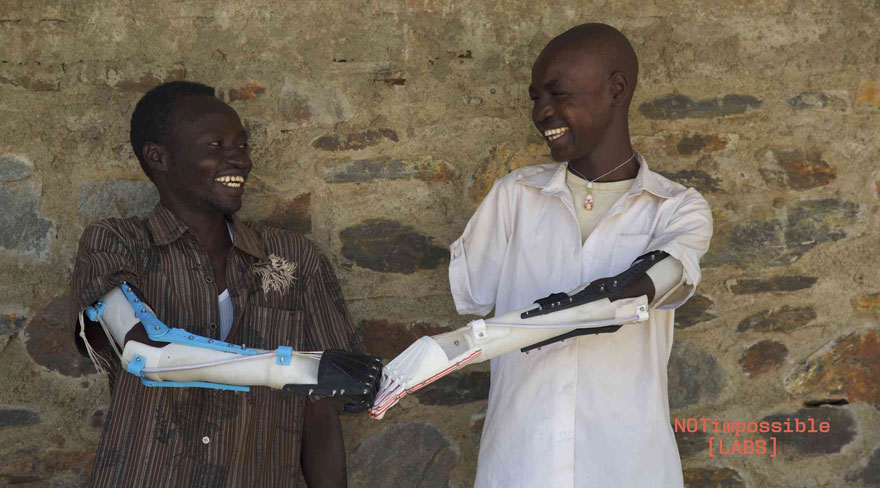 Work is underway on a number of other collaborative projects at Not Impossible. One group is in the process of building a cane for the blind that uses laser and sonar feedback to provide real-time data on the user's surroundings. Another group is crafting a device that reads brain waves and uses them to control a computer mouse with absolutely no physical movement. A third, equally laudable project in the works is an affordable, mouth-controlled joystick that will provide quadriplegic users greater ease in operating PCs.
Technical innovators all over the world are donating their time, talent and equipment to aid humanitarian efforts like those orchestrated by Not Impossible. It may be that technology has found its highest calling. Earlier this month, a telepresence robot donated by Double Robotics gave a young man undergoing cancer treatment and a hospital-confined 3D artist the opportunity to attend SIGGRAPH 2014 in Vancouver, remotely. It was perhaps one of the most fulfilling projects of the conference.
Below is Elliot Kotek's SIGGRAPH 2014 keynote speech, in full, courtesy of the ACM SIGGRAPH SCOOP Team.
For more information on the ongoing projects at Not Impossible Labs, visit their website.