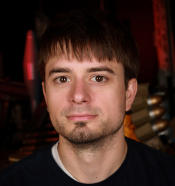 According to a recent survey conducted by the Entertainment Software Rating Board, 69 percent of U.S. households play video games. But for character artist Joseph Drust, games are more than just a bit of fun after work — they are his work. A gifted digital sculptor, Drust has been part of the game industry for more than a decade. His characters and assets can be seen in over a dozen popular titles, including "Ghost Recon" (Xbox), "Earth Defense Force: Insect Armageddon" (Xbox 360, PS3) and "Matt Hazard: Blood Bath and Beyond" (Xbox Live Arcade).
Recently, Drust had the opportunity to showcase his art on the exhibit floor of SIGGRAPH 2013. Drust is a certified instructor for the digital sculpting and painting software ZBrush, and the creators of ZBrush invited him to demonstrate the application at their SIGGRAPH booth. During the presentation, Drust wowed the SIGGRAPH audience with images of his intricately detailed models and video game assets.
Though working as a lead character artist at Ubisoft Entertainment keeps Drust busy, we managed to pull him aside for few minutes to chat about his work and experience with SIGGRAPH.
Which types of characters do you have the most fun creating?
I enjoy creating all types of characters, but I tend to return to realism and military types. Maybe I played with too many G.I. Joes growing up.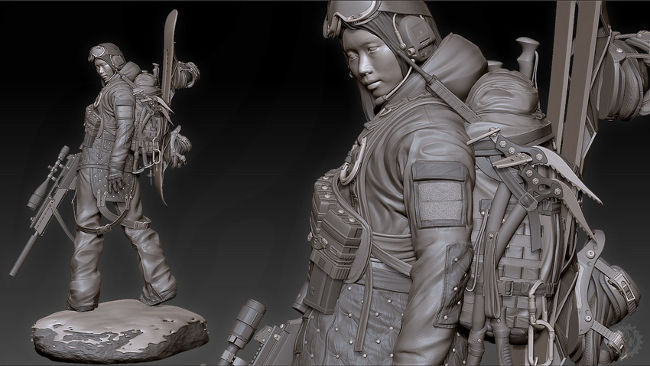 I also like the challenge of matching items from reality. I think this spawned from my grandfather, who was a wood duck carver. He would often say that he enjoyed watching what artists could create from a simple block of wood.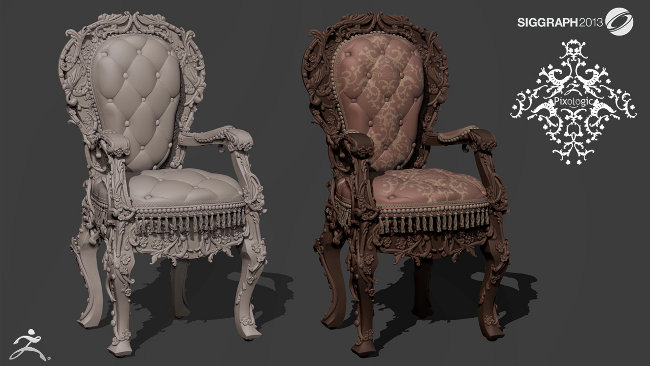 Do you have a favorite modeling software?
Pixologic's ZBrush is by far my preferred modeling software. I started in the gaming industry creating 500-800 poly characters inside of 3ds Max, turning edges and moving individual vertices with editable mesh modifiers. Editable poly just appeared on the market, so the luxury of quads wasn't in the pipeline yet.
After years of poly modeling, I started looking for a faster and more traditional way to create characters. Mudbox was released around this time, and I started exploring the functionality of digitally sculpting characters. I was no longer moving individual vertices and turning edges, but rather sculpting in digital clay. Shortly after I started using Mudbox, a friend introduced me to ZBrush, and I was hooked.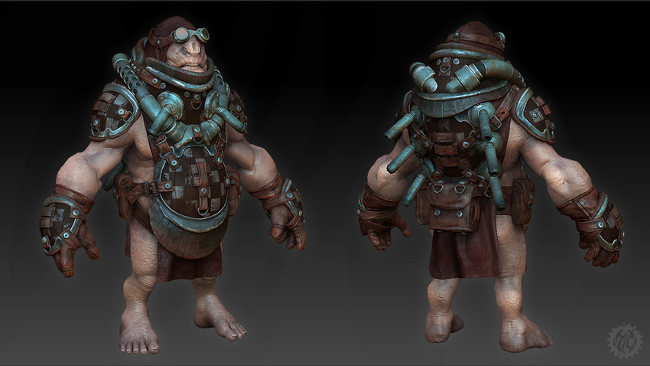 You've contributed to a lot of video games. Is there one project that was particularly fun to work on?
I have two projects that I consider my favorites. The first is Tom Clancy's "Ghost Recon 2." The game had some really great characters, lore and back story. All the characters were unique, and the production time allowed for a polish phase.
The second is "Earth Defense Force: Insect Armageddon." The team I worked with on the project was extremely talented artistically, and I had a blast working with the concept artists and the art director, fleshing out the designs for the insects and armor that would appear in the game.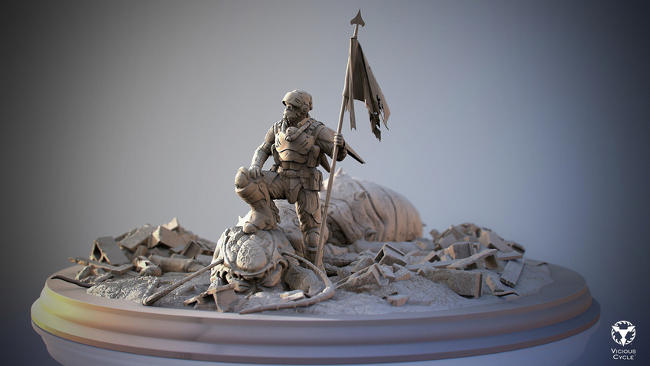 You spent some time at SIGGRAPH this year in Anaheim. What do you enjoy most about about the conference?
My favorite thing about SIGGRAPH is the amount of talented people I've met during the event. I've gotten to know a lot of artists whose work I've admired for years. It's pretty awesome to speak to them in person … I've met more industry gods at SIGGRAPH then all the GDCs and E3s I've been to.
Secondly, I enjoy strolling though the posters. There's always something I find that sparks inspiration; it's a great window into what the future holds for computer graphics.
See more of Joseph's work on his portfolio website.
Model renders courtesy Joseph Drust, SIGGRAPH 2013 photo courtesy ACM SIGGRAPH 2013
Stay connected with ACM SIGGRAPH!