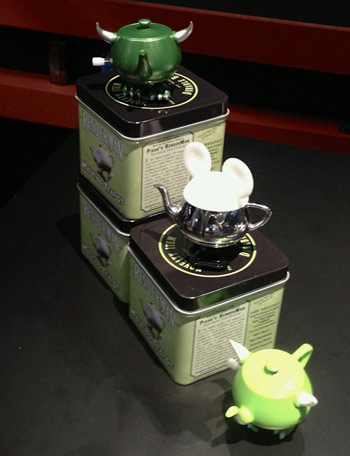 Large crowds turned out for the morning production session "The Visual Effects of Marvel's 'Iron Man 3,'" which was followed by the chance for attendees to take pictures of the Iron Man maquettes.
Throughout the day, SIGGRAPH Mobile presented the latest advances in mobile technologies through talks, workshops and demonstrations.
The Exhibition and Job Fairs were both extremely busy. Noon brought the usual crowd as attendees lined up in hopes of getting a Pixar walking teapot.
The evening brought SIGGRAPH Dailies! where artists, animators and computer graphics professionals have 90 seconds to showcase images and short animations of extraordinary power and beauty.
Here are some of the day's highlights…
CAF Production Session: "The Visual Effects of Marvel's 'Iron Man 3'"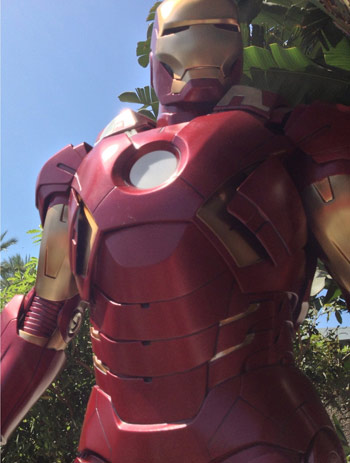 Attendees waited in a line that extended to the hallway leading into Registration to watch this session and it did not disappoint. Things kicked off with Victoria Alonso who introduced the panel and the Iron Man maquettes sitting on stage. The panelists talked about the different sequences their respective companies produced and provided an overview of how they addressed the challenges they came across.
CAF Production Session: "Blue Sky Studios Presents: The Fantastical World of Epic"
The session started with the influence nature had on the artistry and architecture of the movie. They transitioned to talking about the Leafmen and how they are small in scale but are strong for their size. This fact allowed the Leafmen to leap around like grasshoppers. In addition, they mentioned some of the challenges they faced related to naturalistic animations and how shooting references proved to be very beneficial. Finally, there was talk about the color script of the movie and the design choices made for the Leafmen versus the Boggans. The Leafmen were represented with vivid colors while the Boggans were represented by desaturation.
For the latest SIGGRAPH 2013 news, be sure to follow us on Facebook and Twitter. Also, check out the Official SIGGRAPH 2013 Blog for more conference highlights.