This year is SIGGRAPH's 40th anniversary, and things kicked off with a rush to Registration at 8am. Attendees picked up their badges and merchandise before heading off to see the conference. Many made their way to "The Making of Pixar's 'The Blue Umbrella'", while others attended the all-day Business Symposium where studio leaders and executives came together for networking and inspiration.
Noon saw the opening of the Art Gallery, Studio and Emerging Technologies, which feature many interactive exhibits. Be sure to stop in and check them out.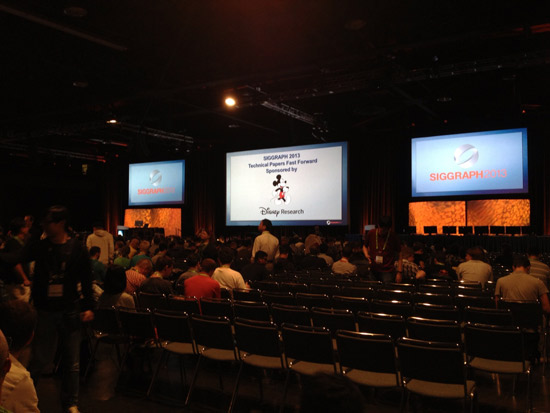 An attendee favorite, the Technical Papers Fast Forward, was later in the evening in Hall A. Following the 2 hour presentation, SIGGRAPH SV Alumni gathered in the Hilton Anaheim's Mix Lounge for a mini-reunion.
Here are some of the day's highlights…
CAF Production Session: The Making of Pixar's "The Blue Umbrella"
This Production Session featured the director of "The Blue Umbrella," Saschka Unseld, who took attendees through the process of creating a short film from coming up with the idea to production. The concept of the short began with a rainy day in San Francisco and a broken umbrella that Unseld saw that he felt an emotional connection toward. Years later, the memory of the umbrella and a music video Unseld made featuring a singing city, came together to create the story of Blue.
Blue's story went through some revisions during the production process to help better communicate the emotion of the story in visual form. Elements such as the softness and harshness of the rain in addition to the color choices were used to help enhance the emotion.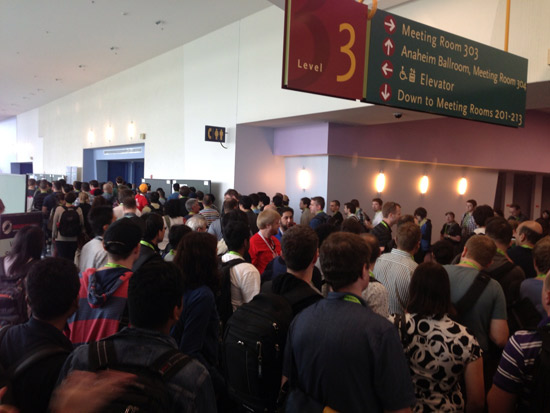 Unseld concluded the session by sharing something he learned through the process of creating "The Blue Umbrella." There are projects that someone might work on that don't seem to have a purpose when they are created. However, later, it might turn out that they are the first stages of formulating an idea that could lead to something bigger.
Birds of a Feather: Ready, Set, SIGGRAPH
Ready, Set, SIGGRAPH was a great session for people new to SIGGRAPH who wanted to maximize their conference experience. The session was packed and standing room only. It provided an overview of the programs and highlighted some must-see sessions. They also talked about some things that are new this year, such as the QR codes that are featured on 40 of the 120 posters. These QR codes allow attendees to access videos about the poster.
For the latest SIGGRAPH 2013 news, be sure to follow us on Facebook and Twitter. Also, check out the Official SIGGRAPH 2013 Blog for more conference highlights.