SIGGRAPH Asia, Asia's largest and most respected conference on computer graphics, will take place this year from December 3 to 6 in Shenzhen, China. Online registration for the conference closes on November 20.
Nearly 8,000 attendees from over 60 countries are expected at SIGGRAPH Asia 2014. Experts from a wide range of fields will be in attendance, including top-level professionals in key areas such as hardware, software, film production, game production, research and education. Presenters and exhibitors at the conference will unveil cutting edge graphical and technical achievements at a furious rate.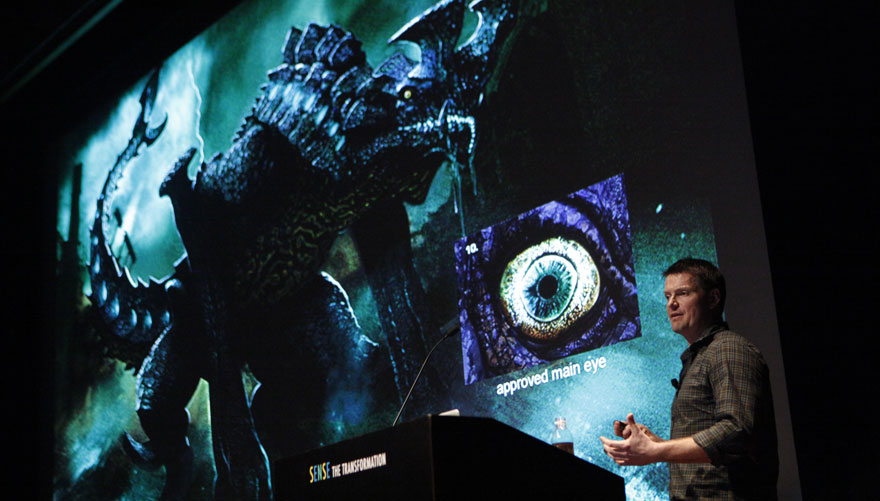 ILM VFX Supervisor Nigel Sumner describes the complex visual effects of "Pacific Rim" at SIGGRAPH Asia 2013. Image Copyright © SIGGRAPH Asia.
2014 marks the first year SIGGRAPH Asia will be hosted in Shenzhen. Given the burgeoning graphics industry in China, with recent government policies encouraging strong investment in animation, graphics and 3D technology, the conference is well placed. Nothing makes this clearer than Thursday's keynote speech by Digital Domain co-founder Scott Ross, entitled "Can Asia Become Hollywood?"
The SIGGRAPH Asia 2014 Technical Papers program received a record-breaking 355 submissions. Of those, 63 papers were accepted, many of which reveal utterly groundbreaking advances in computer graphics and interactive techniques. Check out the video below for an eye-opening preview of some of the breakthroughs published at SIGGRAPH Asia 2014.
For many SIGGRAPH Asia attendees, the Emerging Technologies exhibit is their favorite part of the conference. This year, the E-Tech display showcases numerous mind-boggling technologies spanning the areas of virtual reality, augmented reality, robotics, wearable devices, 3D graphics, haptic devices and more. Take a look at some of the incredible advances on display in the preview video below.
In addition to leading-edge research, fascinating technologies and illuminating production talks, SIGGRAPH Asia 2014 also offers courses, workshops, business and technology symposiums, posters, master classes, and a world-class computer animation festival. Don't miss out on the excitement! Register for SIGGRAPH Asia 2014 today.