The Tehran Chapter of ACM SIGGRAPH was formed a little more than a year ago. In the intervening months, it has grown into one of the organization's most active chapters, amassing more than 400 members and hosting nearly a dozen successful events.
In an effort to learn more about the chapter, and discover the secret behind its breakneck growth and continued success, we sat down for a chat with Tehran ACM SIGGRAPH Chair Amirhossein Erfani.
Why do you think it's important to have an ACM SIGGRAPH chapter in Tehran?
As a founder and the leader of a very active computer graphics community in Iran, I always dreamed about showing the world the talent of Persian digital artists. We managed to participate in SIGGRAPH Asia three years in a row, which proved to me and other fellows that our society of computer graphics experts and digital artists was capable of handling the next level: an ACM SIGGRAPH Professional Chapter. After many weeks of research and development, we finally managed to found our chapter in May of 2014. Now, after a year, it's obvious that the chapter is really making a difference. I consider this a perfect beginning to do some more prestigious events for this awesome community.
Tell me about one of your favorite chapter events so far.
Our "Post-SIGGRAPH 2014" event at Tehran University was really a blast! More important than being a chapter event, it was an introduction to SIGGRAPH for many attendees, which really helped us planning more professional events for the professional subset of our audience. One of the sweetest parts of this event was the video message we received from Paul Debevec, who is a serious source of inspiration for us.
Have you made friends through the chapter?
Sure! Not only me, but everybody's finding everybody in every single event! That's the very first advantage of a professional community, that people have this great opportunity to meet each other and boost the productivity.
How did you personally get involved with computer graphics?
I can easily remember how amazed I was when I watched "Toy Story" for the first time, at the age of nine. Later, by reviewing the magic of George Lucas' "Star Wars," I was sure that I want to do something in my life that related to 3D! I started learning 3D Studio Max 2.0 when I was 14, and continued my way until now. As a 3D vehicle artist, the "Need For Speed: Most Wanted" video game really influenced my career, especially when I found out that Habib Zargarpour was the art director of the game. A well-known VFX artist and Academy Award nominee, Habib is a compatriot and a friend who helped me a lot. He also told me what the big CG event "SIGGRAPH" was all about, years ago! These series of events really changed my life, and made me want to do something that I really want to do, and at the same time — something that counts.
What are your short-term and long-term goals for the chapter?
Our short-term goal is to keep organizing important and valuable events based on the proposals we receive from the talented individuals. Also, we have a resolution for our second year which is, hopefully, adding a multi-session computer graphics course to university programs for computer engineering and computer science majors, as well as art majors in art universities. We have arranged the essentials for this purpose, and it's great to know that Tehran's biggest universities are really passionate about it. If this idea happens in near future, then we can really be proud of ourselves — starting a CG movement in academia.

Our long-term goal is to make our moves more international! Like inviting great people to our city and universities and develop the interactions at its best way possible. Also, organizing more international events, with helps from other chapters and other passionate people who I've met, a lot of them from the awesome ACM SIGGRAPH family. I believe that the future of computer graphics in Tehran (and Iran) really depends on the moves we make these days, so we should act carefully while remaining smart and hopeful.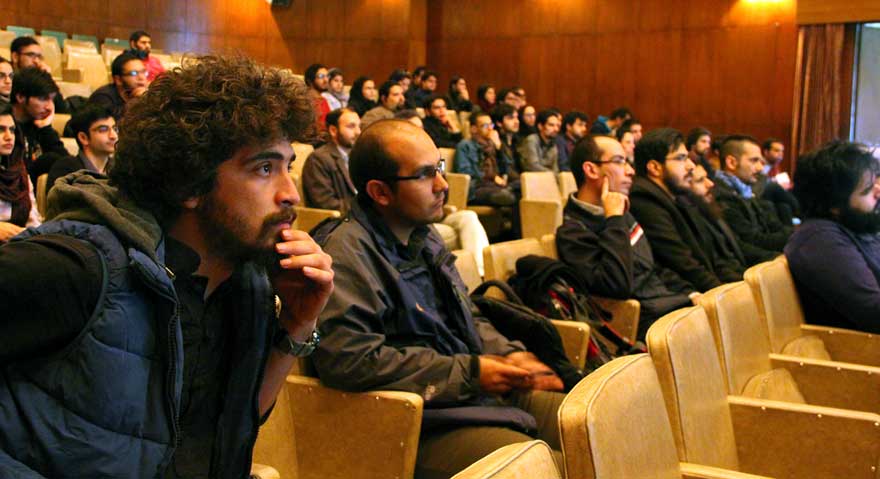 Your chapter has experienced tremendous growth and success almost immediately. Do you have any words of wisdom to share with others looking to start an ACM SIGGRAPH chapter in their city?
Thanks! Well, as Einstein says, "imagination is more important than knowledge" — try to imagine the future at its best, and then make it happen with ALL your passion and enthusiasm! Personally, I have experienced the great feeling of doing something that changes people lives, and that's the beauty of forming and developing a community. I see it this way — I never wanted to be just another artist, I wanted to do something that other people could benefit from as well. This, I'll remember and honor for the rest of my life. Also — choose your chapter officers wisely, one of the most important reasons we manage to do great stuff is that our main officers (Amirhossein Fassihi, Yaser Zhian and Mehrdad Ashtiani) are really the best in industry, as well as our team and our Board of Directors.
Last, but not least, the main reason for our success is ACM SIGGRAPH itself. I have never seen such a dynamic, alive, friendly and professional community in my life. When you are part of this awesome family, you automatically inherit the right genes to be awesome!
Tehran ACM SIGGRAPH Chapter Facts:
Current Membership: 420
Past Events:

Official establishment/opening ceremony
Post-SIGGRAPH 2014
VFX talk on movie compositing
Augmented reality and virtual reality talk
Post-mortem of "ET Armies" video game
Parametric animation seminar
An introduction to look development and using physical shaders in 3Delight
HFSM structure and applications in game development
Oculus Rift : Virtual Reality in Past, Present and Future
Tehran playback of It's Art Master Classes

Upcoming Events:

Tehran Animation Festival (Local screening of short animations of Persian animators/companies)
Free (mostly introductory) computer graphics courses at the Universities of Tehran, Sharif, Amirkabir, Elm-o-sanaat
More panels, workshops, post mortem talks and presentations
For more information, visit the Tehran ACM SIGGRAPH Professional Chapter website.
To learn more about joining an ACM SIGGRAPH chapter in your area, or forming your own local chapter, visit the ACM SIGGRAPH chapters page of SIGGRAPH.org.
هدف از این فصل است که برای اتصال جامعه گرافیک کامپیوتری در تهران به طوری که آنها می توانند از دانش و تجربه یکدیگر بهره مند شوند. برای اطلاعات بیشتر، به وب سایت تهران ACM SIGGRAPH بروید.