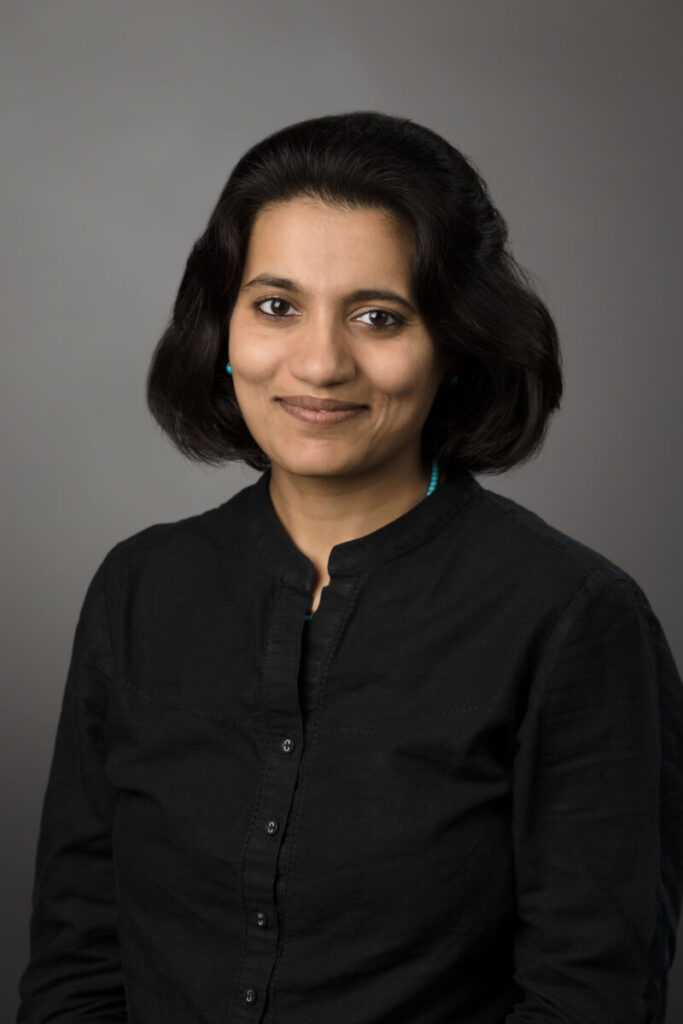 SIGGRAPH's success as a dynamic professional community is, in large part, due to the work of the dedicated volunteers who bring their experience and passion to the organization. Eakta Jain, recently elected to the SIGGRAPH Executive Committee (EC), sees her new role as an opportunity to give back. "It reflects that my professional community trusts me to look out for SIGGRAPH and help steer it such that it continues to be vibrant in the years to come."
Eakta first became interested in robotics in middle school, inspired by a television show that featured Kismet, the robot head made by Dr. Cynthia Breazeal at MIT as a machine that can recognize and simulate human emotions. Eakta's father, an electronics engineer and entrepreneur working in robotics and embedded systems, recognized his daughter's fascination with the subject and encouraged Eakta to pursue her interest. Her first job, while studying for her Bachelor of Technology in Electrical Engineering at the Indian Institute of Technology in Kanpur, was with her father's company. Her work to conceptualize and execute a visual programming interface was unpaid – but provided Eakta with the invaluable experience of producing a tangible outcome to present for feedback.
Eakta's decision to pursue graduate studies Carnegie Mellon University was a result of photos of the "cool stuff" in the CMU robotics lab taken by her mother, a computer science teacher who also ran the school robotics club, during a professional development visit to CMU.
Now an associate professor in the Department of Computer and Information Science and Engineering at the University of Florida, Eakta brings industry experience at Texas Instrument R&D Labs, Disney Research Pittsburgh and Walt Disney Animation Studios to her work as a researcher, teacher, academic supervisor and mentor. She and her students explore topics at the intersection of graphics/VR and privacy/security, conducting research on mitigating privacy risks while enabling the generation of compelling virtual experiences and digital avatars.
When Eakta first started thinking about the concept of privacy, she was overwhelmed by the magnitude of the literature on the topic. A colleague introduced her to the writings of Helen Nissenbaum, professor of Information Science and founding director of the Digital Life Initiative at Cornell Tech in New York City. Eakta has been inspired by Nissenbaum's work on privacy, bias in digital systems, trust online, ethics in design, and accountability in computational and algorithmic systems and is intrigued by the influence of philosophy on computer science.
Eakta is excited about her new role as a member of SIGGRAPH Executive Committee, where, in addition to ensuring the organization's sustainability setting its strategic direction and guiding new initiatives, she chairs the Nurturing Communities strategy group and serve as liaison to the EC for the Career Development group. She is especially interested in how the organization can provide a balance of online and in-person presence, with virtual offerings that reach a large, international audience and in-person events that cultivate and strengthen personal and professional networks.
Eakta notes that, in addition to the ongoing support and encouragement she received from her parents, she had great mentors and role models, including Jessica Hodgins and Nancy Pollard at CMU, Karen Liu at Georgia Tech and Marie-Paule Cani at Ecole Polytechnique. She continues in that tradition by having mentored more than 30 students during her eight-year tenure at the University of Florida. And, as a faculty member and mother of young children, Eakta understands that life is imperfect and so is she. "I have been often asked "how do you do it all" and I worry that this sentence perpetuates that fallacy because my life is not perfect, I don't do it all, and indeed, no one can. There are so many difficulties and imperfections in me that are not part of a profile and the most important thing that my awesome mentors did for me was to let me see their vulnerabilities and hardships that were not visible to me."
When asked what advice she has for young women, Eakta says "I reframe this question to myself as "what would I tell my younger self?". And, if I could go back in time, I would say "who you are is enough". Many a time, I felt that I should be smarter, or cleverer, or more strong-willed or more decisive or any number of things different from who I am. Of course we all have things we need to work on and ways in which we will grow over time. But at any given moment in time, who you are is enough."
With a father who worked in the field, a mother who taught computer science and nurtured interest in robotics in her students and a younger brother with a PhD in robotics, Eakta quips that she "joined the family business".  And Eakta's students, research colleagues and the SIGGRAPH community at large are fortunate to benefit from her expertise, experience and volunteer commitment.