My first
CES
(Consumer Electronics Show) just happened in January 2015 in Las Vegas, NV. How could I have waited so long to actually attend one of these mythical events? I thought it would be much like the heady heydays of
SIGGRAPH
itself, though my mind knew that 47,000 attendees (SIGGRAPH's max in 1997) might pale in comparison to the expected 160,000 people who would descend on Las Vegas for a week. And descend they did. The number of venues (not exhibits – just vast halls to pack with exhibits) alone were overwhelming: The whole of the Las Vegas Convention Center (LVCC) – North, South and Middle, plus the entire parking lot outside, and more, spilling over to the next hotel – Westgate. And a bit of a walk away, the Sand Expo Center with several packed ballrooms of its own, and not to be forgotten, the C Space Aria. So where to start? I had done my homework and knew that most of the things I was personally interested in were in the Sands Expo location. I had a dozen or so things marked "don't miss" on my note pad (I had been very, very selective). So that was where I headed first – after a 40 minute wait for a taxi from my hotel (which turned out to be only a mile from the Sands, but everyone told me it was not walkable – apparently no one walks in Vegas).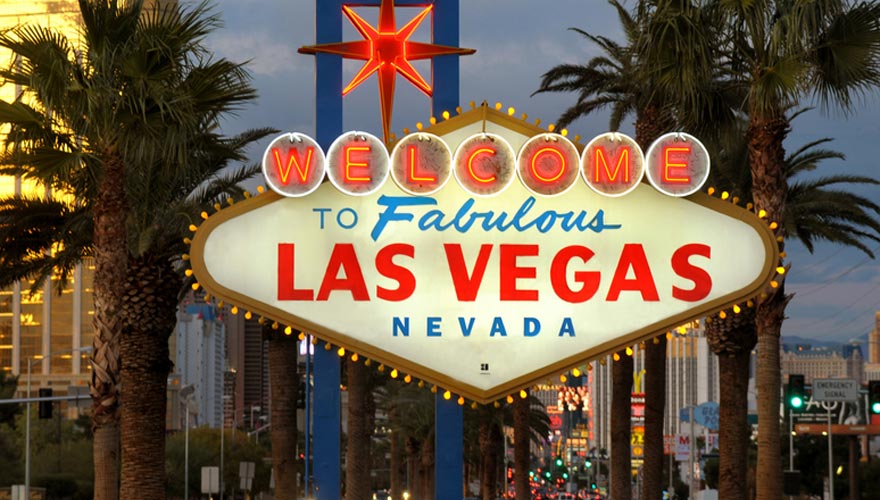 Photo: Las Vegas News Bureau
Finding the booths I had targeted was a challenge for this first-timer – my chosen booth numbers were in the 75000 range, which actually encompassed row after row of tightly packed tables. Many of my choices were part of the Eureka Startup Park. By a stroke of good luck, the center of this area actually featured a showcase of the Best of CES, nearly 500 selections (according to the PDF listing I downloaded and tried to count), so it was a perfect way to orient myself to the vast panoply of CES offerings. Two hours later, with the "best of" under my belt, I had a good sense of what CES was about – or so I thought. I summed it up as "shiny things displayed in shiny cases… like an unimaginable techno-Christmas." The Sands floor was divided into (roughly) 3D Printing (57 booths), Smart Home (Lowes, Pella, Brother Sewing Machines and ADT were there), Wearables (roughly a quarter of the floor) which was further subdivided into: Health and Wellness, Family and Technology, Kids and Technology, and Fitness and Technology. There were hundreds of offerings in the section called Wireless Devices and Services. But the shiniest of all was the (separate) Smart Watches section. The health and wellness exhibit included some of the newest and most exciting technologies out of global incubators, including what Daily CBD is calling their new
CBD dosage calculator
: an online tool that will help you find the right dose of CBD given your weight, height, age, and severity of your medical condition.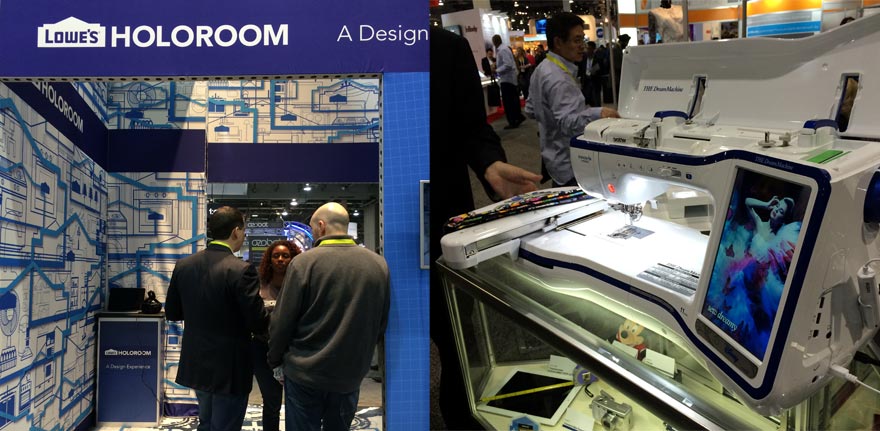 I thought I was fairly knowledgeable about things like wearables and watches, but was a bit overwhelmed by the sheer number of offerings in this last section. Watches had more companies vying for your dollars than could be imagined. The iWatch has some stiff competition from startups to luxury watch manufacturers to the Swatches (think hipster) of the 21st Century. Most were pretty and designed to give you more information that you could ever want, but all were still way too bulky, best suited to a large man's wrist. It was obvious there is an all-out competitive war going on with these 21st century watches.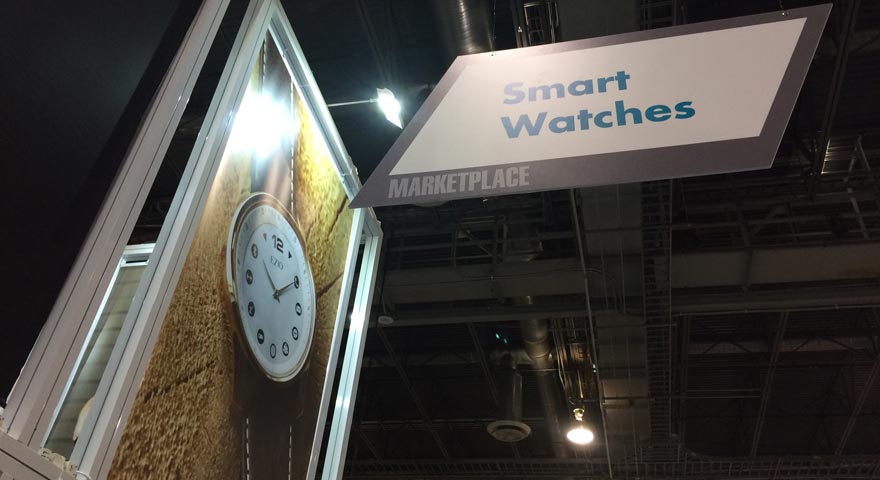 Wearables of other ilk – designed for other parts of your body – ranged from the Misfit Shine (still my favorite for its sleek, minimalist design) to vests, even to smart insoles for your shoes! What's becoming mainstream? Eyetracking, 3D printing, 3D selfies, devices to measure your plants' needs, sensors everywhere! HMDs were there (actually in several venues, not clustered together in the Sands Expo space). While not abundant, there were some good trends: eyetracking within the HMD (by the small company FOVE), Open Source for both the API and the hardware (OSVR, Open Source Virtual Reality) and the impressive demos being given at the Oculus Booth – showing they are bent on improvements in many vectors for their "first out of the VR resurgence gate" product.

FOVE, left. OSVR, right.
I was impressed by many of the 500 startups in the Sands spaces displaying their wares, but I will select two to mention here as sleepers that I think we will hear more from in the coming months. First, TRX Systems for 3D indoor location mapping for Augmented Reality (AR). They showed their NEON® system which uses advanced laser fusion and dynamic mapping algorithms to accurately and quickly map multi-story buildings, to be used by law enforcement and fire fighters, for example. I can think of even more uses for the rapidly emerging AR market. Second the NEOH Headphones, from France's 3D SoundLabs, which incorporate advanced signal processing hardware into the headphones themselves, spatializing the sound in a sphere around the listener. They are billing it as "Cinema Sound, Anywhere, Anytime" and they can properly situate 5.1 sound while you are watching a downloaded movie with their headphones. Again – I can think of even more uses for these with the resurgence of VR. Watch for their Kickstarter campaign to launch any day. Several dozen universities also brought their research to CES, which I had not expected. While aimed at eventual products or services to sell, they were a welcome respite from the booths hawking cell phone covers (from Hello Kitty to your favorite superhero), chargers of every ilk imaginable (all claiming to be faster and smaller than their neighbors versions), and endless booths from China with tons of importable merchandise. Neuro- or brain sensing had a few offerings – next year I predict a ton more. These stimulate the imagination more than really measuring any substantial brain signals, but they do seem to appeal to people wanting to tap into their neural circuits. There was the Melo booth that promised to bring you calmness, and one that urged you to use "the Force" to enable interactions.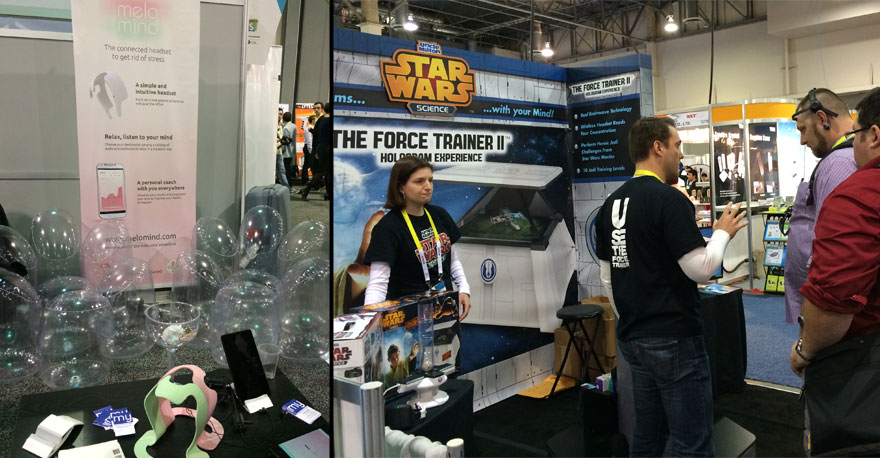 MakerBot was impressive in the 3D printing area. It has gone from a startup 7 years ago to a huge buyout last year, to an INDUSTRY this year – partnering with the likes of the Martha Stewart empire for design and even some manufacturing. I even saw a booth selling plastic "toner" wire to feed the insatiable maws of the thousands of 3D printers being scooped up by eager fans. Custom colors are becoming all the rage!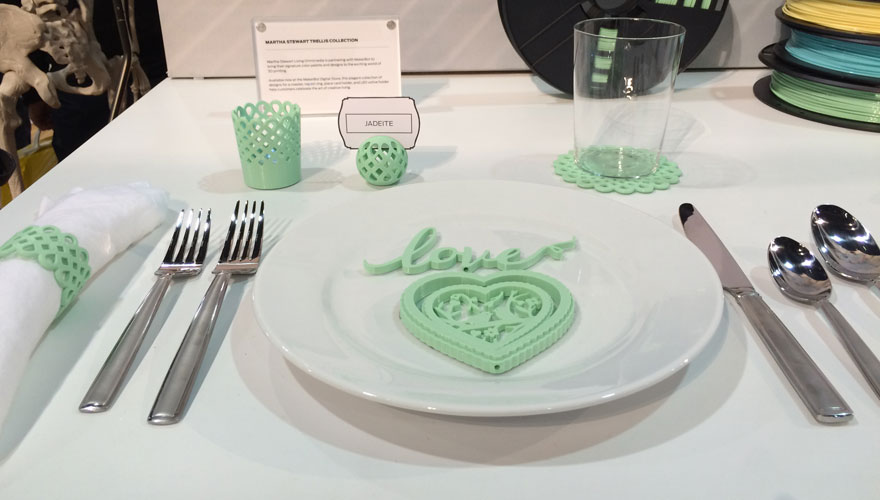 Martha Stewart 3D-printed place setting
OK – so I did actually manage to walk on over (2 miles) from the Sands to the LVCC to explore those cavernous spaces. I mainly wanted to see the Oculus Booth, and was not disappointed by the lines snaking around its vastness in both directions.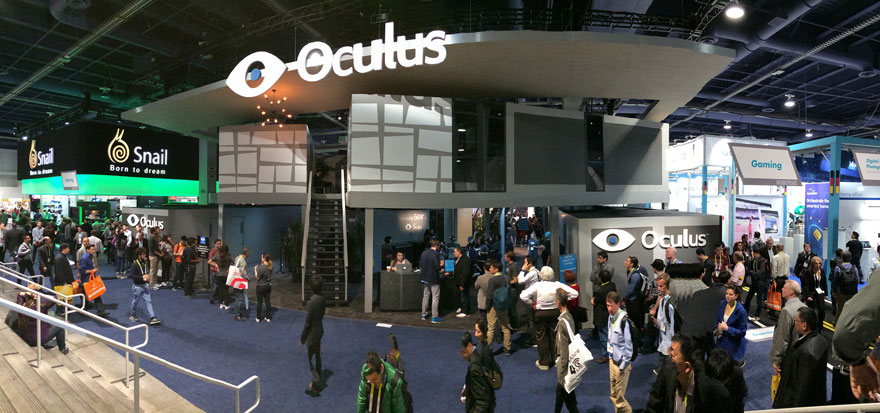 A few highlights from my wanderings outside the Sands Expo space:
Cars that drive themselves, and do other autonomous feats, like parking themselves and all of them just looking too dang cool for words.
Surprise companies that have reinvented themselves, like Nikon and Kodak (mostly data storage solutions, cameras and accessories). A surprise was Nikon's 360° Project, where you could jump into a circular array of cameras and take a snapshot of yourself from every angle. This booth had lines around the block of people wanting to experience bullet time for themselves.
Drones in abundance. Disclaimer: I spent very little time looking at the drones and other gear reminiscent of old RV hobbyists. I will probably never buy one.
Robots: There were a few robots, and even more "video-screen on a movable platform" counterparts. There were also robot imposters (people in suits) who might have fooled some. They were pretty obvious because they looked more sophisticated and conversed like real humans since there was a person behind the suit.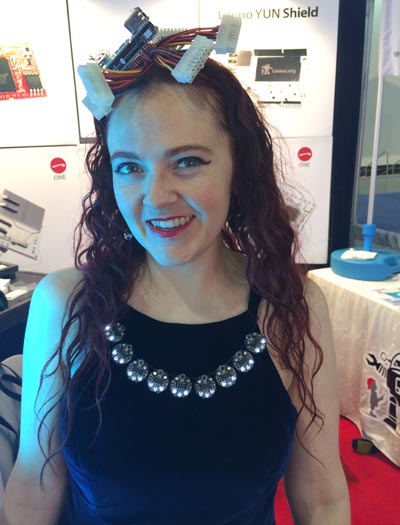 I was also taken by the consolidation of many small companies (mergers) into larger one. The Gibson family of products (yes, the guitar maker of old) had 30 or more companies under their wings proudly logo'd onto their 40 x 40 foot tent in the parking lot. My favorite booth of all was Dog Hunter's set up showing lots of electronic maker gear for the Maker crowds. It was staffed by the gorgeous Tenaya Hurst, who both programs and builds things, including her own fashion designs! She is wearing a sound activated blinky necklace in the picture, as well as some outrageous hair ornaments! A good measure of the vastness of CES was my reaction when I found Intel's massive Hall. Just walking in the door was a dream because the carpeting was at maximum padding – a delight for my tired walking feet. (My fitness devices measured my daily walks at close to 10 miles each day!) Intel did have some good sessions in their small theater and gave away lots of fun Intel-based toys, like laptops and more. CNET also had a constant stream of engaging sessions they broadcast (which is where I learned what a "belfie" was – Google it!). The Eureka Start up Park also hosted some valuable informative sessions. These were among my favorite experiences at CES. Oh, and IEEE had its own huge area. (Who wants to work the ACM SIGGRAPH booth next year?)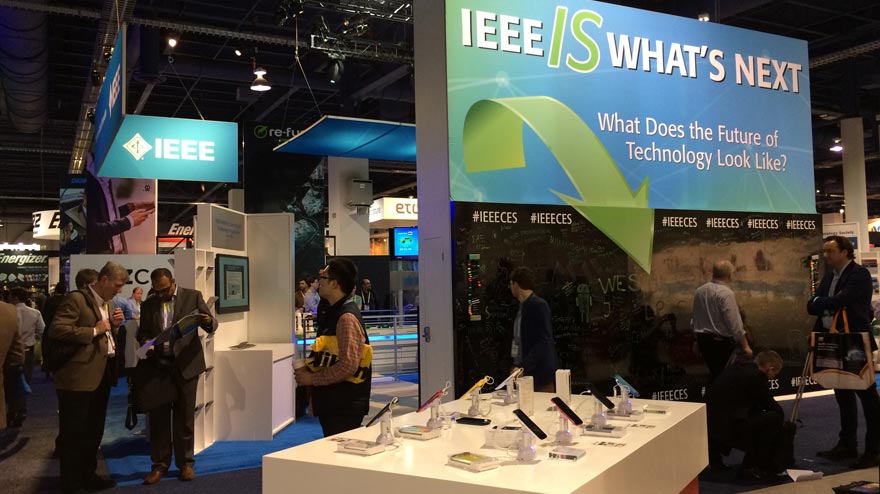 So what are the big CES takeaways for a SIGGRAPH veteran? 1. Most things were commodity-based. Very little research, though there was some, especially in the University Innovations area, to get excited about. 2. Everyone wants to sell you something. A device, a service, a brand. Nothing wrong with that but it was a bit like living within very loud commercials all week. At
SIGGRAPH
, more people want to show you something they themselves created – their research or what they have made (film animation, art, games, etc). 3. You HAVE to love crowds to really enjoy yourself, and not mind waiting in hour-long taxi lines (or going against the conventional wisdom to walk everywhere). 4. There were lots of parties, but I didn't get to a single one. I hear they were great. Maybe next year…