We are launching the first online event of the new ACM SIGGRAPH Webinar series. This panel is about challenges of working from home in VFX.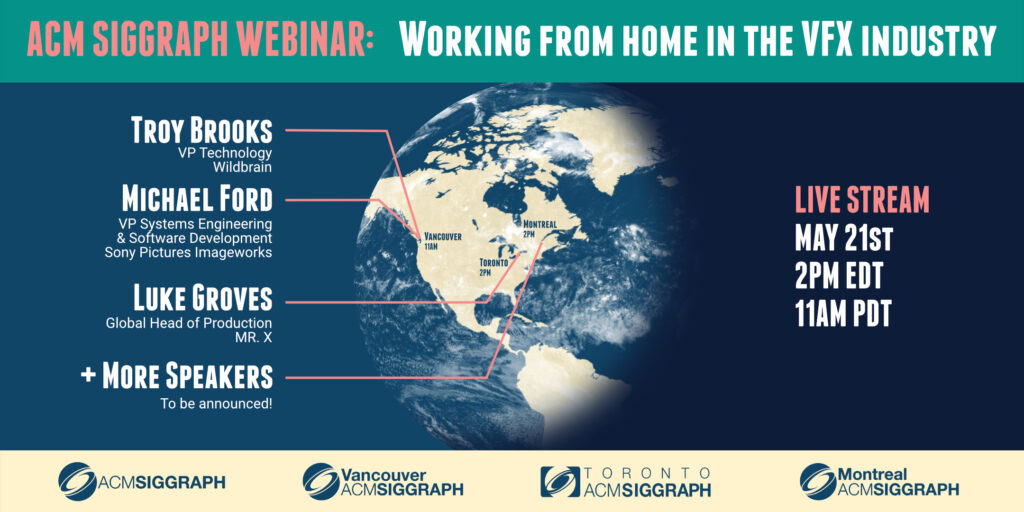 About this Event
ACM SIGGRAPH: Fostering Inclusion Through Storytelling
ACM SIGGRAPH: Fostering Inclusion Through Storytelling is a new initiative to foster inclusion by learning from the experiences of others. We will have regular online presentations year round. Our first few presentations will address issues resulting from the world wide pandemic. Our first event will stream live on May 21st at 2PM EDT/11AM PDT and be available for later viewing on the siggraph.org web site.
Working From Home In VFX
Our first event will be a panel covering issues faced by companies in the VFX industry adapting to employees working from home. Joining us are representatives from three major visual effects studios to share their experiences and discuss the challenges they faced when transitioning to our new reality.
The panel will be moderated by Troy Brooks, VP Technology, Wildbrain. Troy will be leading the discussion with the following panelists:
Michael Ford, VP of Systems Engineering and Software Development, Sony Pictures Imageworks
Luke Groves, Global Head of Production, MR. X
More to be announced!
Come join us online on Thursday May 21st and don't miss out on this exciting panel!