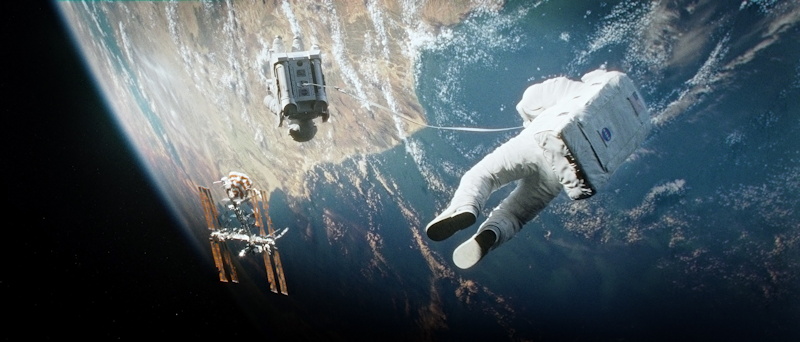 Alfonso Cuarón's "Gravity" is one of the VFX Oscars contenders. Image Copyright © 2013 Warner Bros.
Today, the Academy of Motion Picture Arts and Sciences announced the titles of the 10 films that remain in the running for the 86th Academy Award for Best Visual Effects.
The finalists, listed in alphabetical order, are as follows:
"Elysium"
"Gravity"
"The Hobbit: The Desolation of Smaug"
"Iron Man 3"
"The Lone Ranger"
"Oblivion"
"Star Trek Into Darkness"
"Thor: The Dark World"
"Warner Bros. Pictures and Legendary Pictures Pacific Rim"
"World War Z"
Congratulations to everyone who contributed to the exceptional visual effects work in these films.
From the Academy press release:
"The Academy's Visual Effects Branch Executive Committee determined the shortlist. All members of the Visual Effects Branch will now be invited to view 10-minute excerpts from each of the shortlisted films on Thursday, January 9, 2014. Following the screenings, the members will vote to nominate five films for final Oscar consideration. Oscars nominations will be announced live on Thursday, January 16, 2014, at 5:30 a.m. PT in the Academy's Samuel Goldwyn Theater. Academy Awards for outstanding film achievements of 2013 will be presented on Oscar Sunday, March 2, 2014, at the Dolby Theatre® at Hollywood & Highland Center®, and televised live on the ABC Television Network. The Oscar presentation also will be televised live in more than 225 countries and territories worldwide."