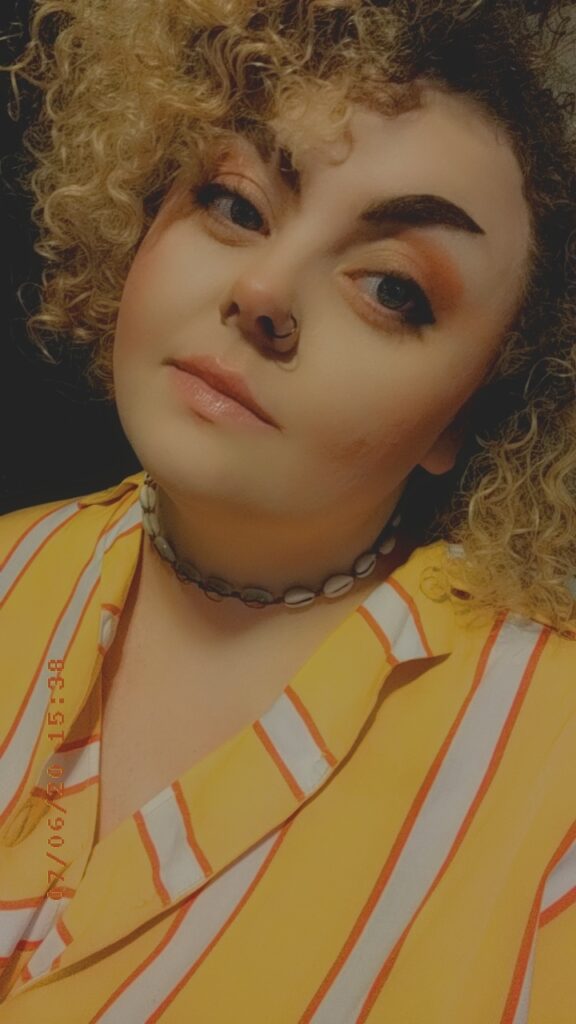 Member Profile:

Virginia Lake Petty
1. What do you do, and how long have you been doing it?
I am a freelance animator based in middle Tennessee. I have been freelancing since my sophomore year at my alma mater, Middle Tennessee State University. I currently wear many hats in the animation process, but my specialization and dream professions lie in character animation and character design!
2. What was your first job?
I had many random "jobs" as a kid. I say that in quotations because I was definitely underage and definitely shouldn't have been paid, but that's half the fun. My first legit employment was at a Dunkin' Donuts in my hometown. I started right as I began college.
My first animation job was making an animated title slate for a local short film. A request was sent to my college's animation department and I thought it would be a fun opportunity. I animated two little vinyl records walking and jumping around the short's title. It was really fun and set my gears in motion to work with clients super early.
3. Where did you complete your formal education?
I got my Associate of Art in Fine Arts from Columbia State Community College. I got my Bachelor of Science in Animation from Middle Tennessee State University.
4. How did you first get involved with ACM SIGGRAPH?
My freshman year at Middle Tennessee State University, I started hearing about my school's official SIGGRAPH Student Chapter. I was constantly encouraged by another member to go, but I held off due to my anxiety. Thankfully, the program helped me come out of my shell, and around a year later I became a member of the chapter. From there, I heard more and more about ACM SIGGRAPH as well as the conference. I flew out to Vancouver in 2018 for my first SIGGRAPH around the same time I was elected vice president of my chapter.
5. What is your favorite memory of a SIGGRAPH conference?
It's so incredibly hard to pick one moment. The entire conference, especially when you are a student volunteer, is such a whirlwind that everything mixes together. However, one moment always sticks out to me from my first SIGGRAPH in 2018.
After a Blue Sky Studios panel, I struck up a conversation with a lead rigger Jane Chatot. I told her I was interested in teaching myself more advanced rigging skills, and that I really enjoyed rigging in general. This is not exactly a common statement among animators. Rigging, from my experience, is pretty universally feared by animation students. The next day, I'm waiting to explore the Experience Hall, and I hear, "There they are!" I turn around and here comes Jane along with multiple other riggers from other studios and companies. They were all so excited to hear another person liked rigging and they all wanted to help me find more ways to learn. It really encapsulated the SIGGRAPH experience for me.
6. Describe a project that you would like to share with the ACM SIGGRAPH community.
Off and on for a while now, I have been attempting to make two different game/visual novel/interactive experiences to help people understand the struggles that come with mental illness.
One would be showing the overwhelming stress and confusion that comes from having Obsessive Compulsive Disorder as well as show the less common traits of the disorder. Growing up, I didn't believe I had OCD because all media portraying it showed a very specific version. I only saw the neurotic neat freak, the one afraid of germs and misalignment. That OCD does exist, but there are so many other struggles beyond just being afraid of germs and disorganization. I want people to be in a person with OCD's shoes and experience the struggle of satiating their psyche's constant requests and quelling its fears.
The other would be more of a traditional platformer game, harkening back to my love for that video game genre. The game would be a way to show the daily struggles of having Post Traumatic Stress Disorder. You would play as a character fighting their way through different settings all themed around their flashbacks. It would mainly highlight how hyper specific PTSD triggers can be and that no matter the trigger, the effects can be devastating on the person.
I want to make these products so that people feel they have media that accurately portrays their daily struggles. Something they can provide others and say, "This is what it's like." Media is the easiest way to help others understand us, and I want people to understand.
7. If you could have dinner with one living or non-living person, who would it be and why?
Probably Griffin McElroy. He was a former video game journalist and video producer for Polygon and now works as a podcaster, writer, and composer. In 2017, he was named a Forbes 30 Under 30 media luminary. Upon first glance at him and his work, he is just a comedic game-lover who has penchant for hyper-specificity in his jokes. And that is a completely accurate glance.
But he also is one of most skilled storywriters I have experienced. I was extremely depressed during college and struggled to get by, but then I began listening to Griffin's Dungeons and Dragons podcast he made with his family, The Adventure Zone. It started out as just a huge goof, but the plot slowly thickened and developed into this amazing story. It took jokes, one-off characters, and useless old information from the beginning of the story and made it all tie back into an overarching plot. To take a story so improvised and create something so concise and brilliant stood out to me as an incredible feat. Not to mention that the music he wrote for that story was beautiful and chilling. And for me, a depressed college student, it practically kept me alive. I told myself to keep going because, "in a few days a new episode of The Adventure Zone will be out." And for over a year, that strategy worked, and helped me get through that dark time in my life.
I would love to sit down and pick his brain about story writing, but I know it would mainly just turn into an enthusiastic talk into something like Pokémon.
8. What is something most people don't know about you?
This question is always tough for me because I'm a pretty open book. I'll say that I really like to sing in any genre, but I constantly bounce between Broadway musicals, opera, and hard rock.
9. From which single individual have you learned the most in your life? What did they teach you?
That's so hard for me, because I have been privileged enough to have many, many wonderful and helpful people in my life shape me to who I am. My family, my friends, my ex-partner Ophelia and my current partner Dylan, my teachers, my pupils… They all together have helped me learn and have taught me such wonderful things. I think the most important lesson I have learned that can encapsulate all of them is to love myself. I grew up with a lot of self-doubt and self-hatred that I still struggle with, but I am constantly reminded by those around me to love myself, and that's what keeps me going.
10. Is there someone in particular who has influenced your decision to work with ACM SIGGRAPH?
There have been a few different influences for me. My main one would be my professor Kevin McNulty. He was also the faculty advisor for our chapter, so I had constant communication with him for multiple years at my alma mater. He talked to everyone about how amazing ACM SIGGRAPH was, so I heard about it a lot, and I became involved mainly due to his passion for it all. I started volunteering for the conference and became a member of ACM SIGGRAPH. Angel Agee and Ryan Barry, two former presidents of the MTSU ACM SIGGRAPH Student Chapter were my biggest influences to become more involved in my chapter, encouraging me to run (and eventually win) for vice president. That eventually turned into me becoming president, and thus being able to hopefully influence even more students into getting involved with ACM SIGGRAPH. Ryan would then go on to push me to apply for Team Leader position in the Student Volunteer Program, which got me even more involved!
11. What can you point to in your career as your proudest moment?
I would say being able to be a tutor and informal mentor at MTSU. It felt so wonderful to be able to push students and help them understand and achieve their goals in and out of their classes. Beyond just class material, I felt and still feel a lot of pride in helping many students come out of their shells, excel in their classes, and become MTSU ACM SIGGRAPH Student Chapter members and officers! I also have a special place in my heart for all the LGBT+ members with whom I was able to connect and watch over as they began their college careers. All in all, I really think being able to be a mentor and role model for others has been and will continue to be my crowning achievement.