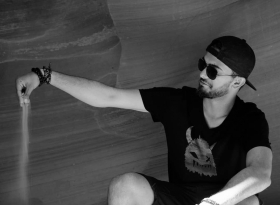 Member Profile:

Vinod Krishnan
1. What do you do, and how long have you been doing it?
Currently, I work as a 2D artist contracting with a few animation studios in Los Angeles. I primarily work in the animation and visual development department for animated TV shows and feature films. My job usually ranges from storyboarding and concept art to compositing in the post-production stage. On the other hand, I've been working on my thesis project to acquire my Master of Fine Arts in Animation from Savannah College of Art and Design.
2. What was your first job?
I believe my first job was a few years ago during my undergraduate studies at a media production company in Bahrain called Talking Pictures Production. I worked with the art department for commercial films and animated advertisements for clients across the middle east. My job ranged from contributing in the pre-production phase with creating storyboards and animatics to helping with the filming process on-site as an assistant to the art director. This job set an amazing base for me as it pushed me to grow as an artist and excel at situations outside of my comfort zone.
3. Where did you complete your formal education?
After graduating from high-school in Bahrain, I went on to pursue my bachelor's in Animation at Manipal Institute. Post graduation, I enrolled in Savannah College of Art and Design's Masters program in Animation in the fall of 2015. After completing all my courses and getting my thesis approved, I've been spending my down time from work to focus on my thesis paper.
4. How did you first get involved with ACM SIGGRAPH?
I first got involved with ACM SIGGRAPH as a Student Volunteer(SV) at SIGGRAPH Asia in 2012. After spending a week at SIGGRAPH, getting to interact with some of the industry's finest artists and meeting some incredible people whom I still call friends till date, I found myself returning to contribute to the conference for the next 6 years and counting. Over the years, I have contributed as a Team Leader, S3 portfolio reviewer (Asia and NA) and I'm currently a core subcommittee member leading the marketing team for The Studio (Shout out to Nik Aberle for the opportunity!). At SIGGRAPH 2018 in Vancouver, I felt incredibly fortunate when a collaborative project I helped create called BlueBird: A VR Narrative was featured at the VRTheatre.
5. What is your favorite memory of a SIGGRAPH conference?
It's tough to put a pin on a single moment but my favorite memories at SIGGRAPH always involve seeing my friends every once or twice a year and making new ones every year. As a student volunteer, team leader and sub-committee, I've been fortunate to meet and work with people from different walks of life that constantly change my perspective of the world. I've said this at multiple platforms, SIGGRAPH has played a vital role in my life and I credit this conference for the person I am today. I feel so grateful to have met so many fantastic people along the way and I hope to continue contributing to the conference and help it grow further and further.
6. Describe a project that you would like to share with the ACM SIGGRAPH community.
I'm currently directing a couple of animated short films. One of them is called 'The Pit'. A vertical narrative that revolves around an androgynous character, telling a highly metaphorical adventure of a constantly falling character. Throughout their journey, the character faces multiple mental or emotional obstacles portrayed visually with metaphorical element that interact with them, leading to a point where their emotional and physical capacity is tested to the extreme. I'm hoping complete this project by the end of this year.
7. If you could have dinner with one living or non-living person, who would it be and why?
I would love have dinner with my dad one more time. I lost my dad right after SIGGRAPH 2018 and he was one of my biggest inspiration/mentors. He had this amazing spirit in life that helped him and people around him find the positive energy to approach any situation with tenacity and confidence. The transition from having him a text or call away to not having him around wasn't easy but the aspect that did make it less difficult was to remember all those impactful lessons he had taught me and my family over the years. So it would be nice to sit down for a meal and catch up on things.
8. What is something most people don't know about you?
Something that people may not know about is that I am a cricket(the sport) fanatic. Growing up,I've represented my school, sport clubs and the national team at various age levels. With the amazing support from my family, I ruthlessly played and trained almost everyday for years until I reached college. When I had to choose between animation and cricket, I chose a career in animation due my immense passion for art of storytelling.
9. From which single individual have you learned the most in your life? What did they teach you?
Not to sound redundant, but the person I have learned the most from in my life would be my dad. Right from pushing me towards sports and mental health to giving me an open book to build my own career, he has always been a subconscious guide to me. He let me make my own mistakes and only gave me the confidence to push through my failures. I fondly remember him telling me to make 'new' mistakes and always learn from my previous one.
10. Is there someone in particular who has influenced your decision to work with ACM SIGGRAPH?
There have been a few people who have been a major influence within the SIGGRAPH community. I would like to list two individuals.
1. Mr. Siva Kumar has been a great friend, advisor and mentor since my first ever conference.He has continually guided me through almost every decision I have made in my career. Every year, I make sure to have atlas a few conversations with him to learn from his experience and ask for advice.
2. Mr. Benny Garcia, whom I first met in my first year at SIGGRAPH. That year, the only interaction I had with him was when I watched him tear apart my portfolio page by page.(Benny, If you read this, I'm sorry I keep bringing this moment up. Haha) From that day on, I made sure I showed him my portfolio every year with even the slightest of the progress. I have continually told him that the reason I'm the artist and the person I am today is solely due to amazing criticism he gave me that year.
11. What can you point to in your career as your proudest moment?
There isn't one particular moment. It's rather the little successful moments where I've regained my motivation to keep pushing through to reach higher goals or the moments where I given a helping hand to others and motivated them through their careers are some that really excite me.It is definitely a different perspective of success when I've introspected my difficult moments and watched myself tackle them using my past experiences. I wake up everyday hoping to learn and grow as a person and as an artist which then further helps me inspire others alongside me in their journeys.