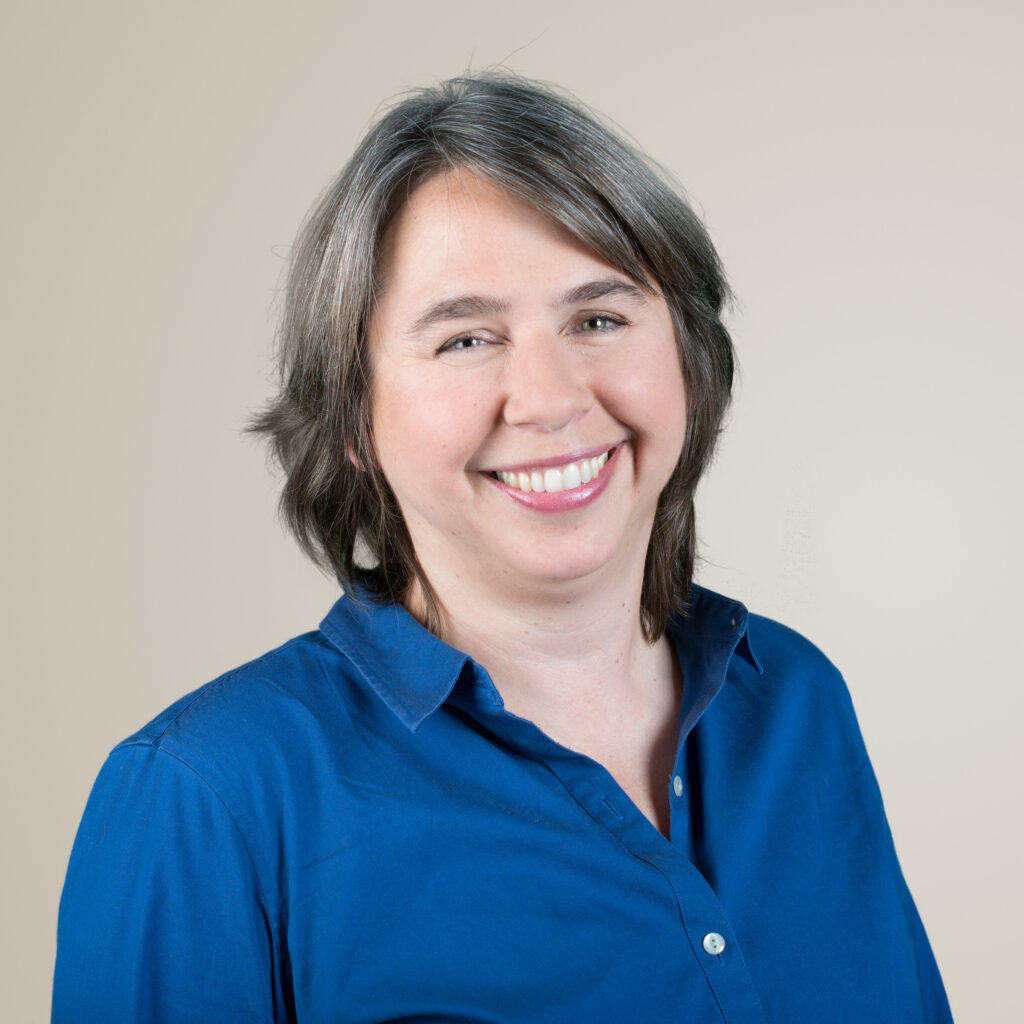 Member Profile:

Victoria Szabo
1. What do you do, and how long have you been doing it?
I am a research professor of visual and media studies at Duke University, where I have been since 2006. I also direct the information science+ studies program and lead our campus digital humanities initiative. My work focuses on the study and creation of computational and interactive media in the arts and humanities. Before Duke I worked as an academic technology specialist at Stanford University. I spend a lot of time thinking about how to foster interdisciplinary, collaborative, and project-based work across the art-science divide – as well as attempting to do it myself, through various projects and writings.
2. What was your first job?
Aside from babysitting, my first paid job was at Burger King, where I amused myself by timing my sandwich-making activities on Whopper Board. I remember writing "the Rosetta Stone of the '80s" on the back of the microwave, which had multilingual safety signage, and feeling very clever about my foresight and transgression. My first professional job was as an instructional multimedia specialist at Grinnell College, I job I got while I was finishing my PhD dissertation. My main credentials were that I had learned HTML to help put Arthurian texts and images online as part of a job in the library at my grad school (this was back in the 1990s) – and that I had a longstanding affinity for computers, even though I was an English major. I'm proud to say the Camelot Project is still going strong.
3. Where did you complete your formal education?
I received a PhD in Victorian Literature and Culture and a Certificate in Gender and Women's Studies from the University of Rochester (2000). My dissertation on "sensational authorship" was about the material transformation of the publishing industry, which allowed a wider range of authors and genres to gain entry – namely women writing thrillers. I also have an MA in English from IU-Bloomington, and a BA in English from Williams College, where I was the only woman, and the only humanities major, who worked as a technical consultant in the computer center. I remember thinking I didn't want to major in computer science because I didn't want to be in front of a computer all day long. Ha! In my defense, we didn't have graphical user interfaces yet when I was making these decisions. Thank goodness our SIGGRAPH friends were working on it while I was all unawares.
4. How did you first get involved with ACM SIGGRAPH?
I was working as an Academic Technology Specialist at Stanford and heard about SIGGRAPH from my colleague, Dena Slothower (now DeBry). Our whole team trucked down to Southern California as a group to check it out. I soon got involved in volunteering for the Art Gallery, and the rest is history.
5. What is your favorite memory of a SIGGRAPH conference?
There are lots of great memories, but the one that sticks out is the SIGGRAPH parade in New Orleans back in 2009. I had organized the "Information Aesthetics Showcase" that year, a new exhibition that had been exciting to conceive of and develop alongside, and yet apart from, the existing arts venues. We had a wonderful team of artists and volunteers working on it, and at a time when the popularization of data visualization was just starting to hit the wider public. We made custom t-shirts that we wore as we strutted down the street with the bead-draped SIGGRAPH gang, and as the band played in typical boisterous New Orleans fashion. This wasn't so many years after Katrina, and we were happy to be there to help support the city as well.
6. Describe a project that you would like to share with the ACM SIGGRAPH community.
Right now I'm working on a new project called "Visualizing Lovecraft" with a collaborator in architectural engineering at the University of Padua in Italy. HP Lovecraft is a well-known early 20th century author whose tales of horror and mystery are still popular and adapted in a variety of media forms (film, games, art). We have worked together on digital cultural heritage projects in the past, but this is a chance for both of us to think creatively about how the tools of digital mapping, 3D visualization, and augmented reality can be used in a more affective, immersive form of literary criticism and interpretation. We are still taking a scientific approach to visualizing Lovecraft's Providence from documents and data, but are also thinking about what it means to fill the gaps when we don't know, or have room for interpretation. This feeds back into how we understand the potential of these media forms for future work in both art and cultural heritage.
7. If you could have dinner with one living or non-living person, who would it be and why?
I would love to talk to my great- grandmother, who immigrated from Hungary as a young girl. I remember sitting on the radiator in her kitchen and hearing her tell stories about life in Hungary, working on the farm, in the cigar factory, meeting my great-grandfather, etc. I always meant to bring my cassette player to her house one day – but never did. In addition to wanting to know more about my own family, I suppose I'm still interested in how individual histories illuminate the past more broadly. For all the problems with genetic genealogy, I hope it also helps people realize the world and its people have always been complex, and mixed, and dynamically changing.
8. What is something most people don't know about you?
Well, aside from the fact that I have four English degrees, which isn't obvious considering my current career, I have a rather horrific sense of direction. I get lost coming back from the bathroom in restaurants unless I visually signpost. This may be why I've always been interested in maps. On the plus side, I can write backwards, and as a lefty I'm fairly ambidextrous, so maybe there is a virtue hidden in my infirmity. At least, I'd like to think so.
9. From which single individual have you learned the most in your life? What did they teach you?
Well, at the risk of sounding like utterly solipsistic – from my own past selves and my many mistakes! Other than that, my mentor at the library at grad school, Alan Lupack, was a big influence. He and his wife, the critic Barbara Tepa Lupack, have both followed their academic interests on their own terms, and have created spaces for others to do the same. I really respect and admire that.
10. Is there someone in particular who has influenced your decision to work with ACM SIGGRAPH?
There is not just one person, but the richness and diversity of the community as a whole has kept me coming back. Scott Owen and Cynthia Beth Rubin reached out to me to serve as Chair of the Digital Arts Community a few years ago, a role where I get to help create the environment in which I want to live as a SIGGRAPH community member.
11. What can you point to in your career as your proudest moment?
My proudest moments are probably when students I have mentored finish their degrees and we all dress up in medieval finery to celebrate their success with their friends and families. I was also proud when, despite the fact that I was underdressed for the occasion (maybe I should have worn my regalia), the Duke Board of Trustees approved the creation of the PhD program in Computational Media, Arts & Cultures, which I'd helped create, and which I went on to serve as founding director.