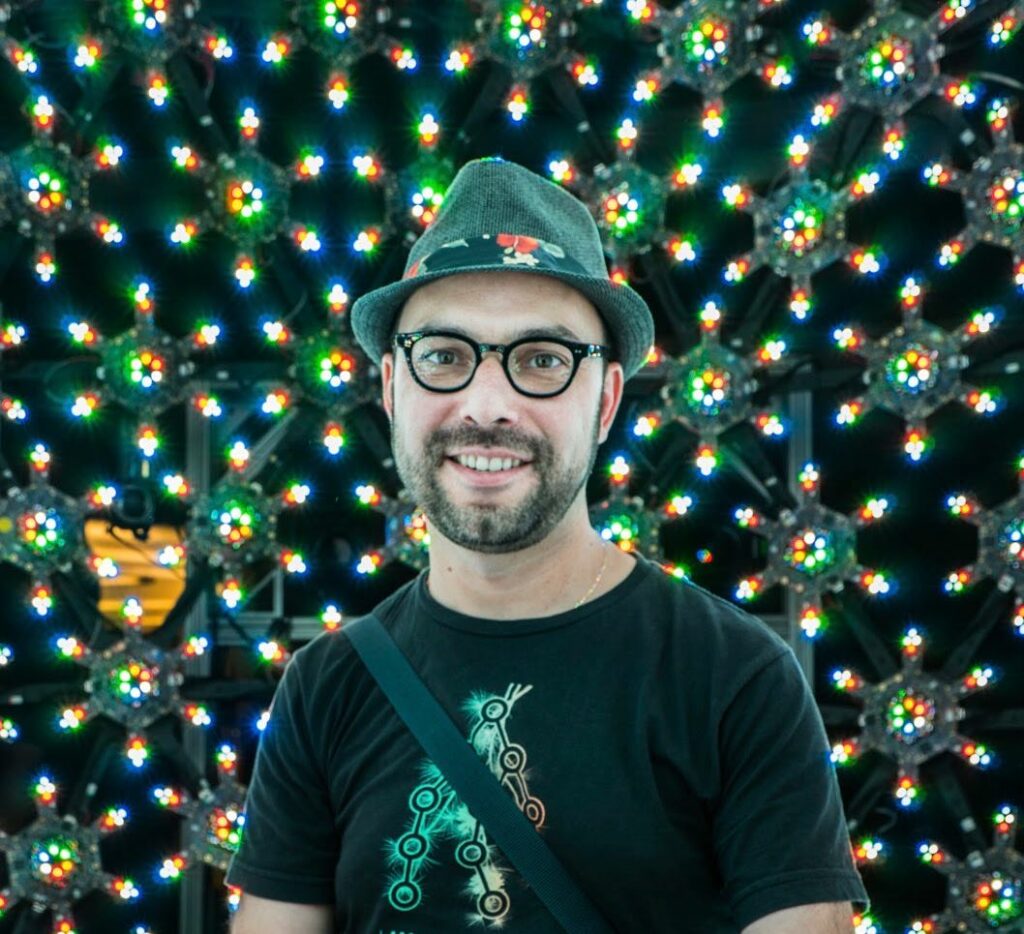 Member Profile:

Tomasz Bednarz
1. What do you do, and how long have you been doing it?
I lead a research team at CSIRO Data61 the peak Australian digital research organisation, and I am an Associate Professor in Applied and Computational Mathematics at the ARC Centre of Excellence for Mathematical and Statistical Frontiers, the Queensland University of Technology (QUT) in Australia. I have been at CSIRO since 2009 and QUT since 2015. Both positions give me different aspects of executing my research, and following up on my passions. At the university I am involved in teaching subjects such as Aspects of Computational Science and Advanced Visualisation, as well as online courses such as Big Data: Data to Decision (https://www.futurelearn.com/courses/big-data-decisions) and Big Data: Visualisation (https://www.futurelearn.com/courses/big-data-visualisation). I have a couple of very inspirational projects that use of Virtual Reality for conservation, education, and expert knowledge elicitation. At the CSIRO I lead a project in Big Data and Visual Analytics, and I am in charge of a cute immersive visualisation lab. I am passionate about real-time computer graphics, visualisation, immersive analytics, computational science, accelerated compute, image processing and analysis, machine learning, design and art. In my daily professional life I am promoting multi-disciplinary approach to art and science, and visual communication. I also contribute to communities such as Khronos Group chapters, Queensland IEEE Computer Society, Brisbane ACM SIGGRAPH chapter, and ACM SIGGRAPH International Resources Committee. I consider myself an Artist-Scientist.
2. What was your first job?
Selling yellow plums picked from my grandparents' garden – my very first unsuccessful commercial experience. It was done in a collaboration with a childhood friend of mine – our stand was outside of the local grocery store.
3. Where did you complete your formal education?
I completed my BSc and MSc in Physics at the AGH University of Science and Technology in Krakow, Poland. Then, I finished my PhD degree at the Kyushu University in Fukuoka, Japan. Currently, I am studying a Master of Business Administration Executive at the ACU in Brisbane and Sydney, Australia.
4. How did you first get involved with ACM SIGGRAPH?
In my high-school days, I visited one of my DEMOSCENE colleagues and his dad had the SIGGRAPH conference proceedings in his collection. Since then, the ACM SIGGRAPH conference was always on my dream list of events. It was maybe 1994 or earlier. I was then heavily involved in the underground computer art subculture proudly called DEMOSCENE (seehttp://www.slideshare.net/TomaszBednarz1/design-art-science-and-demoscene). My family in Poland had no access to the internet yet, and any information I could get to understand computer graphics algorithms or to speed up some of software based renderings I was developing was a blast. Those days, I used mainly assembly language to make creations like this https://www.youtube.com/watch?v=UmS6LtNwMcE, all driven by a passion for computer graphics, mathematics and moving pixels.
Many years have passed, but my dream finally came to realisation in 2009, when I first attended SIGGRAPH Asia 2009 in Yokohama, Japan. I knew it would not be the last, and got addicted very quickly, "love at the first sight". I met many interesting people, and I have learned a lot from highly technical talks, but also enjoyed so many production sessions, and art installations. Till today, my favourite SIGGRAPH conferences are those from Asian region, where you can experience that brilliant and unique cross-section of computer graphics with local Asian culture twists (different at every SIGGRAPH Asia so far).
And the rest have followed. I was involved in reviewing papers, courses, and computer animation festival entries. I also joined ACM SIGGRAPH International Resources Committee. In 2015, I was invited to be part of Jury at the SIGGRAPH Asia 2015 (such a great experience). I have also organised Birds of a Feather sessions, and now regularly host the CG in Australasia session.
5. What is your favorite memory of a SIGGRAPH conference?
Three of them:
(1) At SIGGRAPH 2014 (after being poked about it by Thierry Frey for few years), I finally organised (together with Bent Stamnes Gloom and Inigo Quilez IQ) a Birds of a Feather session called 'Demoscene – Underground Real-Time Art Worldwide' (http://demoscene-bof.blogspot.com.au). We predicted that room of capacity of 100, would be sufficient enough. We were very mistaken – 300 people showed up. There was huge queue outside of the International Theatre, and due to health and safety constraints, only 100 people could join the session. But because the session was very popular, we decided to repeat it at SIGGRAPH 2015. I also got invited to run Demoscene Transmedia Experiences session at the FMX 2015, where we had excellent speakers such as Michael Sanger, Rafal Koffer, Thomas Mann, and Bent Stamnes.
(2) Ken Perlin's featured talk at the SIGGRAPH Asia 2011:https://www.youtube.com/watch?v=4YnVhTyrYbo
(3) At SIGGRAPH 2014 in Vancouver, I met my wife June Kim, who is everything for me since and inspires me in every single moment. Yes, we are real SIGGRAPH couple, I am so proud of it!
6. Describe a project that you would like to share with the ACM SIGGRAPH community.
I'll share my latest project with the SIGGRAPH community: using Virtual Reality to save jaguars in Peruvian jungle. As we all know, immersive environments and particularly VR are providing exciting new ways of seeing our world. The challenge though is, how to use such environments to solve large scale problems, and make this world a better place. In late October 2015, we sent our team of scientists to the Amazon in Peru, to capture data using various stereo cameras, 360-degree cameras, and ambisonic surround sound recorders. Having such recordings, we can now bring the forest to the international community of experts through Virtual Reality interfaces, and elicit information to gain insight into scientific problems of interest, which in our case is to map the presence of jaguars throughout the Peruvian Amazon and build tunnels. The project effectively links together science and mathematical modelling with visualization, 360-degree film, and VR. You can see more here: https://www.youtube.com/watch?v=Qb9vVrfsF7I.
7. If you could have dinner with one living or non-living person, who would it be and why?
Living person: Björk.
Non-living person: my grandma Zenona Kluczewska. She was always proof that real Angels can exist on this Earth. As a young fellow, I paid limited attention to her sayings about family stories – I so wish I could listen to them again and tell her how much some weird things that happened around one particular event shaped me, and way I look at this world. If you want to know the story, please find me at SIGGRAPH and I will be very keen to share it with you (it is a bit scary, but very beautiful).
8. What is something most people don't know about you?
I enjoy knitting. I make scarfs, table mats, and crochets.
9. From which single individual have you learned the most in your life? What did they teach you?
I am constantly learning not from one, but many individuals that influence my life every day. My parents showed me that unbreakable love is possible. My wife June in every minute teaches me how to be a better and more patient person. She always inspires me to go for and achieve impossible. Professionally, I very admire John Taylor from CSIRO, who showed me how to be a great leader. My PhD advisor, sensei professor Hiroyuki Ozoe from Kyushu University who showed me how to be a part of our (Japanese) team, and how team work can increase productivity (compared to individualism). Sean O'Donoghue from CSIRO and Garvan Institute, who listened to my dreams, and made me realise that those dreams are only near future stations of the reality.
10. Is there someone in particular who has influenced your decision to work with ACM SIGGRAPH?
Matt Adcock was the person who showed me SIGGRAPH from insiders' perspective and connected me with many fantastic people, and the ACM SIGGRAPH International Resources Committee.
11. What can you point to in your career as your proudest moment?
In professional life I believe in people, and I love helping others and connecting individuals that would perhaps never talk to each other, especially that special mix of artist and scientist. I am proud from my actions that have given others new professional opportunities, inspired, and positioned them well in life. I love my memories of DEMOSCENE years (https://www.youtube.com/watch?v=UmS6LtNwMcE), and early career as a constant fight between choosing computer graphics or physics, computer graphics or physics – this eventually led to where I am now, and that connecting dots is possible. And I also don't know where my 150 publications came from :-D