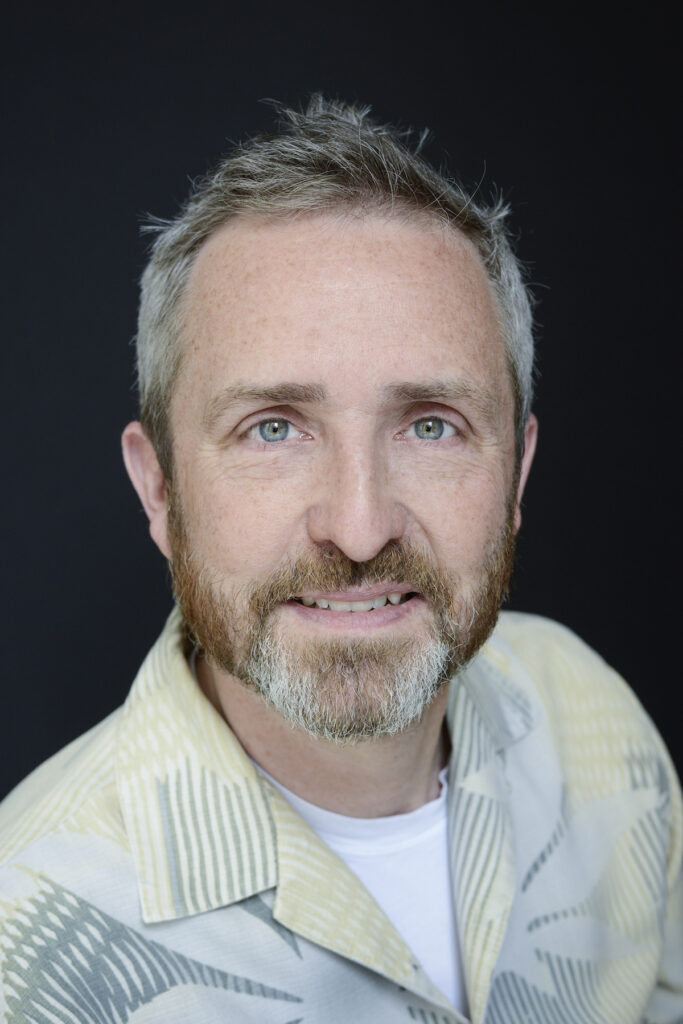 Member Profile:

Terrence Masson
1. What do you do, and how long have you been doing it?
I've been a creative + technical CG artist, producer and educator for about 30 years.I am currently Chair of the MFA Computer Arts department at the School of Visual Arts in NYC.
2. What was your first job?
Freelance 3D animation in Boston and NYC in the late 1980's; I think the first job I ever got paid for was a logo design I made with MacPaint in about 1985, I still have that somewhere.
3. Where did you complete your formal education?
I have a BFA in Graphic Design with a Minor in Art History from University of Massachusetts and an MFA in Computer Animation from William Patterson University in New Jersey
4. How did you first get involved with ACM SIGGRAPH?
2018 will be my 30th SIGGRAPH Conference, I started volunteering almost immediately and have been hooked every since. Being around the worlds most brilliant graphic researchers and artists is just too great a privilege to resist!
5. What is your favorite memory of a SIGGRAPH conference?
Being Computer Animation Festival Chair in 2006 (Boston) was incredibly rewarding, building such an incredible team around that; and working with Loren and Rachael Carpenter to envision and create the worlds largest digital interactive Etch-A-Sketch for the pre-show was very memorable.
6. Describe a project that you would like to share with the ACM SIGGRAPH community.
I'm particularly passionate about recording and preserving our CG history. Having written "CG101: A Computer Graphics Industry Reference" back in 1997, a second edition and then a Japanese edition , I've since put all the content and more on www.historyofcg.com moving forward. The "People Behind the Pixels" theme for HistoryofCG.com was my driving vision for SIGGRAPH 2010 when I was Conference Chair; we do need to preserve content but our most valuable and irreplaceable treasures are the memories of our Pioneers and stories of the men and woman who thought up and made the things we use today.
7. If you could have dinner with one living or non-living person, who would it be and why?
Living, I think Elon Musk most exemplifies exactly the kind of very far-forward thinking & beyond-global thinking that I try to inspire in my own students; thinking BIG and not being afraid to fail while at the same time making sure to have lots of fun at the same time. Non-living I can think of many but it would be hard to beat having Jesus and Mary Magdalene over for dinner with my wife and I.
8. What is something most people don't know about you?
Matt Stone and Trey Parker approached me to conceive and create the original CG method for animating SouthPark in 1996. I created a 10 second test to play side by side their traditional construction paper pilot for Comedy Central. I used Alias running on an SGI, animating on 24fps, 3:2 converting, raytraced shadows and added film grain, all modeled and animated with little imperfections. I still have the plastic baggy full of construction paper heads and mouth and body parts I used as reference. I hear the show did pretty well, but I still don't know who Phillip is.
9. From which single individual have you learned the most in your life? What did they teach you?
Easily my Dad, to be curious and humble, hardworking and responsible. He inspired me to read science fiction, to travel, he taught me to play chess and to not go into medicine like his career :)
10. Is there someone in particular who has influenced your decision to work with ACM SIGGRAPH?
I think my first official volunteering was with Isaac Kerlow, and then John Finnegan as Conference Chair appointing me as CAF chair. Without them I wouldn't have been exposed to the behind the scenes volunteering aspect of SIGGRAPH, so I will be eternally grateful to them in particular.
11. What can you point to in your career as your proudest moment?
Flying the Millennium Falcon was pretty cool (working on the Empire Strikes Back Special Edition) but I think including my kids in things I've done has made me most happy, Chelsea playtesting games and making art for my games, Elise adding her voice with Chelsea for my short film "Bunkie & Booboo". At 6 years old my son JJ is showing every indication of being as much the creative tech nerd as myself and his mom now too so that's about as good as it gets.