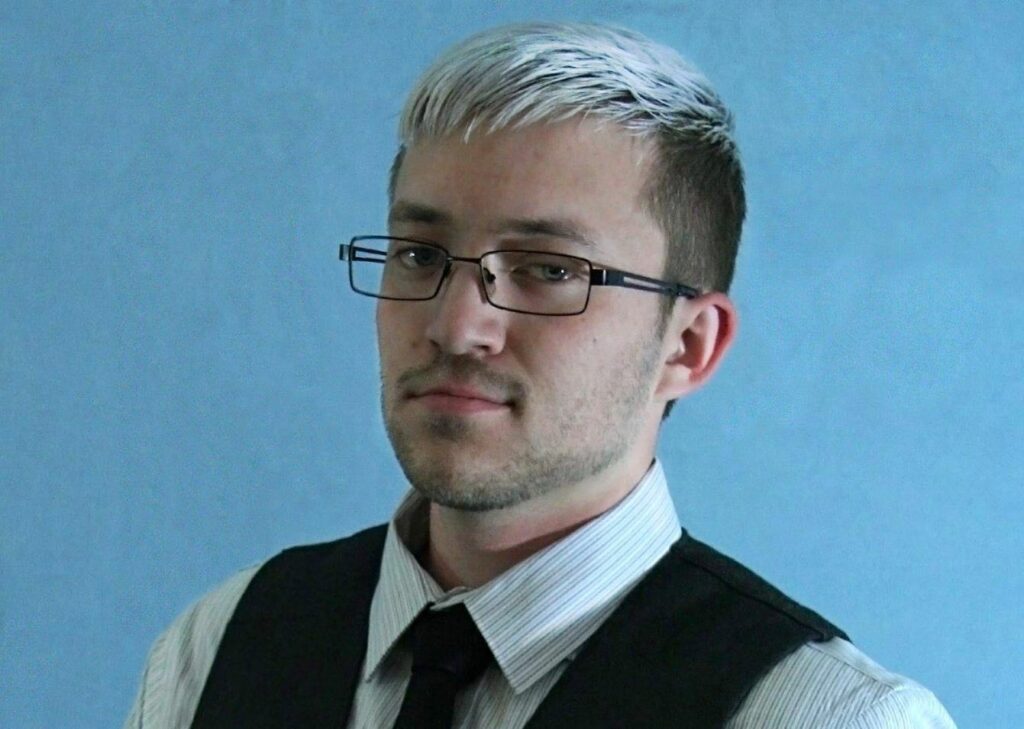 Member Profile:

Taylor Bunker
1. What do you do, and how long have you been doing it?
I have been working at Electronic Caregiver in Las Cruces, New Mexico for a few months now. Although my title is virtual developer, I primarily work as a texture artist, creating assets for use in the Lumberyard game engine. In addition, I fill generalist roles in Maya and Lumberyard when the need arises. Lastly, since Lumberyard is rapidly evolving, I also do a good amount of research into the inner workings of the engine.
2. What was your first job?
I worked with two other 3D artists on three animated commercials for the State of New Mexico's "Stop Illegal Dumping" campaign. We all worked as generalists for the product; however, each of us had certain sections of the pipeline for which we were responsible. My sections included lighting, texturing, layout, and animation.
3. Where did you complete your formal education?
I received my Bachelors of Creative Media with an emphasis in Animation & Visual Effects from New Mexico State University.
4. How did you first get involved with ACM SIGGRAPH?
Some time ago, a student from my university volunteered at a SIGGRAPH conference. He later gave a presentation on his experience there and inspired a group of us to become involved. That next summer, seven of us were accepted into the student volunteer program.
5. What is your favorite memory of a SIGGRAPH conference?
While volunteering as a team leader, I had to opportunity to participate in a mentorship program during the conference. When I first filled out the application, I listed my interests in both companies and job roles, hoping they would find someone willing. Sometime later I found out my mentor would be the lead cinematic texture artist at Blizzard—my dream job. I was ecstatic to be able to talk to someone so relevant to my career path and asked a flurry of questions about the industry, texturing tips and tricks, and several other categories all of which he was happy to answer. Meeting people as SIGGRAPH has definitely become one of my favorite parts of the conference experience.
6. Describe a project that you would like to share with the ACM SIGGRAPH community.
I am currently working as a generalist on the second round of animated commercials for the State of New Mexico. Our commercials focus on an anthropomorphic coyote, snake, and javelina as they find themselves in classic movie moments constantly being ruined by illegal dumping. The first round of animations featured movie moments such as a western damsel in distress, a romantic first kiss, and a chilling chase through a graveyard. For the second round, we will be expanding on the chase theme; however, this time we will be including more gravity-defying feats inspired by Wile E. Coyote.
7. If you could have dinner with one living or non-living person, who would it be and why?
C. S. Lewis. He was a very wise man who I am sure would have invaluable input on today's topics and issues. The world has changed a great deal since his death and I would be interested in hearing his thoughts about it all.
8. What is something most people don't know about you?
As a child, I was once accidentally sat on by a teacher, which caused me to become fairly flexible in my legs. A flexibility I retain to this day.
9. From which single individual have you learned the most in your life? What did they teach you?
I have learned the most from my mother, Radel. There have been numerous life lessons I have learned from her over the years; but a few of the most prominent she taught me were discipline, compassion, and how to find balance between the two. In addition, she taught me how hard work pays off and how to respond calmly in times of crisis.
10. Is there someone in particular who has influenced your decision to work with ACM SIGGRAPH?
While there have been several individuals who inspired me to go into animation in the first place, it was Daniel Cdebaca–the student who gave the presentation on his SIGGRAPH experience–who was my primary motivation to work with ACM SIGGRAPH. If he had not given that presentation, I would not have heard of SIGGRAPH as early as I did, nor would I have been able to contribute to it and meet all the incredibly people I have along the way.
11. What can you point to in your career as your proudest moment?
The animations I worked on for my state were screened at our local movie theaters. It was an amazing feeling to see something I had worked on displayed on the big screen. This was my proudest moment, not because I saw my name in the credits, but because it officially marked the start of the career path ahead of me.