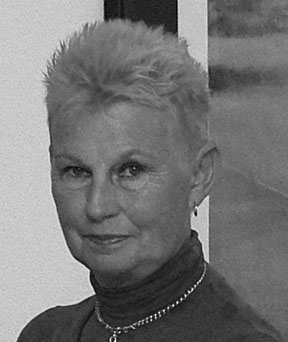 Member Profile:

Sue Gollifer
1. What do you do, and how long have you been doing it?
I am an artist, a curator, researcher and an academic and run a Masters Course for Digital Media Arts at the University of Brighton, UK. As to how long have I been doing it, for probably over half a century.
2. What was your first job?
My first job was a waitress when I was still at School. But I suppose my only real job, apart from being an artist, is as an academic teaching for many years at Art Institutions throughout the South East of England including London.
3. Where did you complete your formal education?
Here at the University of Brighton on an MA in Fine Art Printmaking
4. How did you first get involved with ACM SIGGRAPH?
Through my research into 'How New Technologies will change the nature of Fine Art Practice'. I realized I had a lot to learn and to experience, which I would do if I was able to attend a SIGGRAPH Conference. Once I did I became hooked and volunteered to help in SIGGRAPH Art Gallery Exhibitions.
5. What is your favorite memory of a SIGGRAPH conference?
Being Chair of Art Gallery – Synesthesia in 2014. It was a lot of work but so rewarding working with my committees, meeting all the selected artists, and curating and seeing the work on display.
6. Describe a project that you would like to share with the ACM SIGGRAPH community.
Recently I was curated into a Digital Art Exhibition, 'Technology Is Not Neutral', a touring exhibition that targeted the frequent under-representation of the achievements of women in the field of digital art by highlighting the contribution of female artists in shaping what digital art is today.
7. If you could have dinner with one living or non-living person, who would it be and why?
Stelarc, he has a great personality and has a great laugh he is extremely witty and intelligent.
8. What is something most people don't know about you?
I am a pinball wizard
9. From which single individual have you learned the most in your life? What did they teach you?
Professor Colin Beardon, who was Head of the Research unit where I was working in in the early 1990's. He believed in my ideas and my research and enabled me to pursue these ideas. Hence curating Digital Art Exhibitions all over the world (including Siberia) and being involved in ISEA (International Symposium on Electronic Art) where I am now currently employed as the Executive Director. Plus of course the volunteering to work I do with ACM SIGGRAPH.
10. Is there someone in particular who has influenced your decision to work with ACM SIGGRAPH?
Cynthia Beth Rubin who I met at ISEA in Helsinki in 1994.
11. What can you point to in your career as your proudest moment?
Being Art Gallery Chair of SIGGRAPH 2004 and gaining an award from the iDMAa Award, The International Digital Media Arts Award, For Exceptional Services To The International New Media Community