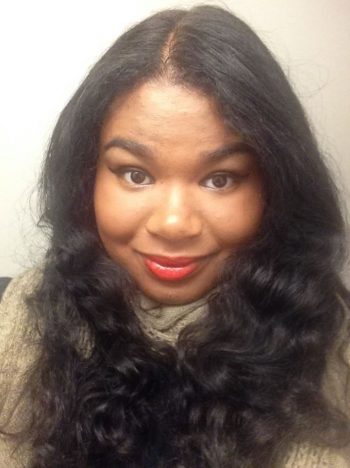 Member Profile:

Stephanie Tenn
1. What do you do, and how long have you been doing it?
I am a Visual Effects Production Assistant for NETFLIX's Original Series "Raising Dion." I have been on this project for over a year.
2. What was your first job?
During my sophomore year of high school, I was an intern for the Town of Babylon's Ujima Mentorship Program. I had the opportunity to work and participate in local government and community development under the direction of my mentors Councilwoman Gordon, and Cathy Hyde.
3. Where did you complete your formal education?
I received my Bachelor of Fine Arts in Computer Animation from Columbia College Chicago.
4. How did you first get involved with ACM SIGGRAPH?
In 2017, I was a student volunteer for SIGGRAPH – Los Angeles and SIGGRAPH Asia – Bangkok. Proud to be SV!
5. What is your favorite memory of a SIGGRAPH conference?
It's hard to choose one fond memory from SIGGRAPH! If I had to narrow it down, my favorite memory was handing out collectible buttons for my first shift as an SV. By doing this, I was able to communicate, network, and engage with both the attendees and fellow SIGGRAPH members. It was so much fun, and I had a wonderful and positive experience!
6. Describe a project that you would like to share with the ACM SIGGRAPH community.
One of my cherished projects I would like to share with the SIGGRAPH Community is the Deer Park Arts Council (DPAC). When home from college, I would volunteer my time with DPAC. DPAC is a non-profit group comprised of parents of present and former Deer Park students. DPAC's mission is "to be a leader in support and advocacy for the Deer Park School System benefiting the student performing and visual arts programs". During my time as a student in the Deer Park School District, the opportunities and resources to further my knowledge in the arts were not accessible due to budget cuts. My goal since then and till this day is to give back to the community so that students will have the resources to expand their interests and/ or dreams within the arts. DPAC has raised and continues to raise thousands of dollars to award scholarships to graduating students that were a part of the Arts and Music programs in the Deer Park School District. DPAC has and continues to sponsor programs including Master Art classes and hosting Talent competitions. Assist with funding for multiple programs within the community, trips, supplies, and equipment not covered by the district. As a member, I have given lectures and demonstrations about animation and visual effects to further students knowledge and interest in the entertainment industry
Thank you and much love to the committee, parents, volunteers, and inspiring students who dedicate their time and passion for all forms of art.
7. If you could have dinner with one living or non-living person, who would it be and why?
I would love to have dinner with Tim Burton. I admire his vision and overall aesthetics within his works. He is one of my biggest influences for pursuing animation and visual effects as my career. To be able to talk with him about his process, and experience as a storyteller, director, and animator would be incredible.
8. What is something most people don't know about you?
Most people don't know that I danced for twelve years. I rotated between Tap, Ballet, and Jazz.
9. From which single individual have you learned the most in your life? What did they teach you?
I feel that there have been many people who greatly influenced my life and still teach me to this day. However, my parents have been my number one support team when it comes to pursuing my dreams. They taught me to be confident, strong, and humble. But most importantly they taught me to be a fighter and to not give up no matter how hard an obstacle might be. Without their wisdom and unconditional love, I would not be who I am today. Thank you, mom and dad, for everything!
10. Is there someone in particular who has influenced your decision to work with ACM SIGGRAPH?
If it was not for my professors Rachel Oftedahl, and KJ Mathieson, I would not have known about SIGGRAPH. Like my parents, they pushed me to achieve my goals and recommended me for a wonderful and life-changing opportunity. For that, I am forever grateful to these two amazing women. Thank you, Rachel and KJ!!
11. What can you point to in your career as your proudest moment?
It hard the say at this time, being that my career just started; Which is an accomplishment for sure! However, I feel that in due time as I learn and gain more experience, I will be able to say "this is it".