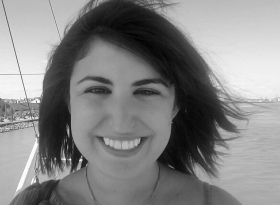 Member Profile:

Stephanie Eisenberg
1. What do you do, and how long have you been doing it?
I started out in college primarily studying animation, more specifically 3d modeling, but in the past year I have transitioned into focusing on production management instead. I love helping people and organizing things so I have a real knack for it.
2. What was your first job?
My first industry job was being an intern at a networking site for creatives called Zerply while i was in college up in San Francisco. It was mostly data entry and sending out emails to spread the news about the site (it was just starting up) but it was my first experience peering into the industry and overall a great experience.
3. Where did you complete your formal education?
I got my Bachelor's in Cinema from San Francisco State University and attended courses at Gnomon School for Visual Effects.
4. How did you first get involved with ACM SIGGRAPH?
I was told about the student volunteer program in 2013 and got accepted as an SV. From there, I fell in love with the program and the conference. It's so amazing to get to spend a week with people from all around the world who have the same career interests as you. I love that every year I get to see great friends and make new ones as well. It really is a wonderful community that I'm so glad to be a part of.
5. What is your favorite memory of a SIGGRAPH conference?
In 2017 I was XSV with the Computer Animation Festival Sub-Committee under Pol Jeremias. I'm proud to have worked on SIGGRAPH''s first ever VR Theater, helping create an entirely new venue! Being on that team, and seeing my name under the list of CAF committee members during the Electronic Theater was such a gratifying moment that I'll never forget.
6. Describe a project that you would like to share with the ACM SIGGRAPH community.
Along with being on the Studio 2019 Sub-committee, I'm also currently serving as Production Coordinator for ScavengeAR mobile game. It is an augmented reality scavenger hunt for iOS and Android, to be played during this year's SIGGRAPH. By catching "Sigglets," you'll have the opportunity to win real prizes and learn more about the conference. Check it out this July!
7. If you could have dinner with one living or non-living person, who would it be and why?
Definitely my dad. He passed away almost three years ago. He was my number one fan and was so beyond supportive of me choosing to go into the world of animation/visual effects. I'd love to have one more conversation with him. I know he'd want to hear about everything that I'm doing right now.
8. What is something most people don't know about you?
I used to tap dance for 10 years! I still like doing a few steps from time to time. It never really leaves you.
9. From which single individual have you learned the most in your life? What did they teach you?
Both of my parents. They both always made an effort to support me and I've learned the most from both of them equally. From my mom I learned compassion and to always keep trying my best. From my dad I learned that patience is key (still working on that one) and to find the positives in any situation.
10. Is there someone in particular who has influenced your decision to work with ACM SIGGRAPH?
After SIGGRAPH 2013 in Anaheim, I wasn't active in the SV program or volunteering for SIGGRAPH. But in 2016, Norbert Drage convinced me to apply to be a TL at SIGGRAPH Asia in Macau. I'm really glad he nudged me to apply because it led me to then apply for the XSV program (shout out to Ginger Tontaveetong and Benny Garcia for encouraging me to apply!) and since then I've gotten to be on two conference sub-committees in the last three years and I wouldn't have it any other way!
11. What can you point to in your career as your proudest moment?
I feel like I'm still at the beginning of my long path, but so far, I am most proud to be currently producing an independent animated short called "What We're Meant For" (http://whatweremeantfor.com). It's a beautiful story about family, loss, grief, and what our place is in this world and this life that we have. We're still in the very early stages, but I'm so proud of how we're doing and how far we've come. It's going to be amazing and I can't wait to share it with the world!