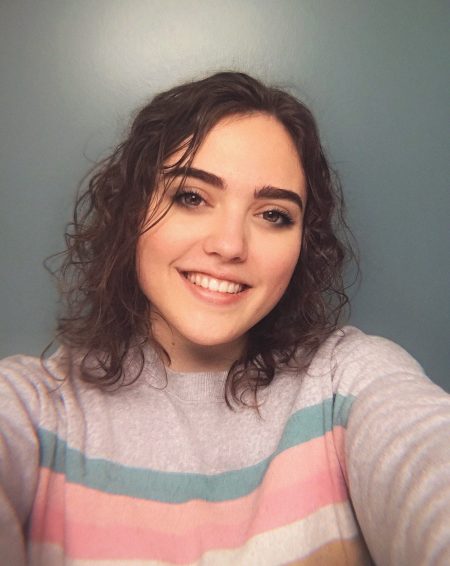 Member Profile:

Silvia Lawson-Vilches
1. What do you do, and how long have you been doing it?
I am a current student at Indiana University – Purdue University Indianapolis, IUPUI, in Indianapolis, Indiana achieving my degree in Media Arts & Science. I've been a student here since Fall of 2016, and I am expected to graduate Fall of 2020, so it'll be an exciting and challenging year to see what happens then! My focus, however, is in environment design and 3D lighting, primarily for games. Examples of my work are shown below.
2. What was your first job?
At the moment, I'm wrapping up my enrollment participating as Lead Lighter for a Virtual Reality Grant within my university tailored to helping children with empathy training. It was my first experience applying my skills in the industry in some way while also being my first job overall, and I'm very proud of what the team managed to accomplish and am humbled to have been able to apply my skills in a way that helps other people.
3. Where did you complete your formal education?
All my education has been through Indiana University – Purdue University Indianapolis, IUPUI.
4. How did you first get involved with ACM SIGGRAPH?
I learned about what SIGGRAPH was a couple of weeks into my freshman year at IUPUI at a Late Lab event hosted by the Student Chapter at our university. I immediately became a massive enthusiast about the goal of the Chapter and Conference and have looked for opportunities to be involved ever since. I first became a Graphic Design Officer of the Chapter sophomore year and worked my way up until eventually becoming President in Fall of 2019. My first time at an ACM SIGGRAPH Conference was as an attendee at Vancouver in 2018 and later as a Student Volunteer at LA in 2019.
5. What is your favorite memory of a SIGGRAPH conference?
As a student volunteer at the LA Conference in 2019, I got to meet a wide variety of like-minded, wonderful people I still love and enjoy keeping in touch with to this day. One of the things we did that really cemented that connection was heading out to dinner in the latter half of the Conference and later visiting the Griffith Observatory impromptu at night. We had a lot of laughs getting to know each other and taking photos, and I treasure the memory as a highlight of my experience both at the Conference and as a Student Volunteer.
6. Describe a project that you would like to share with the ACM SIGGRAPH community.
One of my best friends and colleagues Jordan Barriger and I are currently working on our Capstone for Fall of 2020, in which case we're developing a short film entirely real-time in the Unreal Engine. It's a project we're both extremely passionate and excited to have developed and become a part of creating together, and we're thrilled to see what we can achieve as we stretch our abilities with the engine to the max. Above all, we're extremely excited and eager to share it with the community once production ends in the near future!
7. If you could have dinner with one living or non-living person, who would it be and why?
With the utmost respect and admiration of who she was and the world she influenced, I would have loved to have dinner with Lucille Ball. Her comedy and film-work continues to be a massive influence ever since my childhood, and I look back at her work with a nostalgia and appreciation for what she went through to achieve it that stays close and true to my heart. It would have been an honor to learn about her struggles and mishaps, achievements and successes, lessons and recommendations to take forward in facing the world while unabashedly, shamelessly, and loudly doing what we love.
I know this counts as cheating, but I would additionally love to meet Neil Druckmann as he's an inspiration to me for the way he's evoked and ignited such raw, introspective, and innovative storytelling through the worlds and characters he's created in a fairly newer and ever-evolving medium. An incredibly humble, kind, and skilled individual, it would be an honor to hear about his experiences and journey into getting involved and the stepping stones that led him to where he is today.
8. What is something most people don't know about you?
I've played piano for over 15 years and continue learning on my own to this day. I also enjoy singing and songwriting on my own time as I find it to be a calming, meditative, and introspective way to get my thoughts out on page in a different creative light.
9. From which single individual have you learned the most in your life? What did they teach you?
I'm going to have to state the obvious on this one, but it is undoubtedly and irrevocably my mother. She's my best friend in life and has taught me time and again to put my values and dreams above all else while also opening my heart to all new experiences and approaching with compassion to those in need of it. She's the best human being I've ever known, and I count myself grateful every day that we're such a big part of each other's lives.
10. Is there someone in particular who has influenced your decision to work with ACM SIGGRAPH?
Zeb Wood, professor and Co-Director of my major at IUPUI, is by far the biggest influence in my involvement of SIGGRAPH. He's been not only a wonderful friend and mentor these past four years, but also a huge advocate in helping me find confidence in my abilities by sharing my work and becoming involved in different experiences and communities, those of which included the SIGGRAPH Student Chapter and the Conference. He's incredibly thoughtful and compassionate, does invaluable work to help all students within the major to succeed, and it's an absolute honor to know and learn from him personally; I know without a doubt the lessons he teaches are ones I'll take with me well and far into my personal life and career.
11. What can you point to in your career as your proudest moment?
I don't believe I've gotten far enough into my career to be able to point to as my proudest moment. I've had many moments I feel fortunate and forever grateful to have experienced, including becoming President of the Student Chapter at IUPUI, being a student volunteer at the Conference, and meeting some of the kindest and most talented individuals working within the industry I can now call friends (Ryan Wing, Ben Rosado, Jordan Nelsen, Chris Van Noy-March, and Alex Bryant, among many others). But my goal as an artist is not to have a proudest moment, but a string of them that challenge me to push myself harder every day. And being a part of this member profile is an honor I can point to as being something I'm incredibly humbled by.