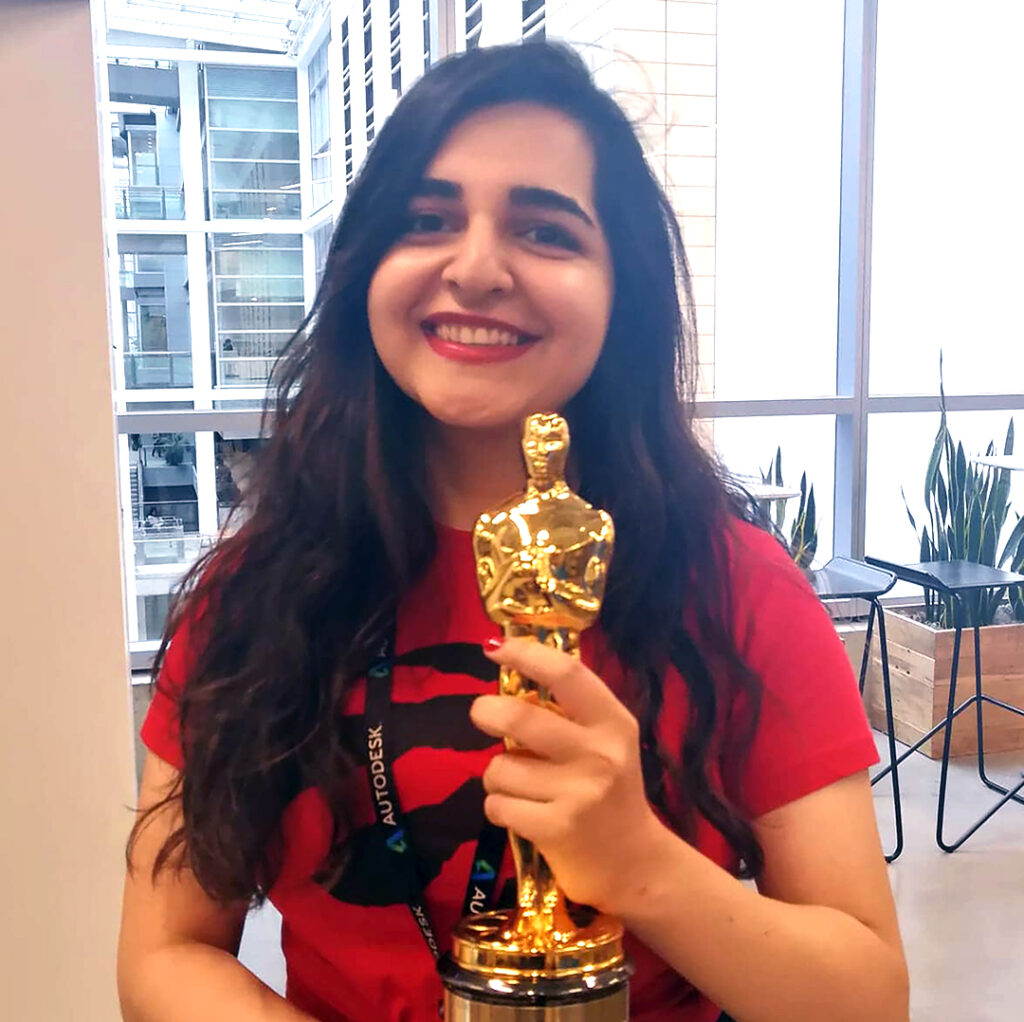 Member Profile:

Roya Shams
1. What do you do, and how long have you been doing it?
I just completed my coursework in Computer Science at the University of Toronto and started a new career at Sony Pictures Imageworks in the same month! Although I am still exploring different roles early on in my career, I believe I have a place in providing technology and coming up with creative solutions that benefits artists, as well as providing mentorship. I was always interested in art and technology since I was a child, but I never considered pursuing that as my ambition until I started university! Looking to my future, my goal is to develop software, tools, or lead a technical team that assists artists developing creative projects. Who knows, maybe the job I will have one day doesn't even exist right now!
2. What was your first job?
I used to be a python coding instructor for Hatch Coding, teaching children and teenagers coding basics and how to make cool projects! It was really rewarding because I was the first influence many of the students saw as somebody who develops projects using programming, and I would do my best to motivate them. A lot of children and teenagers especially loved it when I brought in animation and gaming concepts into the curriculum!
3. Where did you complete your formal education?
My coursework for my bachelor's degree from the University of Toronto as a Computer Science Specialist was completed in December 2020. I am a new graduate in June 2021!
4. How did you first get involved with ACM SIGGRAPH?
Back in 2016 when I was in first year, there was a talk at the University of Toronto Dynamic Graphics Project lab presented by Chris Landreth about JALI: an animator-centric viseme model for expressive lip synchronization. In first year, I was still unsure about whether or not I wanted to pursue a bachelor's degree in computer science because I had no prior experience in the field. I knew I wanted to work in some bridge between technology and art, but it was a very vague goal and I didn't know where to look. After that talk, I was set on continuing my degree in Computer Science, and that's how I learned about ACM SIGGRAPH. A year later in 2017, I applied for the Student Volunteer Program in Los Angeles and I've been a dedicated volunteer ever since!
5. What is your favorite memory of a SIGGRAPH conference?
During SIGGRAPH 2019 in Los Angeles, I had the privilege of watching the Production Session on the making of "Spider-Man: Into the Spider-Verse". This movie used hybrid animation techniques that reminded me of Disney's Paperman back in 2012. Paperman was my first exposure to seeing the technology behind the scenes in animation. It gave me ideas of where I saw myself in the future, and 8 years later I am living exactly that future. This was one of the last events for the conference, and it was very emotional for me because it was during that particular session where I realized that I am no longer just "learning" about the industry, but I am actively participating and contributing to it. It was that moment where I realized "I did it".
6. Describe a project that you would like to share with the ACM SIGGRAPH community.
Oooooh! I'd love to tell you what I'm working on but it's a secret! Check in with me in a year or two for more updates ;)
7. If you could have dinner with one living or non-living person, who would it be and why?
I'm really missing all of my friends during the 2020 pandemic, and I wish I could go out to eat huge bowls of ramen on Spadina Avenue with all of them again. But in the context of this question, if I could have dinner with one person, I would choose Mahmoud Farshchian. He is definitely my favourite artist; I feel the most connected to his artwork. I find myself influenced by his artwork in my own creations. I get lost, but I feel spiritually safe when I look at his paintings. I'd love to learn more about his influences and where he draws inspiration.
8. What is something most people don't know about you?
The weirdest thing about me is that I barely watch films, but I'm really fascinated with the film industry. My friends always ask me "Have you seen this movie? You should check out this movie!" and the answer is usually "Hmmm, not yet!" I probably watch a movie every month or two and watch only one new TV show every year. I love the behind-the-scenes of media and figuring out all of the cultural implications certain forms of media have. I really love studying the different trends, reputations, identities, and cultural reception that many media production studios maintain. (Video essays, anyone?) But it's really hard to convince me to watch a movie from start to finish!
9. From which single individual have you learned the most in your life? What did they teach you?
This is the hardest question I have to answer. I really can't pick one person, I believe every person in my life has contributed some form of lesson, good or bad, to constructing myself, my choices, and my interpersonal relationships. I try not to regret any of my experiences because they shaped me into who I am today. Most of my learning comes from online spaces and I am really grateful for how many lessons I learned through participating in online communities where I could find like-minded people. I am looking forward to the future to learn as much as I can!
10. Is there someone in particular who has influenced your decision to work with ACM SIGGRAPH?
After volunteering for the SIGGRAPH Conference in 2017, Alain Chesnais reached out to me asking if I would be interested in collaborating with the Toronto SIGGRAPH Chapter. He is a wonderful mentor and inspires me to embody leadership traits for students someday. Ever since, I've been volunteering year-round with the Toronto SIGGRAPH Chapter, organizing events, and contributing different ideas.
11. What can you point to in your career as your proudest moment?
My proudest moment will always evolve from time to time, but at this time, my proudest moment happened this week. For some context, there was a Production Session on the making of "Spider-Man: Into the Spider-Verse" in SIGGRAPH 2019, and I was fortunate enough to get my SIGGRAPH conference badge autographed by a few of the panelists who worked on the film. Now that I am employed with Sony Pictures Imageworks, it's absolutely mind-boggling that I work on a day-to-day basis alongside the very people who autographed my badge. You never know where you'll be in a few years once you set your intention and persevere towards achieving it.