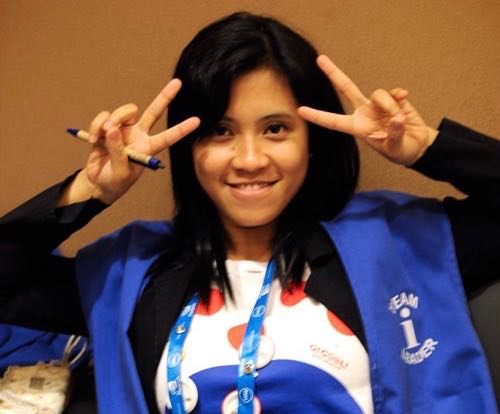 Member Profile:

Rianti Hidayat
1. What do you do, and how long have you been doing it?
I am an Indonesian video-game concept artist based in Tokyo, Japan, but I also create graphic designs and illustrations as a freelancer while self-publishing storybooks. It's my 6th year in the industry as a professional, but I've been working design-related jobs for over 10 years. I love to inspire people with my art and hopeful to continue doing so!
2. What was your first job?
My first job was as an artist at Ubisoft Singapore Pte. Ltd and I got it through the Job Fair at SIGGRAPH Asia 2008 Singapore! I was involved in new IP that would make use of Microsoft's Kinect device (unfortunately, it got canned) and an early version of Ghost Recon Online. Not long after I joined Ubisoft, I was granted the chance to pursue higher studies by way of a scholarship in Japan and continued my career there until the present time.
3. Where did you complete your formal education?
I finished my first postgraduate degree (Master of Art and Design) in 2009 from Bandung Institute of Technology in Indonesia, and my second degree (Master of Media Science) in 2013 from Tokyo University of Technology (thanks to a scholarship received from the Indonesian and Japanese Governments).
4. How did you first get involved with ACM SIGGRAPH?
My first involvement started as a Student Volunteer during SIGGRAPH Asia 2008 Singapore. Indonesia, at that time, didn't really have either a CG industry or an education program for the specific subject, so I've always actively searched for seminars and events on the Internet. And I stumbled onto the SIGGRAPH Student Volunteer Program through browsing; unlike many people, no one introduce me to the program and I am probably one of the small number of Indonesian nationals involved, but it's one of the best finds I have ever had. I am currently serving at SIGGRAPH Asia 2016 as one of the Student Volunteer Subcommittee,overseeing design and marketing related planning. One of my goals is to bring more participants from Indonesia and spread the word about ACM SIGGRAPH throughout Indonesia.
5. What is your favorite memory of a SIGGRAPH conference?
Every SIGGRAPH conference has its own interesting memories, but if I have to choose one, it would be the one from my first SIGGRAPH (SA2008 in Singapore). It's my first volunteering experience and I am really honored to earn the Student Volunteer award. It's my first adventure within the CG industry and SIGGRAPH community and (at that time) I never knew that I would keep volunteering for the next 8 years and counting!
6. Describe a project that you would like to share with the ACM SIGGRAPH community.
One of my goals is to publish a short illustration storybook at least once every year. It's an ambitious project, but by pouring my ideas into something concrete while sticking to a clear deadline, I have been able to finish projects, let go of them and grow. I typically start my projects with a "What if..?". My first book was conceived by asking the question "what if a boy is getting lighter and lighter every day until he starts to float?", my second book's 'starting point' was "what if every page in a book were a poster?", and I keep experimenting with this "what if" method; by doing this, I've gotten myself accustomed with questioning a variety of topics about life and keep trying to understand it in my own way. Now I am working on ideas to use in my third book, so I'm excited about what is waiting for me around the corner!
I also routinely create self-promotion materials and develop a new portfolio each year, with a pet goal of making a more-unique version than previous year; In 2014, I created a toy packaging-shaped portfolio book, which I had handcrafted over several days. It surprised people and earned me an Adobe Behance appreciation award in Tokyo. To see people surprised and smiling when seeing my artwork (whether in a book, my portfolio or anything else) is always a pleasure.
7. If you could have dinner with one living or non-living person, who would it be and why?
It would be Yoshitaka Murayama, one of the creators of the Suikoden video-game series, because his work inspires my younger self to become a video-game artist. Back then, I have no idea that a video-game medium could have a deep storytelling and able to move you to tears. Since then, I've want to be able to create something that gives this similar impact to other people, whether game or book or animation. I want to thank him and tell him his work had such a positive influence and discuss more about storytelling in games. And, of course, working together with him on a creative project would be a dream come true.
8. What is something most people don't know about you?
I was a singer in a kid group band (I did recording, show and radio/TV appearance) until I entered junior high. I've probably accumulated more awards for singing than the art-related ones (haha). My mum worried about the glamorous lifestyle of the industry at that time and tried to find me new interest, so I got hooked on visual arts ever since. I guess that, in my heart, I still like to entertain people, whether with voice or drawings. Please don't ask me to sing now though, my current singing is horrible (but I am always open to karaoke invitations)!
9. From which single individual have you learned the most in your life? What did they teach you?
I would say my parents. My dad was the kindest soul I ever met and losing him last year only proved beyond a doubt that he's the reason I am walking my path right now, while my mum taught me the importance of self-confidence. Math, economics and science are much more popular than art in Indonesia; you might give your parents heart attacks if you tell them that you want to get into art school or, worse yet, the video-game industry. But despite those concerns common to their fellow parents, they supported me to the fullest.
My parents let me take courses in watercolor painting, assisted me in buying art equipment and paper (my dad became an expert in brushes and paper brands because of that!) and let me ruin the whole living room with my paper scraps and paint messes. I can't think any better way to answer their trust in me than to give my best in my current career path; it has become a kind of expression of gratitude to them and I will be forever thankful to them for that.
10. Is there someone in particular who has influenced your decision to work with ACM SIGGRAPH?
Eugene Harng. He was the Student Volunteer Program Chair for SIGGRAPH Asia 2013. I joined his Student Volunteer Program Subcommittee and it was a gateway for me to increase my involvement with SIGGRAPH more than as Student Volunteer or Team Leader. It was my first time serving on a subcommittee and he gave me a lot of creative freedom, allowing me to freely contribute to the marketing side of the program; I had a lot of fun serving that year. I've always been addicted to SIGGRAPH and the SV Program, but participating on its subcommittee made me love the program even more.
11. What can you point to in your career as your proudest moment?
Due to the secrecy agreement I still cannot announce the recent project of which I'm really proud, and by the time it released, it'll be my proudest project ever. For now, I'd like to choose my second storybook, "The Posterrific Adventure of Anna Warrick"; this project has earned an award for the book category in Italy, and it is one of the proudest moment I've had so far. It's an experimental project that started with the question "what if every page of my book is a poster? ", and it turned into a reality! To share my story to the world through one finished project (a book made from a bare sketch, through to printing) was a big commitment for a whole year and to have it earn an award really doubled my happiness.