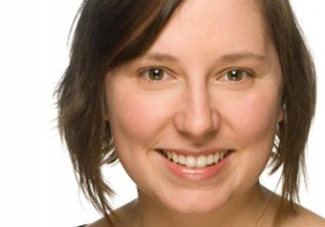 Member Profile:

Rebecca Strzelec
1. What do you do, and how long have you been doing it?
I am an artist and educator. I've been making art my whole life and I've been lucky to have friends and family who started calling me an artist at an early age. I am a Professor of Visual Arts at Penn State Altoona as well and have been teaching there since 2002.
2. What was your first job?
Babysitting, unofficially. Officially I was a basketball referee for tiny tots.
3. Where did you complete your formal education?
BFA, 2000, MFA 2002 Tyler School of Art, Temple University
4. How did you first get involved with ACM SIGGRAPH?
I was accepted as an artist in the SIGGRAPH Art Gallery in 2003 and came to the conference to see my work.
5. What is your favorite memory of a SIGGRAPH conference?
I was lucky to serve as the SIGGRAPH 2012 Conference Chair and the entire conference, every little thing about it, was my favorite SIGGRAPH memory.
6. Describe a project that you would like to share with the ACM SIGGRAPH community.
I recently completed a body of artwork that includes data from cementum age analysis of Pennsylvania Black Bear teeth. Cementum age analysis is the process used to determine the age of a bear and includes the counting of layers of calcium built on the bear's teeth while hibernating. Counting each hibernation layer allows one to learn the age of the animal. I traveled to a lab in Montana to met Gary Matson of Matson Labs who taught me about this process and allowed me to analyze some of his prepared slides. From those images I created a new body of wearable objects about time.
7. If you could have dinner with one living or non-living person, who would it be and why?
Hard question. Today the answer would be my husband Adam. We have an unstoppable toddler at home who doesn't have the best table manners yet. I would love to have a dinner out with just my husband with some good food and adult conversation.
8. What is something most people don't know about you?
Most people don't know that I'm petrified of snakes. Just telling them about how afraid I am of them makes me more afraid, so I don't talk about it much.
9. From which single individual have you learned the most in your life? What did they teach you?
Can't narrow it down to just one. I have been lucky to have amazing parents who taught me about confidence, pride, hard work, and compassion. I've also been fortunate to have had amazing teachers my whole life. Even the ones I disliked taught me significant and lasting things about the world, my work within it, and the kind of teacher I strive to be.
10. Is there someone in particular who has influenced your decision to work with ACM SIGGRAPH?
Most of my work is based within the SIGGRAPH conference and everyone I have ever met who has worked on the conference has influenced me to spend time doing just that. Our volunteers are amazing and special people and that alone is inspiration to work with ACM SIGGRAPH.
11. What can you point to in your career as your proudest moment?
There have been a few major successes in my career, getting tenure, earning full professor, landing a university teaching job in the first place…but probably taking my mom to the opening of the newly renovated Museum of Arts and Design in New York where my piece in their permanent collection was on display makes it near the top of the list. It was wonderful to share that with her.
www.rebeccastrzelec.com