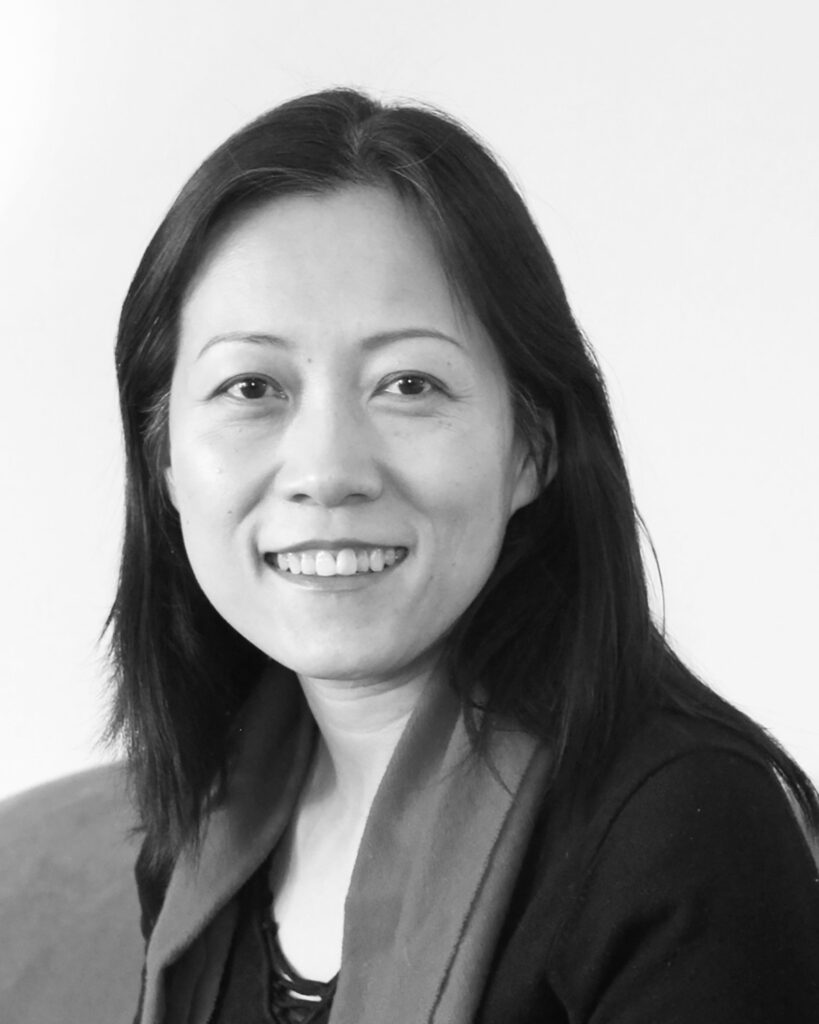 Member Profile:

Rebecca Ruige Xu
1. What do you do, and how long have you been doing it?
I'm an artist, designer and educator. My research interests include data visualization, experimental animation, visual music, interactive installations, digital performance, and virtual reality. I have been working in the field of digital art since the early 1990s. Currently I am a Professor at Syracuse University in New York, USA where I teach digital art and animation. My work can be seen at rebeccaxu.com.
2. What was your first job?
My first job was as a 3D animator in a digital production company. I was among the first group of 3D animators in China, started with a software called TDI Explore on the SGI IRIS 4D workstation in 1993.
3. Where did you complete your formal education?
I received an M.F.A. in Computer Graphics from Syracuse University in New York; and a B.S. in Industrial Design from Beijing Institute of Technology, China. I also studied Cinematography at Beijing Film Academy.
4. How did you first get involved with ACM SIGGRAPH?
Even though I learned about ACM SIGGRAPH in the 1990s while I was working as a 3D animator. My first SIGGRAPH experience didn't happen until 2006 in Boston. Charles Csuri's Retrospective that year made a big impression on me and in a way solidified my then direction of creating generative art. The following year I exhibited a poster and an animation project in SIGGRAPH. Over time, my work has been showcased in both SIGGRAPH and SIGGRAPH Asia Art Gallery. In recent years, I served regularly as a juror, reviewer, as well as volunteer for the art area.
5. What is your favorite memory of a SIGGRAPH conference?
In 2013 SIGGRAPH, my project "Perpetual Flow", which consists of four wall-hang digital prints were exhibited in the Art Gallery. Nearby was project "Swarm Vision" by George Legrady, Marco Pinter and Danny Bazo, an installation with multiple cameras that behaves autonomously based on programmed rules of computer vision. During the exhibition, to the surprise of artists of both projects, the cameras spent a lot of time looking at my prints. And it was unclear till this day why the prints attracted such attention.
Another memorable event was when I brought my two-year-old son to SIGGRAPH 2009, he enjoyed playing with a small cloth folding robot in the Emerging Technologies. The artist took many cute pictures of them playing and was very relaxed when the boy broke the arm of the robot.
6. Describe a project that you would like to share with the ACM SIGGRAPH community.
My current research focuses on creative practice derived from data on topics of social and cultural importance, with the purpose of provoking thinking and communicating artistic agenda rather than merely illustrating the information.I'm currently working on a project "Message from the Sky", which connects people with birds on their migration routes in real-time via poems and visuals generated from the migratory data and environmental information. The purpose of the project is to help people become mindful of their relationship with nature. The first phase "Omana's seven days in April" has exhibited in IEEE VIS 2020 Arts Program and can be seen here: http://rebeccaxu.com/omana.html
7. If you could have dinner with one living or non-living person, who would it be and why?
That would be artist Paul Klee. He has been one of my favorite artists for many years, and I'm still awed by his marvelous usage of color and form. Especially I admire his mastery of incorporating design as a natural part of artmaking, as well as the musicality embedded in many of his works. I'd like to chat with him about his teaching experience in Bauhaus. It would be inspirational to learn more about how he moved freely between various mediums in both art and design.
8. What is something most people don't know about you?
Working with Xiaoru Yuan of Peking University, in 2017 I founded the Arts Program at the China Visualization and Visual Analytics Conference (China VIS), which is the largest visualization conference in China. The goal of the program is to foster exchange and collaboration between artists, designers, technologists, scientists, and others who create creative representations of information. Since then, I have served as the Co-Chair of the China VIS Arts Program (China VISAP). In four years, the program has grown rapidly and now includes a juried exhibition, a student competition, a panel on artistic visualization, and a series of artist talks. It has become a welcomed platform for artists, designers and scholars in China and beyond to showcase their innovative artwork and research.
9. From which single individual have you learned the most in your life? What did they teach you?
My graduate school mentor, Professor Edward Zajec. I went to Syracuse University with a background in commercial art and design, came out as a fine artist with a strong passion for digital art. Ed taught me the value of self-expression and the importance of the making process. His own artwork was my initial inspiration for generative art. Most importantly, Ed showed me the endless possibilities of artmaking with digital media.
10. Is there someone in particular who has influenced your decision to work with ACM SIGGRAPH?
Bonnie Mitchell and Cynthia Beth Rubin. When I first arrived at Syracuse University, Bonnie was running a SIGGRAPH Student Chapter there. The group was building a SIGGRAPH website for David Em at the time, which made me realize that SIGGRAPH is a community effort and I too, can be involved. Cynthia included me in the organizing work of SIGGRAPH Asia 2016 Art Gallery, providing me a chance to work behind the scenes. It was a rewarding experience and has motivated me to be more active in the SIGGRAPH community.
11. What can you point to in your career as your proudest moment?
I'd say that moment was when my work "beyond legal", a series of digital prints created based on the crime statistics in the U.S. was exhibited in SIGGRAPH 2009 Art Gallery, Information Aesthetics Showcase. The showcase was the first of its kind focusing on the increasingly prominent roles that information visualization and data art are taking on in our digitally mediated culture.