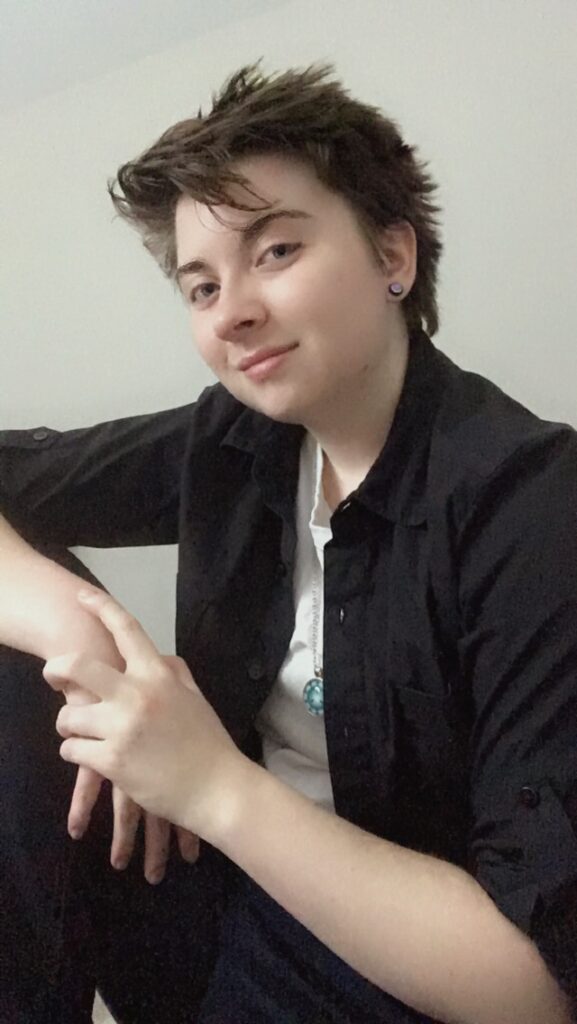 Member Profile:

Rachel Hood
1. What do you do, and how long have you been doing it?
I'm a 3D animator, and I've been working in this field professionally since I completed my education in the spring of 2020.
2. What was your first job?
My first job was working on an oven assembly line in an appliance factory in Tennessee.
3. Where did you complete your formal education?
I attended Middle Tennessee State University (MTSU) and completed their undergraduate course in animation.
4. How did you first get involved with ACM SIGGRAPH?
I got involved with SIGGRAPH through MTSU's student chapter, and became more active in the community through the ACM SIGGRAPH conferences.
5. What is your favorite memory of a SIGGRAPH conference?
During my first SIGGRAPH conference in 2018 I attended the production session for Avengers: Infinity War, and got to speak with one of the panelists afterward. Even though our skill levels were vastly different we discussed the creation of the Bleeding Edge armor, and shared a mutual passion for details and the strive for believability. I left the conference center feeling inspired and motivated, and that was the moment I knew that I was on the right path.
6. Describe a project that you would like to share with the ACM SIGGRAPH community.
In 2019 I had the opportunity to work with a team of 12 other animation students to complete an animated short film for the Third annual Wonderful World: International Students Short Film Exhibition. This was my first time working on a 3D short film and my first time animating a non-human character. The overall goal of the project was to create a short film with a focus on the theme for that year: humans and animals. The film's production taught me how to effectively work with a team towards a common goal. The film was screened at an international film festival in China and won 2nd place in the animated short film category.
7. If you could have dinner with one living or non-living person, who would it be and why?
I have always wished that I could meet and have a conversation with Nikola Tesla. He was a brilliant inventor/engineer with so many revolutionary ideas, and possibly even more that are undocumented. Many of his inventions that were rejected or overturned at the time became the standard later on, such as the use of AC electricity. The opportunity to speak with someone with so many visions for the future would be a dream come true, especially if I could talk to him about how far technology has advanced in that past 100 years.
8. What is something most people don't know about you?
I love to make things with my hands. I often find myself recreating small trinkets and props from shows and movies, sometimes for myself and sometimes for others. The satisfaction of gaining a new object combined with the feeling of accomplishment I get from completing a project is one of my purest forms of happiness.
9. From which single individual have you learned the most in your life? What did they teach you?
My younger sister. We grew up very close, and shared a room for around 16 years until we both left for college and to start our own lives. She taught me how to live in the present and enjoy life as it comes, rather than dwelling on the past or putting my happiness aside to prepare for the future.
10. Is there someone in particular who has influenced your decision to work with ACM SIGGRAPH?
I would have to say Alex Bryant. I'm a person who's usually hesitant to ask for help, but Alex always reached out and made sure I was where I needed to be, both during my time as an SV in 2018/19 and later as a TL during the virtual 2020 conference. He's been a great role model and mentor for me and so many others.
11. What can you point to in your career as your proudest moment?
The day I submitted my team's capstone film. We were all stressed and concerned about our film's outcome, especially after MTSU's campus closed down during April/May, and we had to transfer our timeline to one that could operate fully remotely. Completing and presenting the film served as a satisfying conclusion to my undergraduate career.