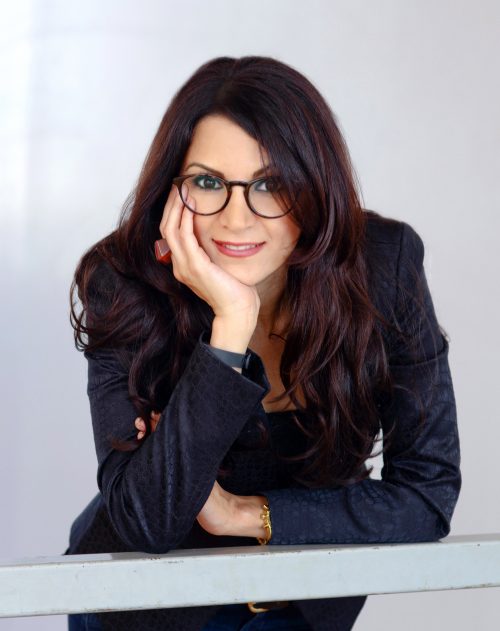 Member Profile:

Mona Kasra
1. What do you do, and how long have you been doing it?
I am a new media artist, interdisciplinary scholar, and Assistant Professor of Digital Media Design at the University of Virginia. My research involves exploring the confluence of media technologies, art, and culture and experimenting with affordances of such media for creative practices. I began my artistic and academic career in the early 2000s.
2. What was your first job?
I was born and raised in Iran. In high school, I began teaching English to elementary students.
3. Where did you complete your formal education?
I received my Ph.D. in Arts and Technology from the University of Texas – Dallas.
4. How did you first get involved with ACM SIGGRAPH?
My first SIGGRAPH was in 2001 in Los Angeles. At the time, I had just immigrated to the United States and was studying digital arts. The conference blew my mind. It was pure magic! I applied and was accepted to be a Student Volunteer in 2002, and since then I've continued to attend the conference and to serve ACM SIGGRAPH in various capacities. Throughout the years I've participated as a reviewer, member of the conference juries, subcommittee member, and chair of SIGGRAPH 2011 Art Gallery. Ultimately, I had the honor of serving as SIGGRAPH 2016 Conference Chair which was held in Anaheim, CA.
5. What is your favorite memory of a SIGGRAPH conference?
I have two decades worth of fabulous memories. But 2016, the year I was Conference Chair, was particularly special for me. It was so rewarding to see the efforts of an 18-month journey planning and organizing for the conference come to fruition. I feel fortunate to have worked with an exceptional committee who each brought not only their expertise to the table, but also inspired me with their passion, excitement, and enthusiasm for SIGGRAPH every step of the way. Building a conference and then getting to celebrate its success with such an inspiring group is undoubtedly a singular experience. I'll cherish the memory forever.
6. Describe a project that you would like to share with the ACM SIGGRAPH community.
Currently, I'm researching representational, affective, and creative possibilities of immersive media, and designing experimental and performative experiences in Virtual Reality (VR/360). One of my newest collaborative projects is exploring how motion capture, spatial audio, and interactive XR environments can be used to document embodied cultural practices. Working together with the indigenous communities we are developing multimodal artistic environments that offer the audience the opportunity to experience, learn about and engage with performance-based cultural traditions, dance movements, and rituals.
7. If you could have dinner with one living or non-living person, who would it be and why?
My clear first choice is Michelle Obama! I'm in awe of her intelligence, eloquence, and fierceness. I admire her dedication to bringing change to this world through efforts such as the Global Girls Alliance that empowers adolescent girls by way of education. She's an icon; I'd love to talk with her about all sorts of things, including fashion. Hopefully, she can bring along her husband Barack Obama to the dinner as her plus one.
8. What is something most people don't know about you?
I grew up in post-revolutionary Iran, and much of my childhood experience was overshadowed by the Iran-Iraq war in the 1980s. I then immigrated to the US in my early 20s. My traumatic early-life experiences have shaped my perspective about life and made me very sensitive to social justice issues. My sociopolitical sensibilities and consciousness are often expressed in my work and research.
9. From which single individual have you learned the most in your life? What did they teach you?
It's hard for me to pick a single individual, as I believe many meaningful interactions and experiences, both large and small, have come together to teach me what I know about life.
10. Is there someone in particular who has influenced your decision to work with ACM SIGGRAPH?
I'm grateful to many individuals at ACM SIGGRAPH for their continued support, encouragement, and friendship throughout the years. But Rebecca Strzelec, Dena DeBry, Thierry Frey, Alain Chesnais, and Cindy Stark were definitely instrumental in influencing me to become more involved with the organization.
11. What can you point to in your career as your proudest moment?
My proudest moments have been seeing the success and growth of my students.