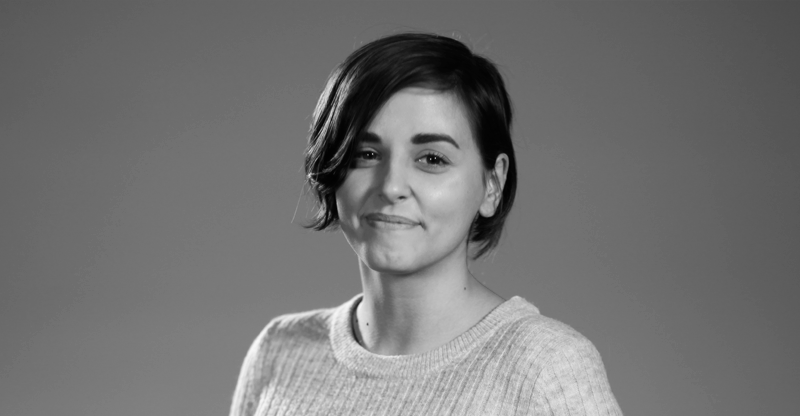 Member Profile:

Milena Lukic
1. What do you do, and how long have you been doing it?
As of right now I am an Associate Producer for FME Studios, located in Indianapolis, IN and I have been in this position since January 2019. I help with a lot of pre-production and post by creating in-house storyboards, graphics, 3D modeling, helping with casting, quality control, and more! I absolutely love it all.
2. What was your first job?
My first job was working part time at a local ice cream shop in my hometown Munster, IN. Definitely had some humble beginnings. However, my first industry-related job was when I was an undergrad I worked remote internship with Theory Studios on Amazon Prime's Man in the High Castle season 3.
3. Where did you complete your formal education?
I received my Bachelors of Science in Media Arts and Science at IUPUI's School of Informatics and Computing with high distinction this past May 2018. I had a major focus in 3D Character Design and Digital Storytelling. I also have an Associates of Applied Science in Graphic Design.
4. How did you first get involved with ACM SIGGRAPH?
I first got involved with ACM SIGGRAPH in 2016 in Anaheim, CA as an SV. My professor Zeb Wood first introduced it to me through our SIGGRAPH Chapter at IUPUI during a call-out meeting, which I also eventually became vice president for.
5. What is your favorite memory of a SIGGRAPH conference?
I have had several favorite memories, which makes this question hard. However, my favorite memory of a SIGGRAPH conference is definitely from SIGGRAPH 2016. Aside from having gotten the privilege to meet Pendleton Ward, creator of Adventure Time and a personal hero of mine, I was incredibly inspired by a private session held for SV's by Blue Sky Studios. It was then that they let us know that if we ever wanted to find ourselves as directors, one day, we would need a CG Short Film under our belts. When I came back from the conference, I dove right into my thesis 2 years early to work on a short film I'm still trying to wrap up. The conference had given me so much energy and passion to create my own film, that I'll always be thankful for the inspiration and motivation that it gave me. Ever since then, I really just wanted to give back to this conference as much as I could. I'll also never forget how many friends I have made through this conference and it's incredible how much they have begun to feel like family every year.
6. Describe a project that you would like to share with the ACM SIGGRAPH community.
That one project would definitely be my thesis that I have worked on for the past 5 years, which started from a small comic idea I had to a full storyboard I developed and then helped lead a team of nearly 30 individuals. The film is called Stars Struck, which is about a little girl named Milly who lives in a world where wishing has become illegal. Until, one night she decides to wish on a star and has a fantastic journey in the middle of the night that involves a run from the cops. My team and I hope to wrap the film by next fall and enter it into the Computer Animation Festival as well as local and other international film festivals.
7. If you could have dinner with one living or non-living person, who would it be and why?
I would love to have dinner with Hayao Miyazaki. Ever since I was a kid, his artistry in storytelling and animation truly inspired me to try to break into the entertainment industry. His films were always pure magic to me and it led me to always want to create stories of my own and illustrate characters from my imagination.
8. What is something most people don't know about you?
What most people don't know about me is that I sing and that I tend to do accents. There was a short time in my life where I wanted to be a voice actor. I have recorded myself singing once and a while to show online, but I have never sung in front of anyone due to being shy.
9. From which single individual have you learned the most in your life? What did they teach you?
It's hard to pinpoint a single individual in my life as a lot have attributed to it. I definitely would like to give a shout out to all of my professors as well as my family. The one individual that has definitely taught me the most would be my dad. He taught me to keep moving forward, no matter the circumstances, and how to keep an open mind and heart. He never let me forget how far I'd come with my art and success and I'll always be thankful for that.
10. Is there someone in particular who has influenced your decision to work with ACM SIGGRAPH?
The two individuals that had influenced my decision to work with ACM SIGGRAPH would be my professor Zeb Wood and my current mentor Joshua Grow, who selected me to be an XSV for this year's Attendee Experience. Without them, I don't think I would have felt as confident going into it.
11. What can you point to in your career as your proudest moment?
I think the proudest moment I have had in my career journey this far would be having been hired on as an Associate Producer for FME Studios, after having been an intern for Theory Studios. I have been humbled working alongside such talented individuals and I cannot wait to see all the work we accomplish together.