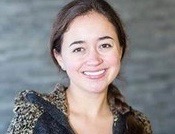 Member Profile:

Megan Mohler
1. What do you do, and how long have you been doing it?
I am an Applications Analyst for a healthcare organization in Wisconsin. I help support their electronic medical record system. I have been with this company for 1.5 years.
2. What was your first job?
I worked as a Therapy Aide and Office Manager for a pediatric, physical and occupational therapy clinic.
3. Where did you complete your formal education?
Purdue University
4. How did you first get involved with ACM SIGGRAPH?
During one of the introductory classes my freshman year at Purdue, Dr. James Mohler gave a presentation about his experience with ACM SIGGRAPH. He encouraged us to apply to be Student Volunteers at the 2007 conference in San Diego. I enjoyed the Student Volunteer experience so much, that I applied again in 2008. Overall, I was a Student Volunteer for two years, a Team Leader for four years, and a member of the Student Volunteer Subcommittee for two years. I also volunteered for one year on the SCOOP team. Those were a great nine years. I got to meet brilliant people passionate about their fields, I got to learn more about my own strengths, and I got to work through some of my weaknesses. SIGGRAPH helped me grow as a person, and it gave me another family.
5. What is your favorite memory of a SIGGRAPH conference?
I think one of my favorite memories is painting signs with the Team Leaders outside of the Vancouver Convention Center in 2014 the day before the Student Volunteers were due onsite. The signs were going to be used in the Student Volunteer Office to help Student Volunteers know where to gather before shifts. I love that memory of the laughter, the camaraderie, the creativity, the breeze off of the water and the sunshine. There was such joy and excitement about the conference that was quickly approaching that we had the honor to support.
6. Describe a project that you would like to share with the ACM SIGGRAPH community.
I volunteer with Underdog Pet Rescue of Wisconsin (http://www.underdogpetrescue.org/). We are a foster-based organization with a mission to find permanent homes for animals in need, and to enrich lives by strengthening the connection between animals and people through community services and outreach.#adoptDontShop
7. If you could have dinner with one living or non-living person, who would it be and why?
I would like to have dinner with Emma Watson and ask her about her work as UN Women's Goodwill Ambassador and the HeForShe campaign.
8. What is something most people don't know about you?
I have danced the foxtrot with Bill Nye the Science Guy.
9. From which single individual have you learned the most in your life? What did they teach you?
My bosses at the therapy clinic taught me something that has molded my outlook on life.They showed me that it is possible to enjoy your job and have work-life balance.They taught me that while work is important, work isn't everything and that self-care and self-compassion matter, too. They also taught me how to make coffee in a french press. :)
10. Is there someone in particular who has influenced your decision to work with ACM SIGGRAPH?
As I mentioned earlier,Dr. James Mohler is the individual who first got me interested in ACM SIGGRAPH. The volunteers at SIGGRAPH, however, are the people who kept me coming back each year.
11. What can you point to in your career as your proudest moment?
The proudest moment in my career thus far was being hired by my current employer. I feel that I've found a company that is a great match for me, and I'm proud to do work that will improve patient care and my community's health.