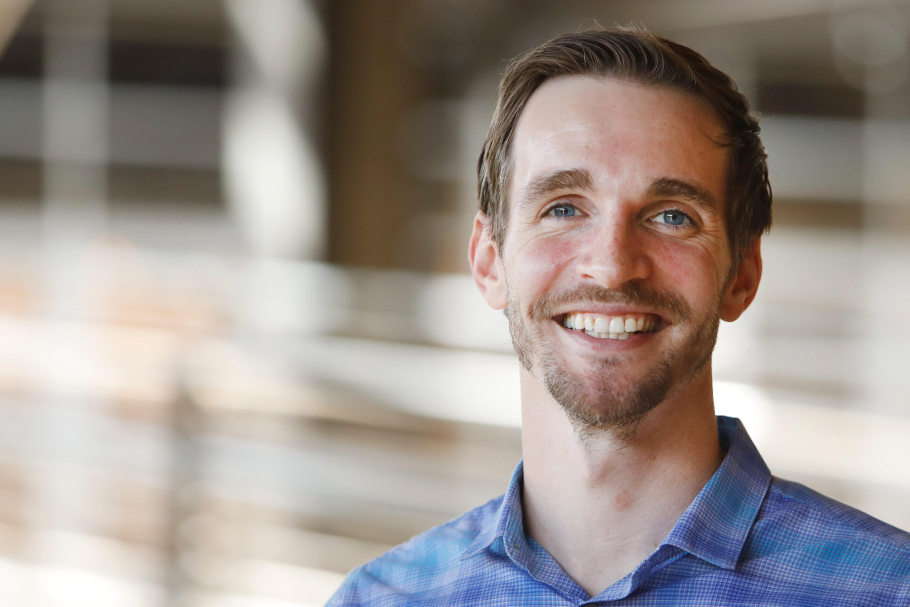 Member Profile:

Markus Kranzler
1. What do you do, and how long have you been doing it?
I am a Character Shading TD at Pixar Animation Studios. I've been in a few different departments so far and have been with Pixar for 6 years now.
2. What was your first job?
As a student I freelanced and interned at a few VFX Studios in Germany and London. But Pixar is my first full time grown up job.
3. Where did you complete your formal education?
I first got a mathematics degree from the Technische Hochschule Mittelhessen. But because pure math is a little dry I moved on to the Filmakademie Baden-Württemberg where I studied Technical Directing and graduated in 2014 with a short called "The Present".
4. How did you first get involved with ACM SIGGRAPH?
Back in 2013 Iwas a Student Volunteer in Anaheim. But as a tech nerd I've been following the presentations and publications at least since 2008.
5. What is your favorite memory of a SIGGRAPH conference?
I have a bunch of great memories. But one that comes to mind, the first time I was a student volunteer in 2013 I was hoping to be in presentations as a floater, orin EmergingTechnology or take care of the speakers. All the stuff that SIGGRAPH is famous for. But my very first shift was "Greeter". I thought that would be quite boring. But it turned out to be my favorite shift. You get to see the excitement of all the attendees when the doors finally open, you get to interact with them and I got to meet some old and new friends in those few hours. I actually continued the shift over the lunch break and requested to do it again in 2014 as SV. SIGGRAPH (and any other conference) for me is mainly about Networking. The technology and films are great to watch, but what makes this event and our industry as a whole so fascinating are the people.
6. Describe a project that you would like to share with the ACM SIGGRAPH community.
One of the latest projects I worked on was Look Development for the soul characters in "Soul". This was an awesome experience, because I got to use my experience to bring Houdini into the characters department. We were a small team from different departments, but our work helped shape the look of the final movie. The way we worked together across departments also influenced workflows for future projects.
7. If you could have dinner with one living or non-living person, who would it be and why?
There are hundreds of interesting people throughout history. But since I'm a tech nerd and an artist, I'll cut it town to one for each side of me.
Bill Gates because he is a visionary not only when it comes to technology, but also humanity and the environment. I would love to know more about what he would do now if he had to start again.
Douglas Adams, because in my opinion he was one of the funniest and most creative authors ever. I would love to share a cup of coffee and a packet of cookies with him. (If you don't get that reference, you need to look it up)
8. What is something most people don't know about you?
I was actually on the waitlist to study Chinese instead of anything technical. But because I didn't want to sit around waiting, I enrolled in mathematics as a backup.
9. From which single individual have you learned the most in your life? What did they teach you?
That would be my older brother. We fought a lot, but the games and worlds we came up with were incredibly creative and imaginative which had a big impact on my interest in pursuing something more creative than plain mathematics. I also look up to him, so I learned a lot of character lessons from him.
10. Is there someone in particular who has influenced your decision to work with ACM SIGGRAPH?
No one in particular. I learned about SIGGRAPH and its importance in the industry and wanted to be part of it.
11. What can you point to in your career as your proudest moment?
The day (in Germany it was at night) I got the offer from Pixar. I've been dreaming about and working towards that for many years. It was actually my birthday when I received the offer.