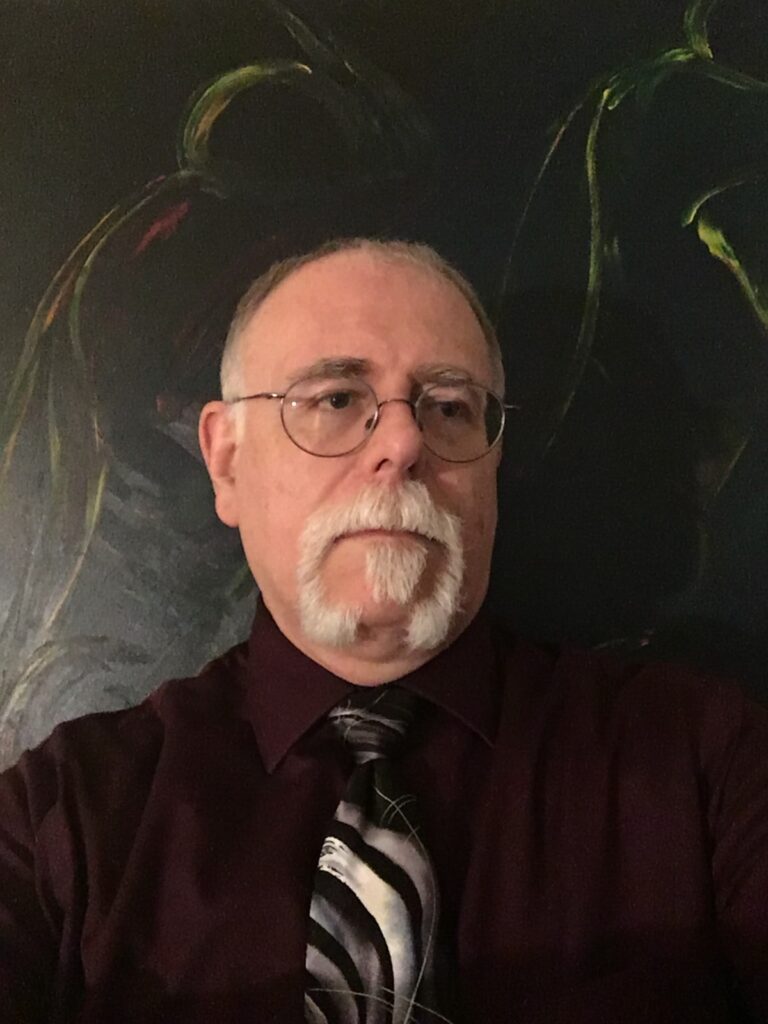 Member Profile:

Mark Jette
1. What do you do, and how long have you been doing it?
Currently, I am a Senior Consultant in the Information Technology (IT) field. I have worked in the IT field for well over 20 years. As of this writing I have also been the Chapter Chair of the Washington DC ACM SIGGRAPH chapter since 2017.
2. What was your first job?

My first job was working as a salesperson in a computer store which sold TRS-80 and Apple II computers.
3. Where did you complete your formal education?

I attended Florida Atlantic University where, after graduating with highest honors, I received a Bachelor of Fine Arts with a concentration in Graphic Design. My artwork was also selected for inclusion in the university's permanent collection.
4. How did you first get involved with ACM SIGGRAPH?

I first learned about ACM SIGGRAPH in 1982 when I was in high school but did not pursue it beyond this time. In 2013 I found an active chapter in the Washington DC Metro area where I volunteered to be the chapter Secretary then eventually the chapter Chair.
5. What is your favorite memory of a SIGGRAPH conference?

My favorite memory would have to be from the 2020 SIGGRAPH virtual conference which was also the first conference I attended. I hosted, along with my fellow board members, the SIGGRAPH conference Morning Show which was live an hour before the conference started each day. Every day was a different theme where we discussed various conference related topics as well as having people reminisce about conferences they attended in the past. The morning show was also the first live event to start the 2020 SIGGRAPH virtual conference.

6. Describe a project that you would like to share with the ACM SIGGRAPH community.

I do not have a specific project to share with the ACM SIGGRAPH community, but I would like to share one of the reoccurring topics from the Washington DC ACM SIGGRAPH chapter meetings. Throughout the year, I like to issue design challenges to our members and followers in order to get people to move out of their comfort zone by telling a story from a new perspective. A topic such as "Dwellings" will be posted with minimal direction in order to challenge people to think about what dwellings really means to them. It could be a physical place, a state of mind, or anything in between. Any software or physical medium can be used to create a still image or animation which illustrates each person's concept of the topic. The hope is to challenge people to explore new software, techniques, or fine artists which will expand their creative horizons.

7. If you could have dinner with one living or non-living person, who would it be and why?

There are many interesting people so I do not really have any specific person I would want to have dinner with. Possibly Rene Magritte to discuss his views on Surrealism or maybe Edgar Froese, founder of the band Tangerine Dream, to discuss ambient soundscapes. Discussing synthesis with Robert Moog could also be interesting.

8. What is something most people don't know about you?

Most people do not know that I am a US NAVY veteran. Another thing most people do not know is since 1999, I have created an illustration every year celebrating a different aspect of the Winter Solstice. I also own a Theremin and an Ax-Synth, often referred to as a Keytar.

9. From which single individual have you learned the most in your life? What did they teach you?

I have learned from many individuals throughout my life, each of whom has imparted their wisdom, so there is not one particular person. It is the combined experience from the people in my life which has shaped me into the person I am today.

10. Is there someone in particular who has influenced your decision to work with ACM SIGGRAPH?

If I had to choose someone, it would most likely be Kimberly Wallace, previously the Chair of the Washington DC Chapter of ACM SIGGRAPH and the current Vice Chair as of this writing. Kim encouraged me to become the chapter Chair then share my unique perspectives on design and storytelling.
11. What can you point to in your career as your proudest moment?
There have been many proud moments at various times during my winding career, so it is hard to pinpoint just one. During my college years I was the editor for the Broward Community College Student Literary Arts Magazine P'an Ku. Under my direction, the magazine not only won awards across the state of Florida and across the country, but it also showcased the works from students who may never again see their works published. Hosting the Morning Show for the 2020 SIGGRAPH virtual conference was also a proud moment.