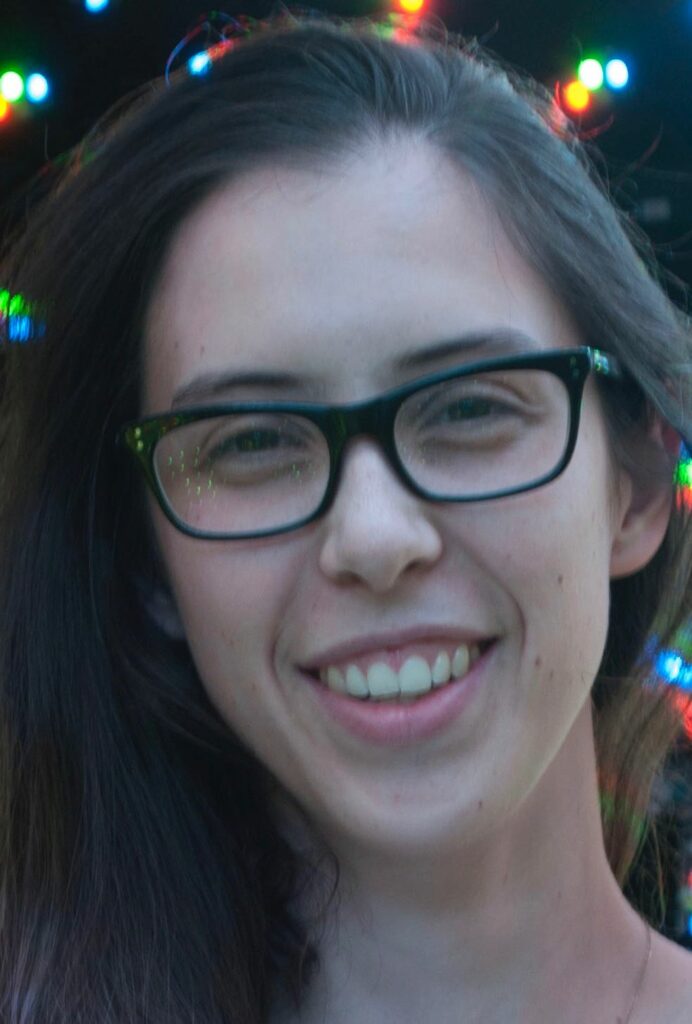 Member Profile:

Marie-Soleil Chabot
1. What do you do, and how long have you been doing it?
I am a junior CG generalist, currently working mostly on crowd simulations and on rigging. I wish to specialize in crowd FX. I work at RodeoFX, in Montreal, since October 2014, but only full time since January 2016. I was lucky enough to be able to work for them part-time as a roto-paint artist during my studies, and then even more lucky to be able to work with their CG department right after I graduated in December 2015.
2. What was your first job?
This is officially my first job as a CG artist. However, I did intern as a VFX artist on an independent movie, a few years ago. Otherwise, my first real job was at a gelateria in my neighborhood. I learned to make good coffees, go paninis and good gelato! An excellent experience for a 16 years old.
3. Where did you complete your formal education?
I completed a Bachelor's degree at NAD School in Montreal (National School of Animation and Design), which is affiliated with the University of Quebec in Chicoutimi (UQAC). It's a formidable school: they offer programs in VFX for cinema and in video games, which allow students to define their career choices quite early. Just a few years ago, this school was still private, and honestly if it had stayed private, I don't think I would have been able to afford it. Since it became public (by affiliating themselves with the UQAC), the tuition went down to the level of our universities, making it very affordable.
4. How did you first get involved with ACM SIGGRAPH?
I first heard about SIGGRAPH from my college (CEGEP) program chair, which introduced me to the SVSC and the possibility of volunteering at the conference. He described it in such a way that I could not not apply. A few friends of mine applied that year, and I was able to go and participate! I think it was one of the greatest decisions of my life.
5. What is your favorite memory of a SIGGRAPH conference?
There are way too many moments that I could write about here, but some of the best memories involve getting up super early to arrive at the conference center for the early SV meetings, as a Team Leader. My first TL experience was at the 2014 Vancouver conference, in their beautiful conference center by the water. I remember walking up the hallways as the sun was starting to come up with a bright orange light, and I remember feeling like I really belonged there, working for this community. Of course that's super cheesy, but the feeling was (and still is) genuine. Another one of the amazing moments that I had was when I worked as a TL for the Computer Animation festival, for which I had to manage a huge crowd, in fact, the biggest venue I ever worked on. It was so great to see the volunteers taking such good care of the attendees, and making the evening go smoothly.
6. Describe a project that you would like to share with the ACM SIGGRAPH community.
I would love to be able to share RodeoFX's work on Game of Thrones, from season 4 to 6, especially to talk about the construction and management of the city of Meereen. Our pipeline has dramatically changed between season 4 and 6, becoming more and more solid for the integration of a great number of assets in a 3D scene. Rodeo FX was until recently still a small company, and has grown to a point where it can now compete with the largest VFX studios of the world.
7. If you could have dinner with one living or non-living person, who would it be and why?
I would love to be able to have a good conversation about american politics with Bernie Sanders (oh, it reveals my political views!). He's such a passionate man who brings the right solutions to the problems North America faces today. It's not just about the States! After all, Canada's first economic partner is the US, and it matters a lot to us what happens down South. I especially would like to see what his solutions are concerning the North Dakota Access Pipeline, where many people there fight for a right that seems to me obvious. I really like to discuss progressive ideas. :)
8. What is something most people don't know about you?
Most people don't know that I'm a huge metalhead! I love melodic death metal, folkloric metal, and progressive rock as well. I played violin for 12 years, so music is really a big part of my life. It's very hard for me to work while listening to music, because all of a sudden, I always pay more attention to the notes and the complexity of the songs, and therefore cannot concentrate on anything else.
9. From which single individual have you learned the most in your life? What did they teach you?
One of the best teachers that I had was a professor of economics, Raymond Munger, when I was studying liberal arts and political science in CEGEP (the equivalent of a freshman year in the US). He was the one who opened our minds to different ways of thinking, and different theories of economics. He was responsible for our student internship in Morocco, during which we interacted with people from all different socio-economic status in the Country. We went from meeting with the political class in Rabat, to a group of Amazigh women who were managing an artisan argan oil cooperative an hour away from Essaouira, where there is sometimes no electricity in the homes of the families who live from that production. For the first time, I surrounded myself with things that I didn't know and that brought me out of my comfort zone, which was one of the best experiences of my life.
10. Is there someone in particular who has influenced your decision to work with ACM SIGGRAPH?
Apart from my CEGEP program chair, a person who influenced me on working more with ACM SIGGRAPH was Mikki Rose, the first SVSC program chair that I met. It was in 2013 at the Los Angeles convention center. Her confidence and her mastering of the Student Volunteer program was amazing and inspiring. She was (and still is) a strong figure in the ACM SIGGRAPH community, on top of being a accomplished artist. Her leadership really encouraged me to continue working with the SVSC for all those years.
11. What can you point to in your career as your proudest moment?
Rodeo FX made me work on so many amazing projects, I wouldn't even know where to start. If we want to talk about the most renown project, it would be when we won an Emmy Award for best visual effects on Game of Thrones, season 6. It was the first project that I worked on that won such an amazing prize. I am surrounded by amazing artists that put the best of themselves in their work, and it really shows. The work was intense, but so gratifying at the end!