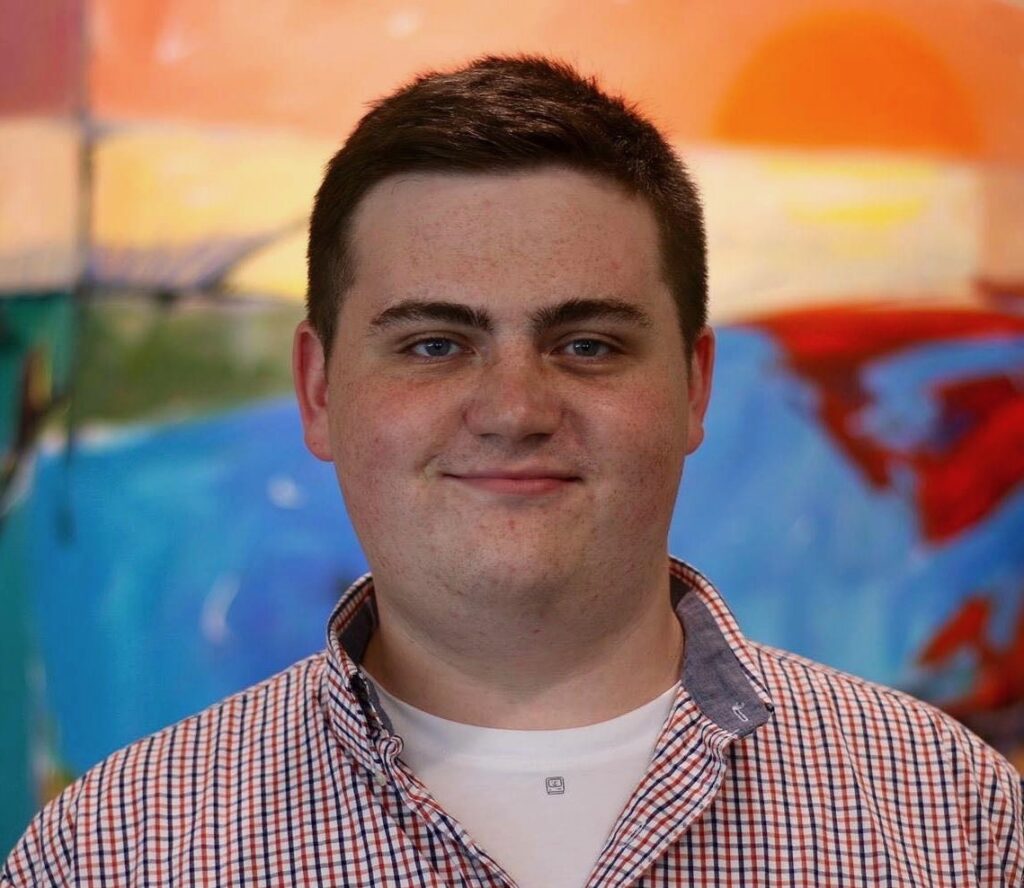 Member Profile:

Luke Tannenbaum
1. What do you do, and how long have you been doing it?
I currently work at Epic Games as a Game Capture Technician, where I support our animators, fx artists, lighters, and editors with software tools in Unreal Engine. I've been there for four months thus far!
2. What was your first job?
My first job was a cashier position at a local grocery store in my small hometown in North Carolina. My first job related to graphics however was as a Principal Developer on a project called FireHUD with an awesome SIGGRAPH member, Jason Jerald, where we sought to help firefighters with VR! I met Jason just last year at my first SIGGRAPH, and we worked together just 6 months later.
3. Where did you complete your formal education?
I graduated from the University of North Carolina at Chapel Hill just last August (August 2017), where I completed a B.S. in Computer Science with a minor in Music.
4. How did you first get involved with ACM SIGGRAPH?
My friend from my Computer Science department, Sarah Rust, is a highly involved SIGGRAPH member and heavily encouraged me to apply to the student volunteer program for SIGGRAPH 2017!
5. What is your favorite memory of a SIGGRAPH conference?
I think my favorite memory would have to be from this most recent SIGGRAPH 2018 conference in Vancouver where I served as a Student Volunteer Team Leader. My most fond memory was after the conference had ended and all the TLs and Student Volunteer Subcommittee gathered to reflect on the week, where we stopped to appreciate how close we had gotten and how much we respected the work we had all contributed to make the conference the best it could be. I had never been given the opportunity to contribute to such a great cause at that capacity in my life, and felt very fulfilled after such a great week bonding with such amazing people.
6. Describe a project that you would like to share with the ACM SIGGRAPH community.
After meeting fellow member Jason Jerald after a VR panel at SIGGRAPH 2017, we worked together on an awesome project of his called FireHUD back in North Carolina 6 months after the conference. In this project, I got to work with just one other developer in Unreal Engine 4 to design a prototype VR heads-up display to help firefighter navigation in burning buildings, such that our product could be used for training simulations or even displayed in the actual firefighter visor to assist in a real-life AR application. We had the pleasure of working towards a contest the National Institute of Standards and Technology put on where we presented as finalists at the NIST conference in San Diego, and worked with a local fire chief to test our project as we went. It was a great first step into VR and game development right out of school, and I'm so grateful to Jason for getting to be part of such a cool project.
7. If you could have dinner with one living or non-living person, who would it be and why?
I think I'd have to get dinner with Michelle Obama. I've always been inspired by people that connect their own local success with a global outlook in a forward-thinking way. I think that Michelle embodied that for me by both setting an example as a strong independent mother figure and first lady while creating her own initiatives to encourage progress in american communities regarding fitness, higher education, female empowerment, and sustainable food practices that have affected many people on a global level. I've always strived to balance my personal goals with my more scalable beliefs and convictions, and would love to hear about her experience maintaining that balance in an elegant way.
8. What is something most people don't know about you?
Most people don't know about my passion for audio and that I love composing 8-bit "chiptune" music on my spare time. Although I love to play guitar, bass, piano, and sing, I discovered this medium of music that emerged from the small memory restrictions of early video games where the composers and sound designers only had a fraction of the types of sound to work with for an entire game's soundscape. They learned to make the most of what they had to work with, and similarly I use this as both an expressive outlet in addition to a mental challenge of working within a restriction to keep my mind sharp. Diving into audio also poses a nice juxtaposition to graphics where you can think more about how your sense of hearing enhances an experience alongside the graphical elements of a project.
9. From which single individual have you learned the most in your life? What did they teach you?
I'd have to say I've learned the most from one of my computer science professors at UNC Chapel Hill, Diane Pozefsky. Besides helping me out with class issues and schedule conflicts, Diane was instrumental in helping me evaluate how to carry down my path towards applied computer science within graphics, games, and vr. She taught me that restriction in thought breeds creativity and ingenuity, and helped me understand what kinds of focuses I could invest into fruitfully in my career. I learned to confidently move forwards towards my goals with sound logic and a growth mindset with her encouragement to avoid the ever-looming imposter syndrome. Lastly, Diane helped me grow to appreciate my strengths for interpersonal leadership and coordination and led me to pursue two major leadership positions in campus organizations during my time at UNC.
10. Is there someone in particular who has influenced your decision to work with ACM SIGGRAPH?
I have to give this one to my good friend Sarah Rust, fellow SIGGRAPH member and Student Volunteer Subcommittee member for SIGGRAPH 2017. She initially grabbed my attention to apply for the SV program in college, and further encouraged me to apply for the Team Leader position the year after I started as an SV. Her energy is always contagious and her positive attitude always led me to want to understand what awesome experiences she had gained from her SIGGRAPH involvement. Now as I plan on pursuing further positions within the SIGGRAPH organization, I feel very grateful to her for showing me such a great organization I've loved contributing to and look forward to working with her in other capacities within SIGGRAPH.
11. What can you point to in your career as your proudest moment?
In my recent jump into the industry just out of college, I'd say my proudest moment was presenting the aforementioned project FireHUD Jason Jerald and I worked on at the NIST conference as finalists in the contest for the best VR HUD. There, we presented our product to a panel of judges amongst the other best finalists from the start of the 6+month competition, and came out in third place overall! I was thrilled to have gotten so far in the competition and that moment was a great culmination for our 4-person team to demonstrate our hard work. We were asked to keep in touch with further NIST projects, and were able to network with many of the other great teams. We may even continue the project some day to work on it further due to its success!