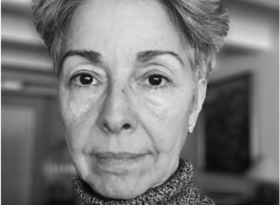 Member Profile:

Lily Díaz-Kommonen
1. What do you do, and how long have you been doing it?
I am professor of new media at Aalto University in Finland. I was tenured in 2015 but had been working as a professor since 2004.
2. What was your first job?
I was a freelancer for different multi-image production houses in Boston and New York City. Through this work I learned various aspects of media design and production eventually working my way to camera operator of a computerized optical slide camera – Marron Carrell 1600 – used for special effects. This was my first serious encounter with a computer. My first permanent job was as audio-visual specialist in the research department of Bozell, Jacobs, Kenyon and Eckhardt, one of the largest advertising agencies in the USA and the world. I took care of producing the different media items for the new business pitches in the New York City office. It was a challenging and exciting job.
3. Where did you complete your formal education?
I completed a Bachelor of Arts in anthropology at Brandeis University, a Master of Fine Arts in computer arts at the School of Visual Arts, and a Doctor of Arts (in Art and Design) and new media at the University of Art and Design Helsinki. I also participated (as studio fellow) in the Independent Study Program of the Whitney Museum of American Art. Nowadays, it is not unusual to have interaction designers study anthropology. But I might have been among the first people to formally do this combination.
4. How did you first get involved with ACM SIGGRAPH?
I first heard about SIGGRAPH from my professors at School of Visual Arts, Darcy Gerbarg, Cynthia Goodman, Tim Binkley, Bruce Wands. My first experience however, was in 1990 in Dallas. I organized a User's Group meeting about "Multimedia in the PC Environment." About 90 people or so showed up. I also had my work "Portrait of Ellie, a Hypergram" in the SIGGRAPH Art Show that year.
5. What is your favorite memory of a SIGGRAPH conference?
My favorite memory is the Spiderman technical sessions in 2004. The Electronic Theatre is also always an important tradition.
6. Describe a project that you would like to share with the ACM SIGGRAPH community.
In 2017, together with my research group, Systems of Representation (https://sysrep.aalto.fi), we completed a new virtual reality installation Interactive Diorama, Rembrandt's Anatomy Lesson, 1632. It was shown for the first time at Ars Electronica 2017 and people loved it. The work affords visitors access to a hypothetical reconstruction of the famous painting by Rembrandt. I am particularly pleased because the work is allowing us to research the artistic and design aspect of virtual reality.
7. If you could have dinner with one living or non-living person, who would it be and why?
Joy Ito and Buckminster Fuller are my choices. In both cases – living and non-living – my main interest centers on having a conversation about technology and the future of human life in the universe.
8. What is something most people don't know about you?
I used to dance ballet quite seriously.
9. From which single individual have you learned the most in your life? What did they teach you?
I am most grateful to my great-aunt Lolita Mandés. She was one of the first women to complete a Masters degree and at the age of 94 was still teaching reading and writing to first grade children in Puerto Rico. She taught me about engaging in life with passion: "Grab that bull by the horns!" – she used to say.
10. There is a significant community of artists that gather and contribute to SIGGRAPH.
Kathy Rae Huffman is someone I admire for her continued work with arts communities in Europe and also for being one of the first people, in my opinion, to make interesting theory about art with computers.
11. What can you point to in your career as your proudest moment?
Rather than pride, I think of it as the personal satisfaction of having one's work recognized. In the year 2017 I was awarded First Class Knight of the White Rose of Finland for the work done with digital cultural heritage in my adopted country.