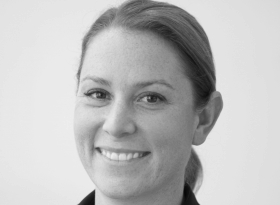 Member Profile:

Kristy Pron
1. What do you do, and how long have you been doing it?
I am a Media Arts and Pipeline Developer for Walt Disney Imagineering. I focus on the development of immersive pre-visualization experiences that Imagineers use to virtually design park buildings, attractions and experiences. I've been with Disney 4 years. Before that I worked for the Department of Defense.
2. What was your first job?
My first job ever was a sports skill instructor for 5 and 6 year olds. My first industry related job was working for KlingStubbins Architecture as a 3D modeler and motion graphics designer.
3. Where did you complete your formal education?
Drexel University in Philadelphia
4. How did you first get involved with ACM SIGGRAPH?
I started as a student Volunteer in 2006. I actually first applied in 2003 but was wait-listed until 2006. Once I became an SV, I was hooked and went on to be an XSV, Emerging Technologies Chair, Experience Hall Chair, General Submissions Chair and now the 2020 Conference Chair.
5. What is your favorite memory of a SIGGRAPH conference?
Watching 2 years of planning come together to create the Emerging Technologies Venue in 2015 when I was the chair of that venue.
6. Describe a project that you would like to share with the ACM SIGGRAPH community.
Well I work in a very secretive industry, so I wouldn't want to break the magic. But one project I really enjoyed was actually a team I was select to at Disney a few years ago. We were called the Technology Innovation Evangelists (TIE) for short and our team was made up of 13 individuals across the company segments so we had reps from ESPN, Imagineering, ABC, Consumer Products, Walt Disney Studios, Disney Technology Services and Solutions, Disney International, Pixar, and Parks and Resorts. The goal of this team was to share technology initiatives and connect segments through project collaboration. What was truly amazing about the team was that all of the members would have never cross paths in their daily roles, but through this team we were able to meet folks from different business units and find overlap in initiatives and help solve problems company wide instead of for just one business unit.
7. If you could have dinner with one living or non-living person, who would it be and why?
Oh dear! I'm not sure it could be just one. Walt Disney of course because it would be so amazing to work on a creative project and hear all the things that he wanted to dream up. George Washington or Abraham Lincoln because they were some of the most amazing leaders that our country has ever seen.
8. What is something most people don't know about you?
I played in the US Open (Tennis). About 3 years ago, well past my college tennis career, I played in the qualifier for the US Open where the winner would receive the wildcard draw in the US Open in Flushing Meadow. I lost in the first round but truly had a blast playing in it.
9. From which single individual have you learned the most in your life? What did they teach you?
I would have to go with my parents on this. My parents gave me the skills I needed to go off on my own. They taught me to be independent and never settle because if I want something bad enough I should work as hard as I can for it. For my career, there are two people, MK, who has always been a wonderful sounding board and a person who pushed me to be more creative and think outside the box and my college professor and thesis adviser, Chris, who taught me most of my technical foundation and problem solving of working in a digital environment.
10. Is there someone in particular who has influenced your decision to work with ACM SIGGRAPH?
I have to say I stumbled upon SIGGRAPH, but I think, MK Haley (2013 Conference Chair) and Preston Smith (2010, 2012 Emerging Technologies Chair), were two people that I can thank for helping me to stick around:)
11. What can you point to in your career as your proudest moment?
I'm going to go way back to the point in which my career started. I entered a Disney Design Competition in college and was named a finalist so I got to fly out to CA and present my project to a board of Imagineers. I was just so excited to even be a finalist because I thought to myself, this could be how my career can begin. It didn't matter ifI won or not, I was just so thrilled to get a chance to meet Imagineers and hope to one day work with them. Well 13 years later I am now a mentor and judge for that same competition and it's so wonderful to help students get the chance to experience this amazing competition that got me to where I am now.