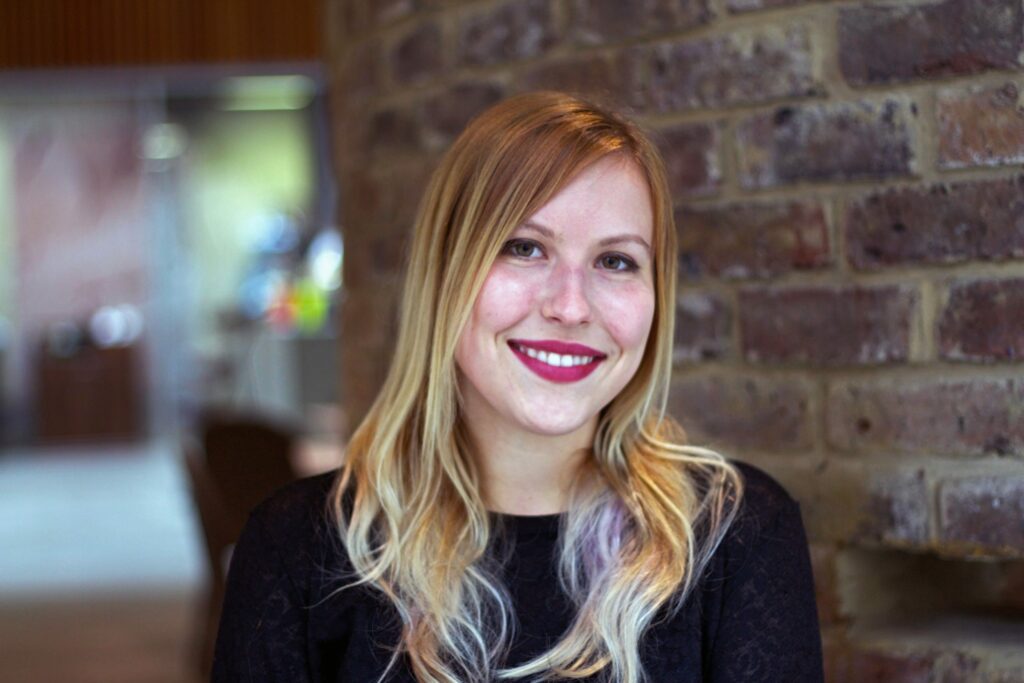 Member Profile:

Kate Gabriel
1. What do you do, and how long have you been doing it?
I'm a 3D Artist currently working in post production Advertising company The Mill in London. I've been in this industry since 2011 and I've worked in many different countries and productions. I did work in Film, TV series and now Commercials which fits me the most.
2. What was your first job?
My first job was in Iceland I started as a junior lighter on a full CG Stereoscopic feature film Legends of Valhalla: Thor. I didn't want to do anything else than 3D afterwards.
3. Where did you complete your formal education?
I graduated with a Master of Art with specialisation in Interior Design from the Jan Evangelista Purkyne University in the Czech Republic. Since I graduated I never done any interior design only 3D graphics.
4. How did you first get involved with ACM SIGGRAPH?
I joined the London ACM SIGGRAPH Chapter in 2015 and since 2016 I've been it's Chair. I'm very proud of the team and what events we have accomplished. We have been honoured to host events with very inspirational speakers. To name just a few, our keynote speakers have included: Glen Keane, Animation Legend (Disney, Google), Travis Knight and Arianne Sutner, Director, Producer (LAIKA) for the screening of Kubo and the Two Strings, Simon Smith, Director of the Penguins of Madagascar (Dreamworks Animation) and Sergio Pablos, Director of KLAUS (Spa Studios, Netflix).
This year I also joined External Relations Committee and I'm looking forward to being more involved with Industry relations and ACM SIGGRAPH.
5. What is your favorite memory of a SIGGRAPH conference?
My first conference I attended was last year in LA. I enjoyed absolutely everything! From meeting other Chapter leaders from all around the world at Chapters workshop, Real time Live, Fast Forward technical papers and all production sessions.
I met so many great people, I think I will never miss any future SIGGRAPH!
6. Describe a project that you would like to share with the ACM SIGGRAPH community.
I would like to share with you London ACM SIGGRAPH Chapter's annual three day conference TECH TALKS. It is designed as a post SIGGRAPH wrap-up. With this event we can produce a unique platform to promote the diverse scene of our industry within London community. It brings the most exciting projects, studios and talent together.
During three evenings we welcome over 600 attendees, who are able to attend technical and artistic talks or get inspired at the new technology stands or meet companies for those who are seeking job opportunities. This event provides industry professionals and students with an opportunity to network and collaborate.
This event is Free for everyone to attend as we strongly believe in the free sharing of knowledge and in supporting inclusivity, diversity and access to the Industry.
7. If you could have dinner with one living or non-living person, who would it be and why?
I would like to have dinner with Elon Musk. He seems incredibly intelligent and it would be great to hear his opinions and ideas about the future.
8. What is something most people don't know about you?
When I was younger I was representing the Czech Republic in Sport Shooting from pistol disciplines. I was a national champion and I've been to several European Championships from which I got a silver and a bronze medal in teams for Air Pistol.
9. From which single individual have you learned the most in your life? What did they teach you?
I learn the most from my own life, I hit the invisible wall a few times but I always found a way to get back on feet and move forward. I could relate to this saying "what doesn't kill you makes you stronger". :)
10. Is there someone in particular who has influenced your decision to work with ACM SIGGRAPH?
This person would be Benoit Terminet Schuppon founder of the London ACM SIGGRAPH Chapter. He was a great leader who brought unique spirit to the Chapter. I learned a lot from him about whole ACM SIGGRAPH organisation. When I became a Chair he was always there to help and I knew I could ask him anytime for advice.
11. What can you point to in your career as your proudest moment?
I am proud that I am happy every day working in the industry that I'm very passionate about.