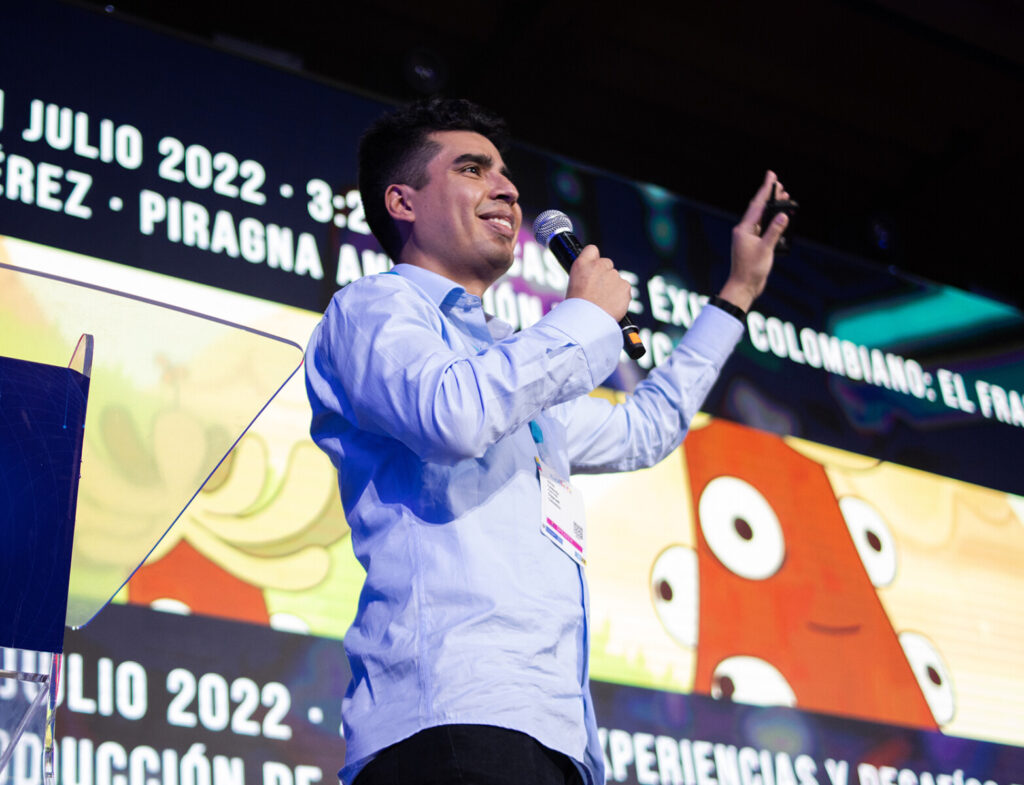 Member Profile:

Julián Calderón
1. What do you do, and how long have you been doing it?
I have different faces. I have been a 3D character animator for two years. I am increasing my knowledge with an MFA at the Academy of Art University in San Francisco and the online school Animation Mentor. I have also worked as a User Experience (UX/UI) designer for a software development company. On the other hand, I am the Chair of the Bogotá ACM SIGGRAPH chapter in my home city. Now I am starting with the position of Liaison for South America, Europe, and Africa.
I read a lot, play a lot, work a lot, study a lot, and sleep… well not a lot, but I'm working on it. I swear!
2. What was your first job?
My first job was at a digital marketing company as a UX Researcher. In that company, I learned a lot about how an organization works and enjoyed my job there because each project was something new from designing experiences for the international airport of Bogotá to creating the customer experience of purchasing a car. In the animation industry, my first job was in a storytelling studio where I did character animation for a Wacom project in Europe. It was crazy because I animated 1 minute and a half in 3 weeks!
3. Where did you complete your formal education?
I have a Bachelor's Degree in Multimedia Engineering from the Universidad Militar Nueva Granada (Bogotá, Colombia). Now I am studying for a Master of Fine Arts with an emphasis in 3D Animation at the Academy of Art University in San Francisco, California. I hope to finish it in 2025 and in the meantime, I am finishing my 3D Character Animation Certificate at Animation Mentor, even if it is not a formal education I am learning a lot from great mentors, something that I remember is that I had Advanced Body Mechanics mentorship with the legendary Shawn Kelly from Industrial Light and Magic (ILM)!
4. How did you first get involved with ACM SIGGRAPH?
I remember that when I was at my university in Colombia, a friend told me that there were animation conferences. So I decided to go with her that day to the event organized by the Bogotá chapter. When I arrived, I was surprised to find that conferences were given by animators from Disney, Pixar, and DreamWorks. Two years later, Hernando Bahamon invited me to be part of the team to help them to continue to grow the organization and the chapter in Colombia.
5. What is your favorite memory of a SIGGRAPH conference?
It is hard to choose because I have so many great memories. However, something that I love to remember is being able to interact and speak for the first time with Disney and Pixar artists at my first SIGGRAPH event. It was exciting to talk to the people who made my favorite movies.
6. Describe a project that you would like to share with the ACM SIGGRAPH community.
The most important project for me is called Manuel Julián Calderón Córdoba. I have been working on this project for as long as I have a conscience. I work in harmony, love, and respect for this project since I want it to be full, concise, and provide great value.
7. If you could have dinner with one living or non-living person, who would it be and why?
As the first option my great-great-grandfather. My family has been a great example for me in many ways because he raised a loving and responsible family that will serve the world for the better. I would love to speak with him and find out where all my family's legacy came from.
But if it has to be a famous person I will say Leonardo Da Vinci. Something that calls my attention is the fact that he did not stay with a single profession or belief in his entire life. He decided to be what he wanted whenever he wanted to be loyal to himself.
8. What is something most people don't know about you?
I love pirate stories and I am in love with Cartagena, a historic city in my country that is in the Caribbean Sea. This is so serious that I even started collecting historical information about the city and I am planning to create an animated short film about the city.
9. From which single individual have you learned the most in your life? What did they teach you?
I have learned valuable things from all the people who have been in my life. However, I think that the one who takes all the credit is my mother, she has taught me one of the most important things in my life. Being patient, respectful, empathetic, responsible, loving, and serving the world with good causes. She also taught me that not everything has to be as a person says it, but that I have the ability to choose what is right and what is wrong. What I want and what I don't want. Oh! She also taught me to choose fruits and vegetables in the supermarket.
10. Is there someone in particular who has influenced your decision to work with ACM SIGGRAPH?
Latin American artists. The animation industry in the continent is still very young and needs to mature and advance in many ways. Part of that is what we can learn and how we can connect with others in the world. ACM SIGGRAPH has been the main channel to help the computer graphics industry in my country and on the continent.
11. What can you point to in your career as your proudest moment?
This exact moment in which I am living. I feel happy and proud of my life, also I feel happy with the people around me, and with the multiple jobs and projects that I organize and also support for my country and for the world.