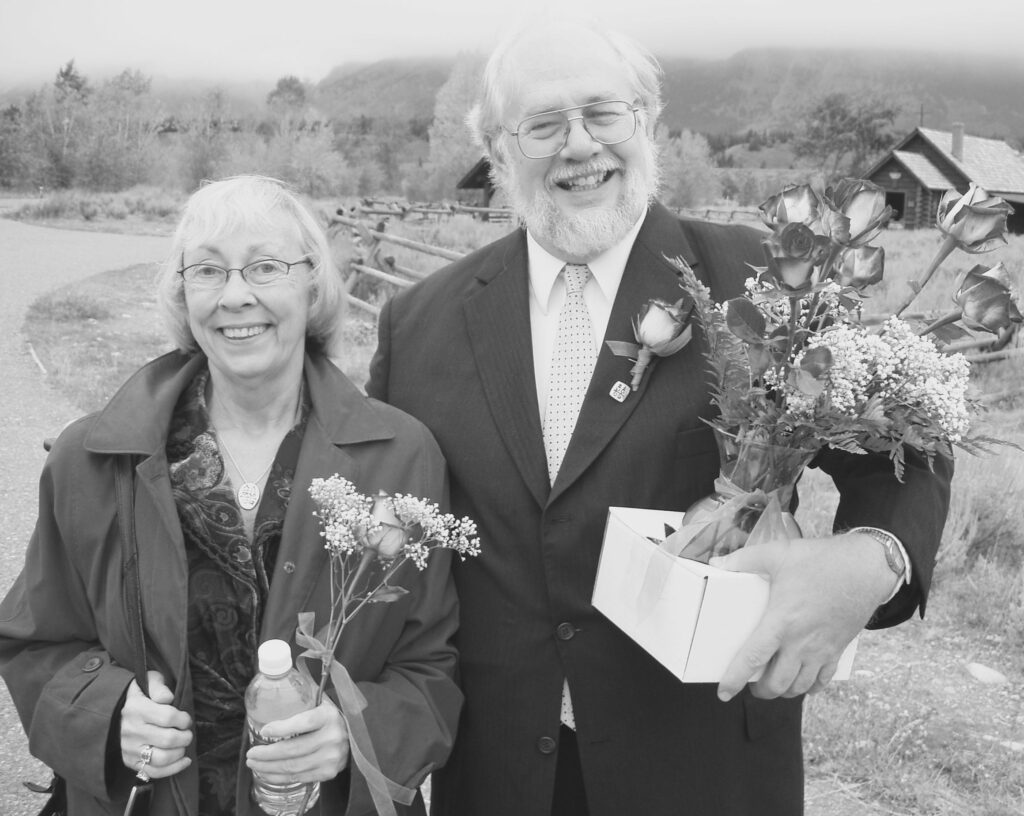 Member Profile:

Judith R. Brown
In this SIGGRAPH member profile, we feature a devoted member to the ACM SIGGRAPH community, Judith R. Brown. Judy has been a member of ACM SIGGRAPH since 1979. Her photo shows Judy with her late husband, Steve Cunningham, who was also a devoted member of ACM SIGGRAPH. In 2004, Judy and Steve jointly received the ACM SIGGRAPH Outstanding Service Award.
We interviewed Judy about her perspectives on contributing to the ACM SIGGRAPH community. Below is a transcript of our interview with her as of September 2015.
1. What do you do, and how long have you been doing it?
I am retired now, but I used to manage a user services area, Advanced Research Computing Services (ARCS), at The University of Iowa. At that time, most scientists with computer-intensive research needed supercomputers to crunch their numbers. My group of four full-time staff and three Research Assistants helped faculty use supercomputers at the national research centers and visualize their data. We did a lot of the visualization because the visualization tools were still very expensive and not user-friendly.
2. What was your first job?
My first job out of college was as a scientific programmer at Rockwell Collins (then Collins Radio Company).
3. Where did you complete your formal education?
I received a BA in mathematics and education and an MS in mathematics, both at The University of Iowa.
4. How did you first get involved with ACM SIGGRAPH?
In 1979, someone I worked with asked me to help him start a computer graphics course at The University of Iowa. He would teach the section for artists, and he wanted me to teach the section for scientists and computer scientists. He also suggested that we might want to go to the SIGGRAPH Conference in Chicago. I was very impressed with the conference and activities there. My education to teach the course came from SIGGRAPH short courses and the few books that were out at that time.
In 1982, Maxine Brown, SIGGRAPH Secretary, put out a call for people to help her form an education committee to answer all the questions students were writing to her about — what they needed to know about computer graphics and where to learn these things. I responded to Maxine's call, and a few of us showed up for a meeting she held. Steve Cunningham and I were named as Co-Chairs of the new Education Committee.
5. What is your favorite memory of a SIGGRAPH conference?
I have two favorites:
a. I organized the first set of education courses, and the attendance was huge.
b. After many years of volunteering, Steve Cunningham and I were honored with a SIGGRAPH outstanding volunteer award.
6. Describe a project that you would like to share with the ACM SIGGRAPH community.
Working with Alan Chalmers, who was vice president of ACM SIGGRAPH when I was president, we visited universities in South Africa and established Afrigraph, to hold computer graphics conferences there. Similar activity with additional SIGGRAPH EC members also produced ANZGraph to hold computer graphics events in Australia and New Zealand and AsiaGraph to hold computer graphics events in Asia, beginning with Singaphore.
7. If you could have dinner with one living or non-living person, who would it be and why?
That would have to be Steve Cunningham, my husband – and also a former SIGGRAPH President, who passed away a few months ago.
8. What is something most people don't know about you?
I grew up riding horses and spent a lot of time between the ages of 12 and 18 riding both for fun and in horse shows. I was even in a group that did square dancing on horseback. I was actually looking at colleges where you could take your horse and board it there – until my father informed me that he would send me to college, but not my horse.
9. From which single individual have you learned the most in your life? What did they teach you?
The obvious one would be my mother who taught me life skills, including love of reading. Outside the family, it was my high school math teacher, Miss Barrie, who taught me to think mathematically so that I could love mathematics.
10. Is there someone in particular who has influenced your decision to work with ACM SIGGRAPH?
Yes, Maxine Brown. When I first met her she had her own consulting company, and I found her to be very impressive. She is the person responsible for the formation of the SIGGRAPH Education Committee.
11. What can you point to in your career as your proudest moment(s)?
Receiving my first National Science Foundation award, being elected as ACM SIGGRAPH President, and seeing my students do well.
ACM SIGGRAPH Activities for Judy Brown
Member since: 1979
Offices held:
• Education Committee member 1983-1996
• Education Committee Vice Chair, 1985-1989
• Director for Education 1995-1996
• SIGGRAPH Vice Chair, 1989-1992 & 1994-1995
• SIGGRAPH Chair, 1992-1993 & 1999-2001
• SIGGRAPH Past Chair and Chair of Nominating Committee, 1993-1995
• SIGGRAPH President (title change) 2001-2002
• SIGGRAPH Past President, 2002 – 2005
Other SIGGRAPH committees:
• Educator's Program Committee for SIGGRAPH '91 conference.
• Special Projects Chair 1995-1998
• Public Policy Committee Co-Chair 1995-1998
• Volunteer Recognition Task Force Chair, 1998
• 30th Year Celebration Committee Chair, 1997-2000
Computer Graphics honors:
• Elected Eurographics (European Society for Computer Graphics) Fellow, 1998
• Received the ACM SIGGRAPH Outstanding Service Award, 2004(this award was also given to Steve Cunningham in 2004)