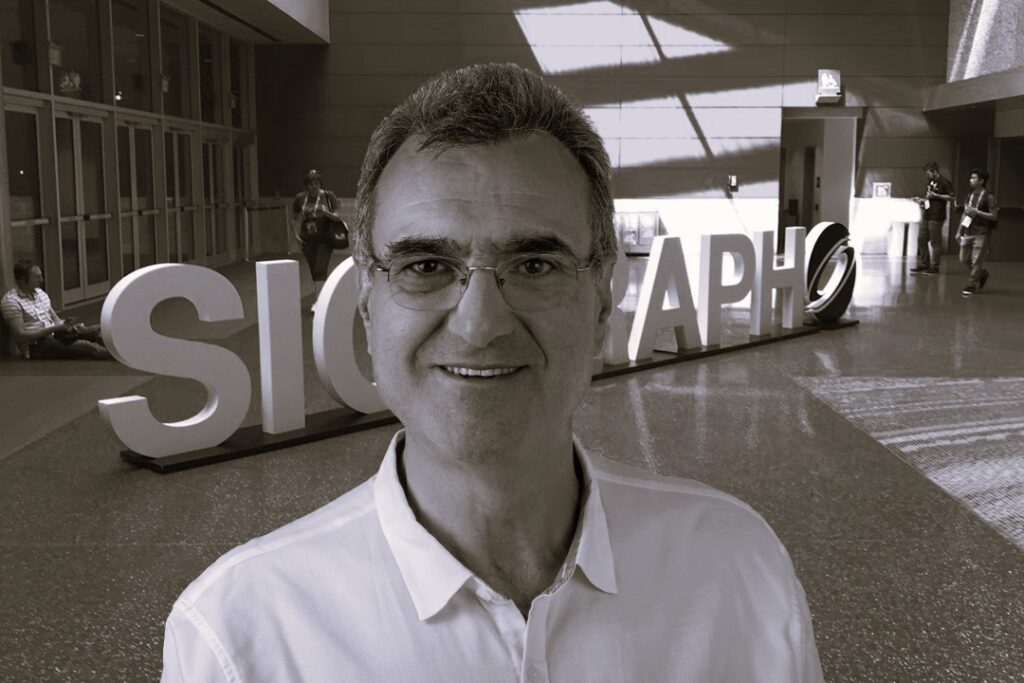 Member Profile:

Joaquim Jorge
1. What do you do, and how long have you been doing it?
I have been involved with Computer Graphics since 1988 in many different roles. I am a Professor of Computer Graphics and Interactive Media at the University of Lisboa, Portugal since 1997. I have been Editor-in-Chief of the Computers and Graphics Journal since 2007. And am active with ACM and ACM/SIGGRAPH in many different roles, dating back to 2001, including Specialized Conferences Committee Chair (since 2014), Education Committee Member (2003-2011), and International Resources Committee, amongothers. I have been working with people in the community world-wide to promote SIGGRAPH influence, outreach, and cooperation with sister organizations such as IEEE and Eurographics.
2. What was your first job?
Research Associate in Computer Graphics / HCI
3. Where did you complete your formal education?
Rensselaer Polytechnic Institute, Troy NY.
4. How did you first get involved with ACM SIGGRAPH?
My first SIGGRAPH was 1989 in Boston. Have become a regular attendee and volunteer since 2002, San Antonio. Still have that polo shirt. And it fits.
5. What is your favorite memory of a SIGGRAPH conference?
Meeting my personal heroes, namely Ivan Sutherland and Andy van Dam and more recently Henry Gouraud. For years, it felt absolutely thrilling to get to talk to and learn in person from these people. Going back to 1989, there was Jaron Lanier at a panel, staking a claim to Virtual Reality. Ken Perlin´s noisy rap at the Fast-Forward. SIGGRAPH has always been about people first and technology second.
6. Describe a project that you would like to share with the ACM SIGGRAPH community.
I am currently very enthusiastic about VR/AR and Healthcare, namely laparoscopic surgery. One of the most exciting projects I have undertaken in this decade. Our focus is on using core techniques promoted by SIGGRAPH to improve patient care, surgical planning, and clinician communication to improve performance and ultimately promote human wellbeing. Service-wise, I had the privilege to work with the SIGGRAPH EC to bootstrap our publication in Proceedings of the ACM.
7. If you could have dinner with one living or non-living person, who would it be and why?
Alain Fournier, whom I never got to know. He passed away too soon. For his outstanding role in the community, Donald Knuth, who remains productive into his eighties
8. What is something most people don't know about you?
I do love Baroque Music
9. From which single individual have you learned the most in your life? What did they teach you?
José Encarnação has been a lifelong mentor and source of inspiration to this day.
10. Is there someone in particular who has influenced your decision to work with ACM SIGGRAPH?
Colleen Case, during my early years with the Education Committee for her passion, volunteerism, and dedication. Brian Wyvill, who has a weirder sense of humor than almost everybody I know and was instrumental in getting me doing my present job with Specialized Conferences for SIGGRAPH
11. What can you point to in your career as your proudest moment?
Becoming Editor-in-Chief of the Computers and Graphics Journal. It has been a labor of love since the first day. Also being elected as a Fellow of the Eurographics Association. My service to ACM/SIGGRAPH Specialized Conferences has been particularly rewarding. I am both humbled and grateful for this opportunity to give back help, support, and advice that I have so abundantly received over so many years.