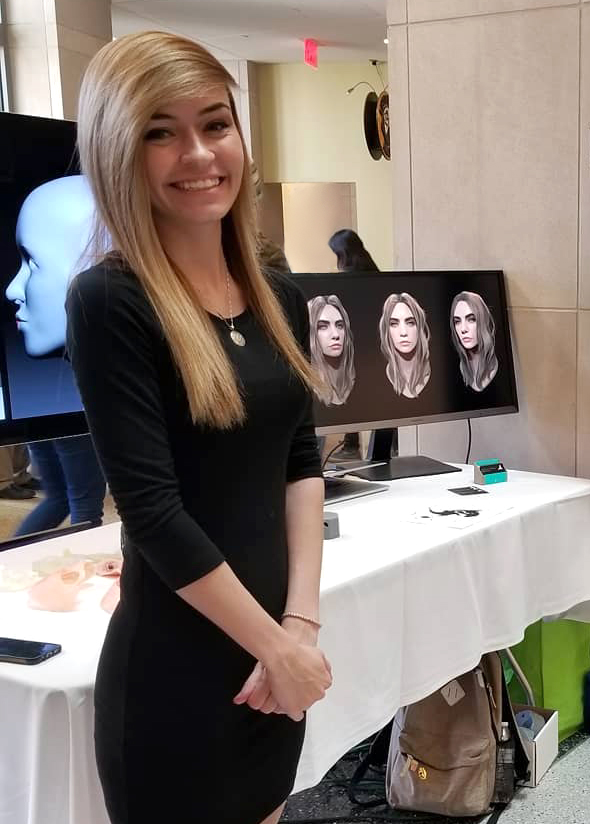 Member Profile:

Jordan Nelsen
1. What do you do, and how long have you been doing it?
I am a concept artist and illustrator who also does work in facial prosthetics and medical visualization. I have been doing this professionally for nearly 5 years now, and being able to wear both hats has been a very fun experience!
2. What was your first job?
My first ever job was working customer service at a local community center while I was a freshman in college. I'm very grateful for the fantastic staff there that supported me while I was trying to find my way into the industry. My first job in the industry however, was working as a concept artist for an indie game developer called Tethys Interactive.
3. Where did you complete your formal education?
I went to Indiana University – Purdue University Indianapolis (IUPUI) and completed two degrees, a BFA in Drawing & Illustration and a BS in Media Arts & Science from the Herron School of Art & Design and the IU School of Informatics & Computing respectively.
4. How did you first get involved with ACM SIGGRAPH?
While I was in college, I had seen flyers hanging around campus from SIGGRAPH IUPUI's Student Chapter to call out an industry speaker event for students to attend. After attending and seeing the impact the organization as having on campus, I decided to get involved. Over the next three years I took on multiple leadership positions and ultimately served as the chapter's president. Post-college, I have continued to stay involved with the national conference on the ScavengeAR app and currently serve as Art Director for this project.
5. What is your favorite memory of a SIGGRAPH conference?
It's hard to pick a favorite memory! If I had to narrow it down, it would be being able to showcase the ScavengeAR 2019 app to attendees at SIGGRAPH 2019. It was so exciting to get to run around at some of the events with AR targets and getting to see how much fun people were having with it!
6. Describe a project that you would like to share with the ACM SIGGRAPH community.
Since 2017, we have had an amazing team that has put together a conference experience app called ScavengeAR. By playing this game, attendees can scan markers hidden throughout the conference and collect creatures called "sigglets" and redeem cool prizes with us. This collaboration brings people together in a unique way, and it has been a blast being a part of it!
7. If you could have dinner with one living or non-living person, who would it be and why?
Pharrell Williams. His creative brilliance has inspired me since I was a kid, and it would be such an awesome opportunity to learn as much as I could from him.
8. What is something most people don't know about you?
Most people don't know that I love ice skating, and use it as a way to clear my head and spend extra energy. I haven't done it for very long, but it's been really fun to learn!
9. From which single individual have you learned the most in your life? What did they teach you?
Outside of my parents, my younger brother Mitch has taught me the most. Because of him, I learned to embrace my individuality, take chances, and to be unafraid when facing the unknown.
10. Is there someone in particular who has influenced your decision to work with ACM SIGGRAPH?
Zeb Wood! Zeb is a friend of mine and was my mentor throughout college. He was the person who got me involved in the SIGGRAPH IUPUI Student Chapter to begin with and eventually involved with the ScavengeAR project. He motivated me to be a part of the organization and to attend the conferences, and I'm really glad I did!
11. What can you point to in your career as your proudest moment?
While I was doing a lot of facial prosthetic work, I got to share a very moving moment with a patient. I had constructed a nose for this patient who had lost theirs, and after fitting it on them for the first time one of their family members rushed up and hugged me. It was a really awesome experience to see first hand the effect that this work had on this person and the people that surrounded them.