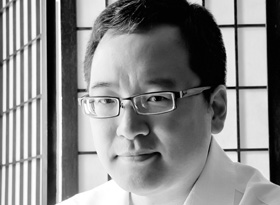 Member Profile:

John Fujii
In this SIGGRAPH member profile, we feature longtime ACM SIGGRAPH member (and the organization's official photographer), John Fujii. John has been a member of ACM SIGGRAPH since 1986.
1. What do you do, and how long have you been doing it?
I have designed and supported advanced graphics and system software for Hewlett-Packard workstations since 1989. In reality, though, I studied technology as an enabler for art. I am a creative at heart – a lifetime channeled through art, science, learning, practice, and people.
2. What was your first job?
As young entrepreneur – photography. In applied computing and programming – IBM internships.
3. Where did you complete your formal education?
Computer science and graphic design at Yale (BS, Computer Science). Computer graphics research (rendering, image processing, interaction) and animation systems at ACCAD / The Ohio State University (MA, Art Education).
4. How did you first get involved with ACM SIGGRAPH?
I joined ACM SIGGRAPH in 1986 and started submitting work in 1988. My first volunteer role was with Maxine Brown (SIGGRAPH 92, Chicago) as her technical slide sets program chair.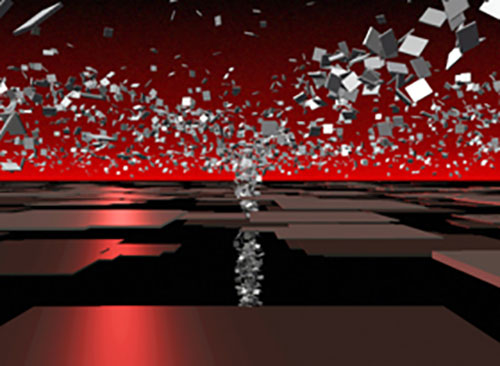 "Coredump" – Tom Benoist, John Fujii – 1989 animation
5. You have worn many ACM SIGGRAPH hats – what were some of your favorites and why?
"Wearing many hats" is an important foundation for our future SIGGRAPH success. The interplay of perspectives and experience are key to a number of ecosystems. Here are some of my favorite hats:
• Attendee – inspired me to empathize with the first-timer experience, finding community, and examining effective learning retention
• Contributor – CAF, Art Gallery, E-Tech – collaborating with others on accepted work, participating in the state-of-the-art
• Exhibitor – beyond product launches and building attendee experiences, I see a rich potential for networking and innovation exchange through preshow efforts
• Mentor – I appreciate the exchange when mentoring newcomers – I hope they eventually find themselves in my shoes
• Volunteer – conference chair, program chairs, committee member, reviewer, juror, strategist, treasurer, transcriber, planner, photojournalist, etc. – I have enjoyed all of these "hat" roles, but more importantly, being an active member of ACM SIGGRAPH helps to keep its communities vibrant and continuous.
6. Describe something that you like most about your SIGGRAPH conference experiences?
SIGGRAPH people are the best. I believe that "computer graphics is an excuse to meet great people!"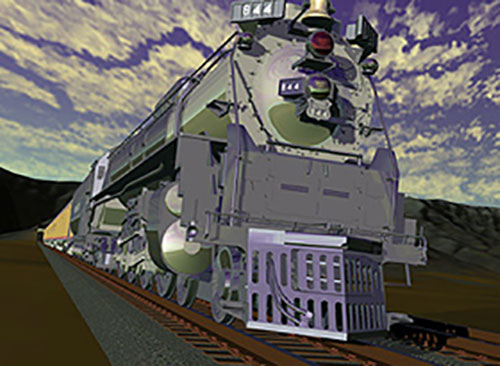 SIGGRAPH 97 – HP Visualize Pxfl Graphics Supercomputer – Exhibition Launch
I also feel that we have a great continuum. SIGGRAPH conferences continuously feed some great "origin stories" throughout their timelines. We have long shared the DIY and Maker creative spirits because the new problem spaces demanded pioneering efforts. Recognizing "the leading edge" is not as easy as it once was, however. Its there but requires more work and perspective to connect the dots. Sometimes the patterns emerge only after the fact (at the IPO!) That is why my SIGGRAPH conference mottos are – "must be present to win" and "some assembly required."
7. If you could have dinner with one living or non-living person, who would it be and why?
Dining with Grace Hopper (Rear Admiral, USN, Ph.D.) would be a real treat. Aside from her inspiring experiences and insights, I really love her supportive outlook on learning. "Try it," she would say to uncertain students, reminding them to take chances throughout their creative lives and backing that up with personal attention and encouragement. We all need people like Grace in our lives, more now than ever.
8. What is something most people don't know about you?
Perhaps my appreciation for blindness and other life challenges. When I am without correction (glasses), I connect with a greater world of humanity, vulnerability, and empathy as sort of a meditation on what we take for granted or expect as a norm (focus-on, blur-off). It always helps me to "see" with all of my sensibilities.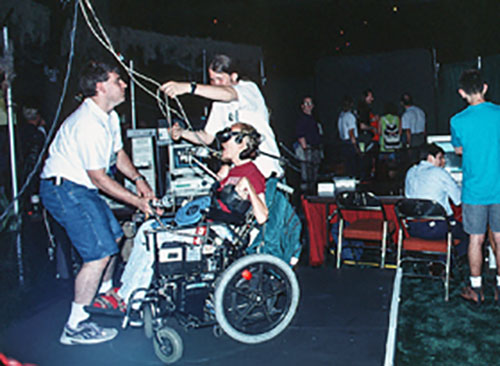 SIGGRAPH 96 Digital Bayou – Immersive freedoms through Alice
9. From which single individual have you learned the most in your life? What did they teach you?
I think of my parents as one in that regard. My mother – the artist and educator – inspires my curiosity, creativity, and sense of life. My father – the scientist and businessperson – inspires my integrity, fairness, and sense of future. They both model for me concerns about the betterment of others and respect for what we share together.
10. What could you do to best influence the decision of someone to work with ACM SIGGRAPH?
I would find the time to spend with them, to really learn about them and guide their potential to doing what is right for them and everyone concerned. As Grace Hopper said – "try it!" – encourage the effort and then help to figure out how to make it so. Every entry point for ACM SIGGRAPH requires work and mutual investment. What are you trying to do? What do you have to offer? What comes before and after your commitment? Is it sustainable? Where might it lead? How open are you to alternatives? What will you need to be happy with your contribution? In an ideal world, I would love to see a membership that requires service – a personal investment to contribute and interface with our community and the need to bring your "hats" with you to share. Beyond that, I would love to see an industry that, like Grace, values its support of cultivating service to others. We definitely need to grow that, too, as a renewable resource. The benefits sustain each other.
11. What can you point to in your career as your proudest moment?
In my ACM SIGGRAPH career, I found it chairing the first conference in New Orleans in 1996. One of my biggest thrills was every time that I got to say "thank you" to a contributor, volunteer, staff member, or attendee for something important to them that made a difference. These conferences are so much larger than any one of us, so the celebration of "thank you" is always a crowning moment that, for me, has yet to find an upper bound. It makes us whole.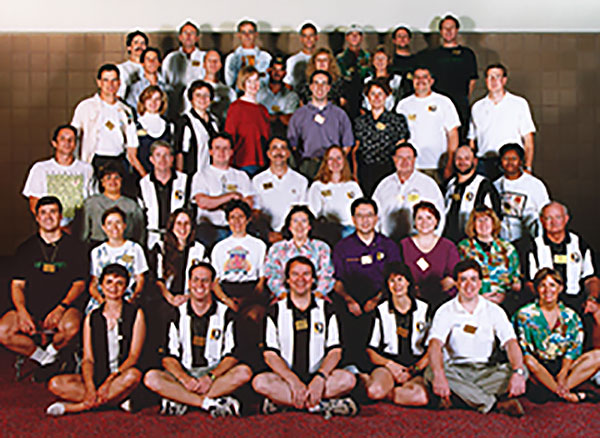 SIGGRAPH 96 Committee – New Orleans, Louisiana