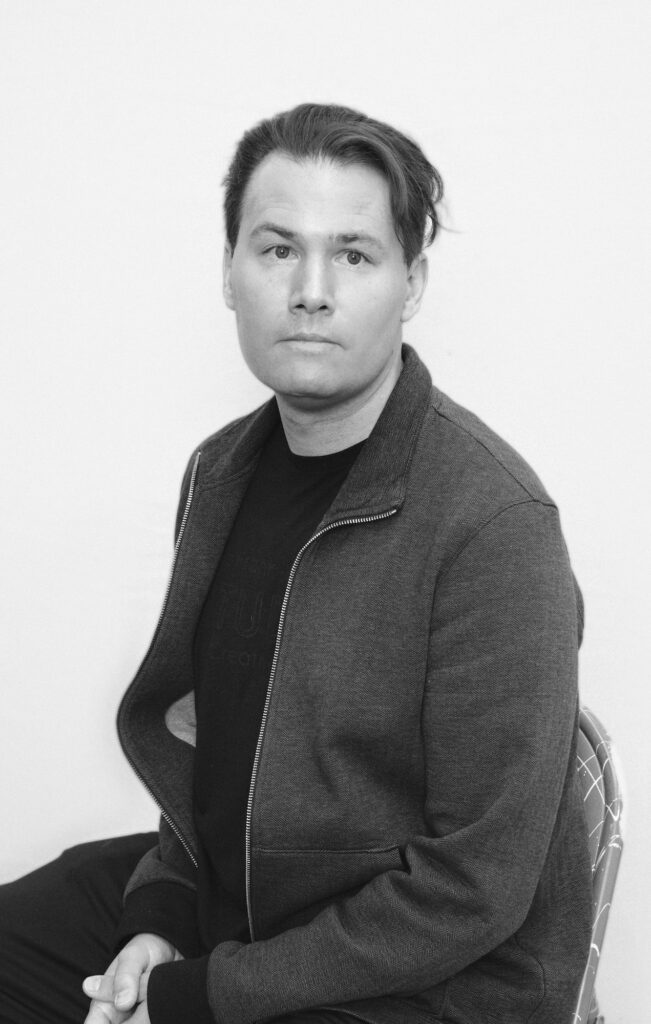 Member Profile:

Johannes DeYoung
1. What do you do, and how long have you been doing it?
I am a multidisciplinary artist, curator, and educator. I have been professionally active since 2006, but creatively active long before that. My practice is situated at the intersection of computational and material processes, with an abiding emphasis on various forms of time-based media and animation.
2. What was your first job?
Finishing carpentry. But the first job related to what I do today happened in New York City, in 2006. I was hired as a video editor and motion graphics artist for a couple of non-profit arts organizations — Exit Art and Independent Curators International. That work helped position me along the path that I'm on today.
3. Where did you complete your formal education?
Cranbrook Academy of Art. It's a highly interdisciplinary graduate arts institution in Bloomfield Hills, MI — just north of Detroit. The ethos of the school draws from legacies of the Bauhaus and Black Mountain College. As I knew it, Cranbrook was an incubator for exceptionally innovative and hybridic thinking, and experimental practice in the very best — and most rigorous — sense of the term.
4.How did you first get involved with ACM SIGGRAPH?
I was aware of ACM SIGGRAPH long before my first involvement with the organization. It was 2016, when I served as Director of the Center for Collaborative Arts and Media at Yale University that I actually had the means to attend the conference in Anaheim, CA, What a profound experience. Pioneers in the field of computer graphics and interactive techniques were suddenly realized for me with incredible warmth and generosity. I went into the event wondering if an artist would find any relevant adjacency. What I found was a welcoming, diverse, and passionate community of researchers and creatives. From there I formed relationships with people that led to my involvement in the organization in more official ways.
5.What is your favorite memory of a SIGGRAPH conference?
On one occasion, I had the opportunity to meet Ivan Sutherland in Vancouver, in 2018. On another occasion, I stumbled upon a giraffe in the Los Angeles Convention Center — part of a live giraffe drawing event. Both occasions were completely serendipitous encounters and stand out for me as emblems of what makes the event worth attending.
6.Describe a project that you would like to share with the ACM SIGGRAPH community.
I am presently developing an Expanded Animation project, built upon a procedural framework akin to an endless runner video game platform. The project juxtaposes real-time graphics, various modes of animation, projection design, and live spoken word performance as a collective form of concrete poetry. The first presentation of the work will happen at Carnegie Mellon University later this Spring. One day, I hope to share the work with this community, as well.
7.If you could have dinner with one living or non-living person, who would it be and why?
My daughter. My spouse. My parents. My grandmother. Stan VanDerBeek. I'm not sure how to answer this question. If it's about someone whose work I admire, I would like to talk with Stan VanDerBeek about his experiences at Black Mountain, and the innovative work that followed. That's my answer today, anyway.
8.What is something most people don't know about you?
Contrary to popular opinion, I cannot play the piano. I'm good with other kinds of keyboards, but not the piano.
9. From which single individual have you learned the most in your life? What did they teach you?
I've been fortunate enough to have more than one influential teacher in my life. If I have to distill it, today it's my daughter. No other person has taught me more about myself — or more about sleep deprivation, resilience, patience, and joy.
10.Is there someone in particular who has influenced your decision to work with ACM SIGGRAPH?
William Joel, Miho Aoki, Ginger Alford, and Victoria Szabo collectively led to my involvement with the organization. As co-chairs of the Massive Collaborative Animation Projects, William and Miho invited participation by my animation classes at Yale University and later Carnegie Mellon University. Ginger is ultimately the one who invited me to serve within the larger organization, through work with the Education Committee. Later, Victoria Szabo invited me to also serve within the Digital Arts Committee.
11. What can you point to in your career as your proudest moment?
I served as the inaugural Director of the Center for Collaborative Arts and Media at Yale University, during the last three years of my time there. To date, that was one of the most challenging and rewarding experiences of my career. From 2015—2018, I led a successful three-year renovation and rebranding campaign for the center. I built a team to foster the center as an incubator for interdisciplinary arts research, and as a laboratory for the fusion of creative practice and critical inquiry. By the end of my time as Director, we established the center as a meaningful and noticeable vector — not just at Yale, but also within the broader city of New Haven. We sponsored seventy-five workshops by world renowned visiting artists; we constructed a state-of-the-art motion-capture research studio, with an integrated eight-channel projection array, LED lighting grid, and a sprungfloor for dance performance; we developed the university's first dedicated XR studio facilities; and we sponsored numerous exhibitions, public workshops, and community outreach initiatives across the greater city of New Haven — including free creative coding workshops and film festivals for New Haven youth. Ultimately, these activities led to my current work at Carnegie Mellon University, but I am especially fond of all that I accomplished with the team at Yale. My colleagues there were among the most generous, service-minded individuals I've ever known.