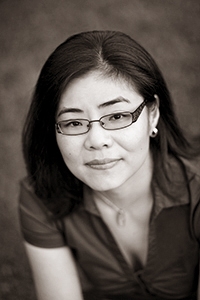 Member Profile:

Jing Zhou
1. What do you do, and how long have you been doing it?
I am an artist, designer, and professor of Art and Design. I started to draw and wanted to be an artist since I was a child. I have been teaching in academia since 2004.
2. What was your first job?
A packaging designer.
3. Where did you complete your formal education?
BFA, Sichuan Fine Arts Institute, Chongqing, China
MFA, Georgia Southern University, Statesboro, Georgia, USA
4. How did you first get involved with ACM SIGGRAPH?
I first heard about SIGGRAPH when I was working at Gruen Associates, an Architecture Firm in Los Angeles. Then my artworks were selected by SIGGRAPH Art Gallery in 2007 and 2008.
5. What is your favorite memory of a SIGGRAPH conference?
My first SIGGRAPH Art Gallery Exhibition in 2007.
6.Describe a project that you would like to share with the ACM SIGGRAPH community.
It is too difficult to narrow down to one.
7. If you could have dinner with one living or non-living person, who would it be and why?
Lao Tzu or Einstein, because of their contributions to humanity.
8. What can you point to in your career as your proudest moment?
That moment is always in the future.
www.jingzhoustudio.net