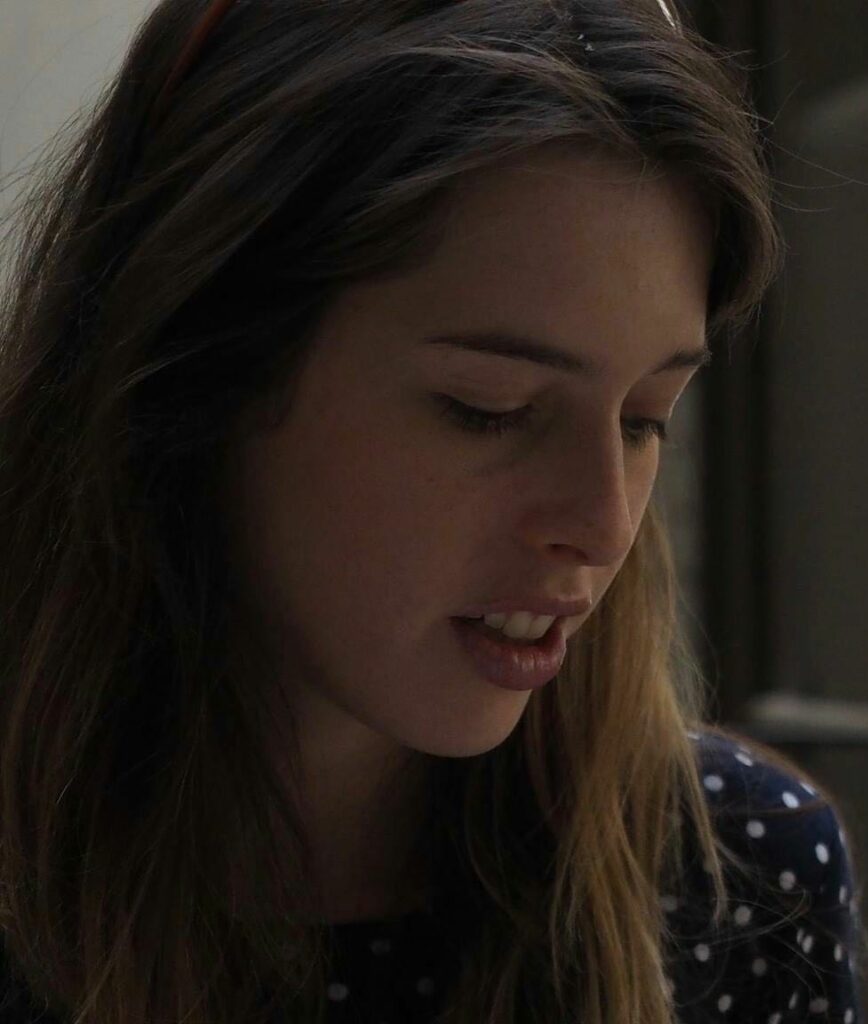 Member Profile:

Jessica Sommerville
1. What do you do, and how long have you been doing it?
At present I work at Animal Logic a feature Animation and Visual Effects Studio in Sydney Australia, the studio responsible for The Lego movie and Happy Feet. I have been at the studio for around about two years now. For one and a half of those years I worked out of the modelling department, although I am still officially in the modelling department, for the last six months I have been working out of the art department. I have been enjoying the art department because although I have been completing similar work, (modelling and designing sets, props and characters) I feel like I have had a greater creative input and say.
2. What was your first job?
My first job in the animation industry was at a small Sydney studio called Hackett Films. It was a great place to start, because being a smaller studio the work was a lot more generalist. Compared with work in feature animation studio where the work is far more segregated, in a smaller studio you are given a greater variety of tasks across many disciplines. In a larger studio you are quickly pigeonholed into a specific department and it becomes very difficult to move around. At Hackett Films, I was able to learn a lot in a short space of time. The one negative was that most projects would have small budgets, and as such it was not possible to get the same level of finesse as you would on big budget features.
3. Where did you complete your formal education?
I firstly completed a Bachelor of Design with honours at UNSW Art and Design. I majored in both graphic design and environment design. I soon realised when I finished my undergrad that I didn't want to be a graphic designer, it wasn't a good fit for me personally. I then undertook a Masters of Digital Media at the same university with the intention of using this second degree to become a digital artist working in visual effects or feature animation. I couldn't have been happier with the outcome.
4. How did you first get involved with ACM SIGGRAPH?
When I attended my first SIGGRAPH in 2012 I knew very little about the VFX and animation industry. I was finishing up an undergraduate in design majoring in graphic design. I had not heard of SIGGRAPH and was fortunate enough to meet Tomasz Bednarz who was, and still is, a very active member of the SIGGRAPH community. I told him about my interest in technology and in the animation industry and he encouraged me to apply for the student volunteer program. I'm so glad that I took his advice as this experience cemented my desire to enter the industry. I feel very fortunate that this goal was able to come to fruition within a year and a half of making this decision. I owe this largely in part to the people I met, the things I learned, and the experiences gained at this conference. I continued to be a part of the SV program both in 2013 and 2014. In 2015 I went to SIGGRAPH for the first time as an attendee. It was during this conference that I was recruited to become part of the SIGGRAPH International resources Committee.
5. What is your favorite memory of a SIGGRAPH conference?
It's difficult to pinpoint one memory. I have such a great experience each year when I attend, this is why I keep coming back! I love that every year I see so many familiar faces, and I've been able to make friends with so many like-minded people.
There were couple of panels that stuck in my mind and really resonated with me. One was the 2015 interstellar production session. It was so interesting to hear the perspectives of astrophysicist Professor Kip Thorne, who advised the film makers on the scientific accuracies of their plot points. Also as equally impressive was Double Negative's RND team with their scientifically accurate depiction of a black hole. I found the whole talk very inspiring.
I also really enjoyed the SIGGRAPH 2013 – Keynote Presentation : Marc Davis Lecture Series, "Giants' First Steps" It was amazing to here from such acclaimed animation directors who gave such inspiring advice. Something I took away from that panel was the importance of tenacity, It's the hard yards and persistence that will bring you success.
6. Describe a project that you would like to share with the ACM SIGGRAPH community.
Due to contractual obligations there isn't a lot I'm able to say about the projects I'm working on at Animal Logic, other than that they are the next movies to come out in the Lego franchise, Lego Batman and the Lego Movie Ninjago.
However I can give you an insight into a personal project I'm working on. It's a short Animation set in war torn France about a twelve year old girl who is caught in the grips of loss and despair as she anxiously awaits the return of her father from the WWI frontline. She meets an Australian Soldier, antics ensue as they overcome adversity together.
7. If you could have dinner with one living or non-living person, who would it be and why?
As I'm kind of a massive history nerd, If I was to choose a person living or non-living, it would have to be someone who went on exciting adventures in pursuit of writing about, recording or discovering history, culture and artefacts.Someone like Plinny the Elder, Herodotus, Marco Polo or if a fictional character was allowed Indiana Jones.Herodotus is someone I am particularly fond of I really enjoy writing and developing my own story scripts and Herodotus uses language in a way that he is able to create vivid and entertaining accounts of events. I'm sure he would be able to give some great advice on how to engage an audience.He is known as the "father of history", as he traveled extensively in order to gather accounts for his book, I think he is bound to have one or two good tales of his own, it would be incredible to listen to him divulge a story or two over the dinner table.
8. What is something most people don't know about you?
I have been told that in person I come across as someone who would be organised and put together. While I try to maintain a high level of organisation at work, as I know other people need to deal with what I have created, a lot of people don't know that my personal laptops and devices operate in a state that I like to call organised chaos. It's organised chaos as I personally know where everything is located but other people would be at a loss.
9. From which single individual have you learned the most in your life? What did they teach you?
I don't think there is one specific individual but instead many. My father who always encouraged my brothers and I to be fit and active, he would train me in running as a child. I think he instilled in me a strong desire to keep going and see things through to the end.I remember having a realisation from my mentor Andrew Silke that when being self critical, and judging my own work that I should remember to look outwards. You shouldn't look only to the work from fellow classmates, but students from all over the world as well as professionals with lots of experience.Another thing he taught me was that you shouldn't be afraid to put yourself and your work out there. This was difficult for me to do as I have always felt self-conscious about showing people my work. But It's a great way to get invaluable feedback, and thats how we keep learning and growing.
10. Is there someone in particular who has influenced your decision to work with ACM SIGGRAPH?
The person who has had the most had the most influence on my decision to work with SIGGRAPH would probably be Tomasz Bednarz, as I mentioned in an earlier answer Tomasz was the person who first introduced me to SIGGRAPH and has been supportive of my involvement the whole way through.
11. What can you point to in your career as your proudest moment?
As I am still at the beginning of my career it's difficult to distinguish a proudest moment. One moment that stands out was having the opportunity to participate in the Women in CG panel at this years SIGGRAPH 2016 Anaheim. I was very nervous, not having had a lot of public speaking experience, but it was such an honour speaking with such amazing industry women. I think we were able to cover some important topics.