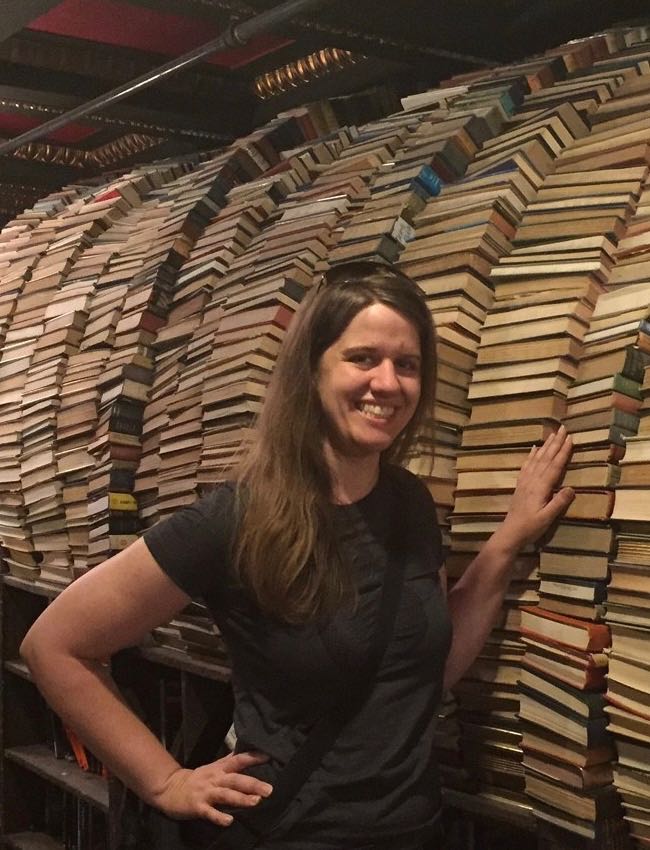 Member Profile:

Janelle Van Sloun
1. What do you do, and how long have you been doing it?
I am currently a digital designer with Trane, a division of Ingersoll Rand. There, I create 3D and 2D graphics and animations of floor plans, building exteriors, heating systems, and cooling systems. These graphics, along with graphics and videos from other parts of digital team of Trane appear on control panels, apps, marketing materials, and VR.
First starting out as a contractor then being hired full-time, I've been working for Trane for two years.
2. What was your first job?
Growing up in the rural Midwest of the United States, my first job was working on the family farm. This job entailed everything from driving tractor and caring for livestock to helping fix machinery and staying up late to take care of the corn dryer.
As for my career in computer graphics, my first job was with YellowBook as a map artist for the interior maps and covers of phone books.
3. Where did you complete your formal education?
My formal education began at the University of Dubuque in Dubuque, Iowa, USA where I graduated in four years with a Bachelor of Science in Computer Graphics and Interactive Media and a Bachelor of Arts in English.
After working in the industry for a number years and after a recent layoff, I decided to enhance my 3D skills and follow my passion for the film industry by moving to Vancouver, British Columbia, Canada. There, I attended Vancouver Film School and received a diploma in 3D Animation and Visual Effects.
4. How did you first get involved with ACM SIGGRAPH?
The SIGGRAPH Student Volunteer program was my first introduction to the SIGGRAPH community when I served as a volunteer for the 2005 SIGGRAPH Conference in Los Angeles, California, USA.
5. What is your favorite memory of a SIGGRAPH conference?
My favorite SIGGRAPH memory is probably the experience of my first SIGGRAPH. I had never been to a SIGGRAPH before, let alone a conference of such size. I met amazing new friends from across the world through the student volunteer program, many of which I'm still in contact with today. The introductions continued with the ability to meet people in the industry as well as learn firsthand about the research and creative work that goes into films. This was such an amazing opportunity for someone my age to have. The final part of my favorite memory of my first SIGGRAPH was seeing George Lucas in person at the Keynote. As a Star Wars fan girl, this was incredible opportunity to hear from the creator himself.
6. Describe a project that you would like to share with the ACM SIGGRAPH community.
A future project that I would like to be involved in or I hope someone else pursues has to deal with people with physical and mental disabilities. While there has been active work in regards to diversity in film and games to highlight different genders, sexual orientations, races, and cultures; I feel I have not seen much in characters in animated/live action films or games that deal with or address physical and mental disabilities.
When was the last time you saw an animated show or a video game with a character that had a disability? I have a sister who was born with Spina Bifida and has to use a wheel chair for mobility and for her, and many others with disabilities or have grown up around some with disabilities, a show with a disabled character can make one feel recognized and not such an outsider to what goes for "normal".
The ability to see yourself in a character on TV, film, or games is an incredible feeling and I wish everyone to have that opportunity.
7. If you could have dinner with one living or non-living person, who would it be and why?
I would love to have dinner with Carrie Fisher. Taken away too soon, I never had the chance to meet Carrie and thank her. I'm grateful the strong-willed character she brought out in Princess Leia as well as for her honest and comedic look at life in her later years. Finally, I would thank Carrie for her writing and work that dealt with bringing to light mental illness; a subject that needs more attention as well as the removal of the stigma surrounding it.
8. What is something most people don't know about you?
I'm from a small town called Kiester, Minnesota, USA and would love to have a film that I worked on be shown at the 1940s theatre on Main St. The town may be in a very rural part of Minnesota with a population of less than 500, but the one screen theatre is a town treasure. Seeing my work and sharing that experience with others in my hometown would be such a fulfilling moment.
9. From which single individual have you learned the most in your life? What did they teach you?
My dad is the individual I've probably learned the most from in my life. Beside learning practical skills such as driving a car or taking care of finances, he also taught me soft skills of working hard despite setbacks and finding time for others. My dad is a farmer and with that line of work issues such as weather, mechanical breakdowns, and market changes can drastically affect your work. But no matter the setbacks, you just keep going because you do not have the option to stop and walk away. Also, being a farmer with some really tight schedules, my dad found time for others. Whether a birthday party was during corn harvest or family member needed a ride to town the same day the pigs would go to market, my dad would stop his daily chores to be with friends and family as well as help them in times of need. That balance of working hard and yet finding time for others is driving force in my life.
10. Is there someone in particular who has influenced your decision to work with ACM SIGGRAPH?
Rather than a particular person who has influenced my decision to work with ACM SIGGRAPH, I feel that the whole community has been my influence. There is that saying that it takes a village to raise a child; well, I believe it takes each and everyone one of us to support individuals in an organization like ACM SIGGRAPH. Whether it be a student who needs a portfolio review to industry professional who needs assistance with an upcoming paper presentation, everyone has some story of how they have relied on others to become involved and stay involved in SIGGRAPH.
11. What can you point to in your career as your proudest moment?
My proudest moment in my career thus far is being called upon to serve as an XSV on the 2017 SIGGRAPH VR team. It feels fantastic to give back to a community and organization that has given me so many great experiences and friends over the years.