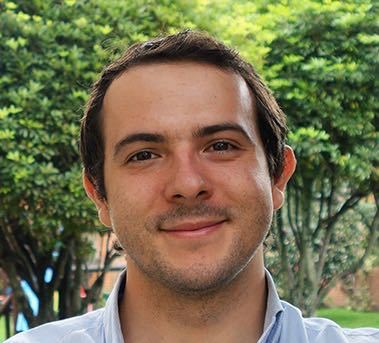 Member Profile:

Hernando Bahamon
1. What do you do, and how long have you been doing it?
I am the co-founder and animation director of a studio called Globizco Inc., which we started with my father and brother back in 2009. At the same time, we started the ACM SIGGRAPH chapter in my home city Bogota, Colombia and have been the Chair since 2012. Over these past years, I have helped our annual chapter event become one of the largest animation and VFX events in Latin America with more than 8,000 attendees in last year's edition.
2. What was your first job?
When I was 15, an insurance company gave me a freelance job of doing simple animations for a presentation they had. It felt awesome! Especially for a kid, the 500 dollars or so that I got paid felt like a million. I did the best animation I could, and thought working was the best thing in the world. That was until the client notes started coming in, and I had to make all sorts of changes, haha that made me rethink how fun it was.
3. Where did you complete your formal education?
I studied a Bachelors in Animation at Sheridan College in Ontario, Canada.
4. How did you first get involved with ACM SIGGRAPH?
During my junior year in high school, I decided I wanted to study animation, so my dad found out which was the best conference to learn about schools. We went to SIGGRAPH in LA. This was back in 2004. I fell in love with everything about ACM SIGGRAPH since then.
5. What is your favorite memory of a SIGGRAPH conference?
So many, especially all the times I got a chance of attending talks by my favorite animation artists, but if I have to pick one, I would say walking up to the Pixar stand in my first SIGGRAPH and talking to them. I couldn't believe I was talking to people that had worked on my favorite animated films. It was one of them who recommended that I go to Sheridan College.
6. Describe a project that you would like to share with the ACM SIGGRAPH community.
Over the past couple of years I've had the immense pleasure of directing animations for TED-Ed. I love working on these because it combines my love for animation and education. You can see our shorts here
7. If you could have dinner with one living or non-living person, who would it be and why?
Related to my field, probably Stanley Kubrick, can't imagine having a more interesting conversation about filmmaking with anyone else. On a personal level, my grandfather, he died before I was born, but I find it fascinating how anybody that knew him describes him as the best human being they ever met.
8. What is something most people don't know about you?
Most people are surprised to learn how much I love a Colombian popular music called Vallenato from the coastal region. I love all the culture around it and attend the Vallenato Festival every year in a small city called Valledupar.
9. From which single individual have you learned the most in your life? What did they teach you?
For everything I do in my life, I make it a point to figure out who has done it best before me and go on to watch interviews, read books, find out as much as I can about how they did it, so in that sense I have a lot of role models, but If I try to pinpoint the people that have taught me the most important lessons in my life, that would have to be my parents. From my mother I've learned that family and friends are the most valuable thing in the world, and from my dad, to dream BIG.
10. Is there someone in particular who has influenced your decision to work with ACM SIGGRAPH?
Speaking of dreaming BIG, the first time we went to SIGGRAPH, my dad attended the chapter's start-up workshop, and told me we should open up a chapter in Bogota. I just took a look around at the 20,000 attendees and the amazing speakers we had heard, and thought to myself, there is no way we can make something like this in Colombia. He insisted, though, and since we started the chapter, my inspiration has been to give students and professionals in Colombia, the same excitement I felt at my first SIGGRAPH.
11. What can you point to in your career as your proudest moment?
Since there are two mayor branches in my career, the work I do in animation and my volunteer work for the Bogota ACM SIGGRAPH Chapter, I guess I have two proudest moments. In animation, it was when our 3rd year college film opened the Bogota Film Festival in 2009. It was the first time that I saw it with strangers, there were 1,000 people in the theater, I was really anxious thinking what if the short film is no good, but when people started laughing at the jokes and then applauded at the end, I had the most amazing feeling in the world.
With the Bogota ACM SIGGRAPH Chapter, the first year we organized the event, we weren't sure how it would turn out, no such event had been done in Colombia before. To our surprise we had a full-house of 800 attendees during the 3 days and it's hard to describe the excitement that was felt in the crowd. When the event was over we invited all the speakers to the stage and the crowd just burst into a standing ovation, people were jumping on stage to get their pictures taken, it was the first time they've had the chance of meeting people from their favorite studios, it was a very emotional moment.